A Snapshot of the Field: Visual Development Artist Jobs
Visual development artists work in almost all forms of creative entertainment—including video games, TV series, feature films, and animation.
In other words, visual development (visdev) degrees are quite flexible. But what do visdev artists do, exactly?
Most generally, visual development requires you to create the look and feel of a piece of media. Visdev work takes place pre-production, before the concrete decisions are made and passed along to professionals down the production pipeline.
Concept art generally falls under the umbrella of visual development, for example. So does character design, props and environment design, lighting design, and key art design. Storyboard artists are also occasionally lumped under visual development, though this depends on whether you consider storyboarding part of pre-production and how your employer defines your job duties.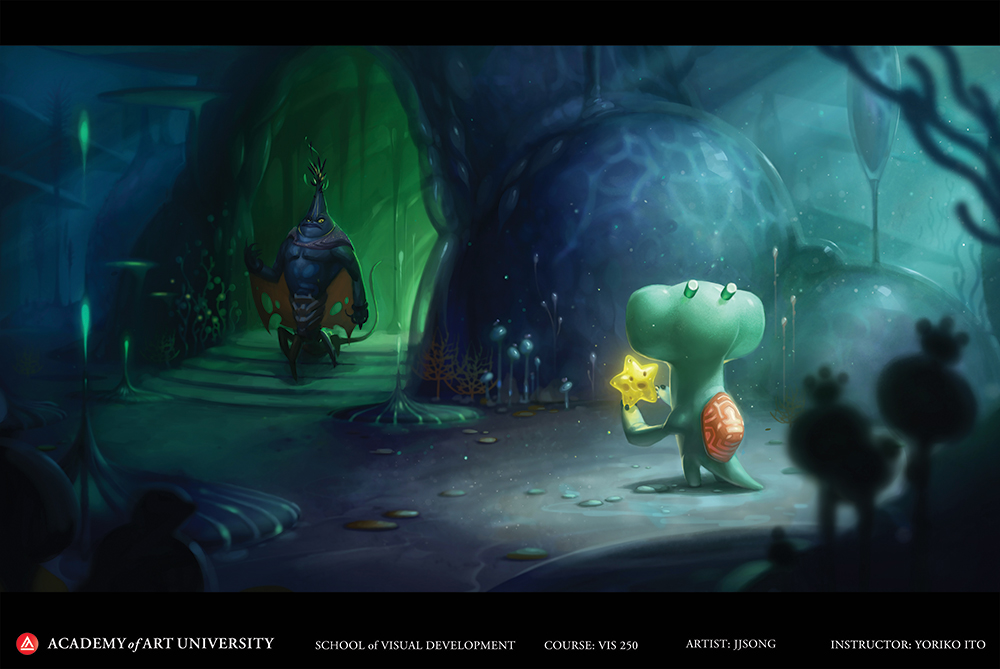 Though the demands of visual development artists jobs are wide-ranging, most if not all visdev artists possess the below skills:
An understanding of animation, illustration, and graphic design concepts
A solid grasp of digital art tools, such as Photoshop, Maya, InDesign, and more
A mastery of a variety of art styles, both 2D and 3D
Experience in team settings
Knowledge of the production process
The Many Possibilities for Visual Development Artist Jobs
As mentioned before, visdev students have a world of options before them once they complete their visual development degree. Some industries that visdev students end up working in include:
Animation for TV series and feature film
Non-animated TV series and feature film
Game development and design
Advertising
Web and mobile app design
Graphic design
Within these industries, you can also take on a number of roles, such as:
Art Director
Visual Development Lead
Concept Artist
Character or Costume Designer
Game Asset Designer
Environment or Props Designer
Matte Painter for Live-Action Film
Lighting or Color Key Designer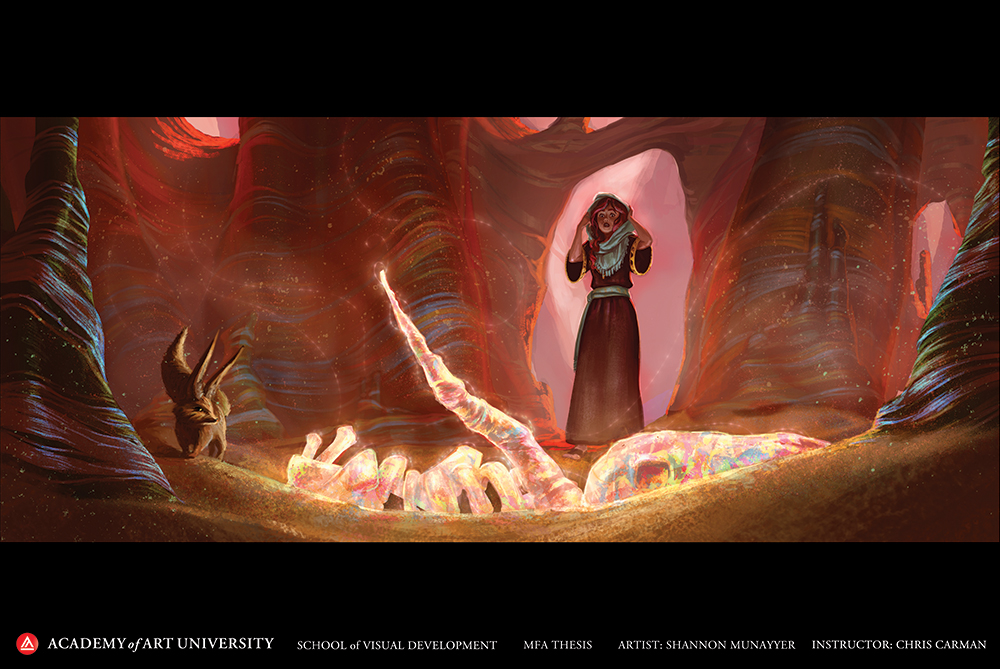 It's worth noting that most visdev artists end up working in the motion pictures and video industry. Hence, many visdev classes that you take will often prepare you for related fields, though what you learn is transferable.
For instance, think about the color theory that you'll explore in your visual development program. Coupled with the illustration techniques you'll gain, you could draw book covers for the publishing industry.
In addition, your experience with different animation techniques and programs can help you thrive in web and mobile app design, since many companies are starting to incorporate moving graphics.
Career Growth and Trends in an Expanding Field
The flexibility of a visual development degree not only allows you to step into many industries as a qualified professional, but it also helps ensure employment stability for the long term. After all, if you can't find employment in one field, you can always take your skills to another.
According to the Bureau of Labor Statistics, earnings for visual development artist jobs can cover a wide range from one job role to another. Some related careers and salaries include:
Multimedia artists and animators – $72,520 median income
Art directors – $92,789 median income
Graphic designers – $50,370 median income
Employment for multimedia artists and animators is projected to grow bigger between 2016 and 2026 with an expected growth rate of eight percent. This growth can be attributed to rising interest in video games, movies, and other forms of creative entertainment. Meanwhile, employment for those in art and design occupations as a whole is expected to grow four percent—so the specific niche or industry that you choose can potentially affect your earnings.
---
Explore your options with our School of Visual Development page, or request more information here.
On the other hand, if you're ready to join other artists and designers at Academy of Art University, get started on your application today!
---
Header image by student Ryan Andrade.