Arthur Rankin, Jr. (July 19, 1924 – January 30, 2014)
From The New York Times: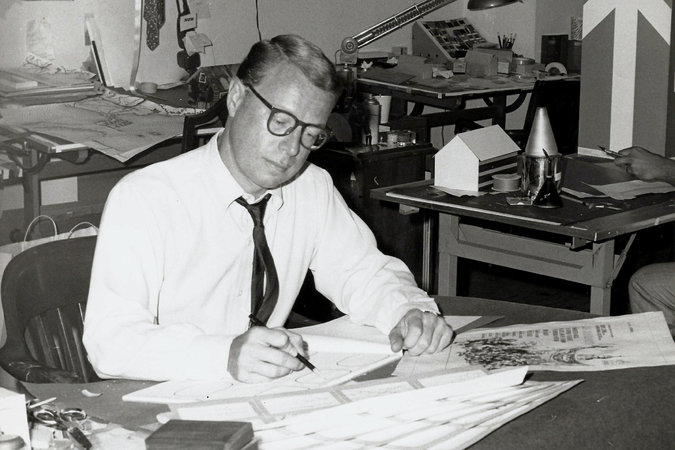 Arthur Rankin Jr., who created a canon of children's holiday television using stop-motion puppet  animation, including "Rudolph the Red-Nosed Reindeer," one of the longest-running annual network specials, died on Jan. 30 in Harrington Sound, Bermuda, where he had lived in recent years. He was 89.
His death was confirmed by Maury Laws, the former musical director of Rankin/Bass Productions, which was founded by Mr. Rankin and Jules Bass in 1960.
"Rudolph," based on the song popularized by Gene Autry in 1949 and narrated by Burl Ives, made its debut on NBC in 1964 and has been seen on network television every year since, most recently on CBS. It was the first of more than a dozen animated holiday specials produced by Rankin/Bass from 1964 to 1985, many of which have remained perennial favorites.
Mr. Rankin, who wrote the scripts and sketched the characters, based his most successful films on popular holiday songs, casting Hollywood stars in the leading voice roles. Greer Garson narrated "The Little Drummer Boy" (1968) and Jimmy Durante "Frosty the Snowman" (1969). "Santa Claus Is Comin' to Town" (1970) featured the voice of Fred Astaire as a North Pole mailman. Both Danny Kaye and Vincent Price lent their voices to the Easter special "Here Comes Peter Cottontail" (1971). "The Little Drummer Boy Book II" (1976), with Ms. Garson and Zero Mostel, was nominated for an Emmy Award as outstanding children's special.
Mr. Rankin's stop-motion films were painstakingly handmade. Collaborating with Japanese puppet makers who fashioned each figure from wood, wire and wool — Rudolph was about five inches tall, Santa about nine inches — the filmmakers shot thousands of still photos of the incremental movements involved in every gesture each character made. Running them together at 24 frames a second created the whimsical, herky-jerky effect of dolls being moved by invisible hands. Mr. Rankin called it Animagic.
"He was a big fan of 'King Kong' as a kid — special-effects animations like that," said Mr. Laws, who wrote the musical scores for many Rankin/Bass productions. "He wanted every detail right. Also, he had exquisite taste."
For the rest of the article, click here.
Below is an interview with Arthur Rankin, Jr. where he talks about the Animagic process on "Rudolph the Red-Nosed Reindeer.