Animation Profile- Kim Ferrari
This "Animation Profile" features Kim Ferrari. Kim and her twin, Chiara, created their film, Sisters, for their thesis project. The short won 1st Place for its background painting and layout design at the 2015 Spring Show. At the end of spring, Kim was offered a position to work on the show, The Awesomes.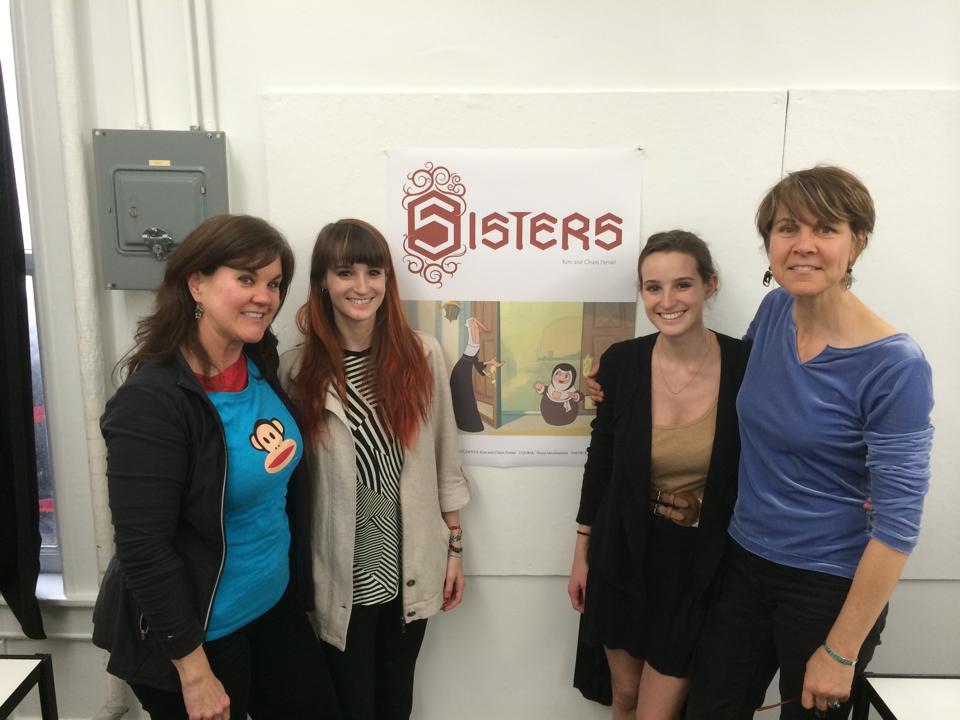 Why an MFA degree in 2D/Traditional Animation & Stop Motion at AAU?
For me, art was something I always did with my sister Chiara. We grew up in a big family, and we all loved to entertain each other. Chiara and I did impersonations and caricatures of our teachers and neighbors, and drew up stories for our little sisters. In high school, we really dedicated ourselves to improving. We drew and exchanged stories constantly. We also found it therapeutic when some tougher things came up. But when it came time to go to college, Chiara and I were nervous about pursuing art so we decided to focus on other studies. Eventually though, it was hard to ignore how much we enjoyed it, so we decided to apply to AAU. There, I realized that there was a strong industry supporting art. So I dedicated myself to it best I could and realized that the myth of the 'starving artist' isn't always true. There is a strong industry behind animation, and it's growing every day.
Name 3 big influences during your time as a student at AAU.
I like all things relatable and sarcastic. Author David Sedaris has been an inspiration to me for a long time, as well as actors like Fred Armisen. NPR's StoryCorps inspires me too. It sounds like a random assortment of things, but they all focus on daily life, both good and bad, and in a charming way. My goal is to learn how to capture some of that same spirit in my artwork.
In less than 3 sentences, what is your film about?
'Sisters' is a light-hearted story about two nuns, Mother Superior and a jollier nun nicknamed Little Sister. The two are very different but must learn to appreciate each other or face some pretty dire consequences!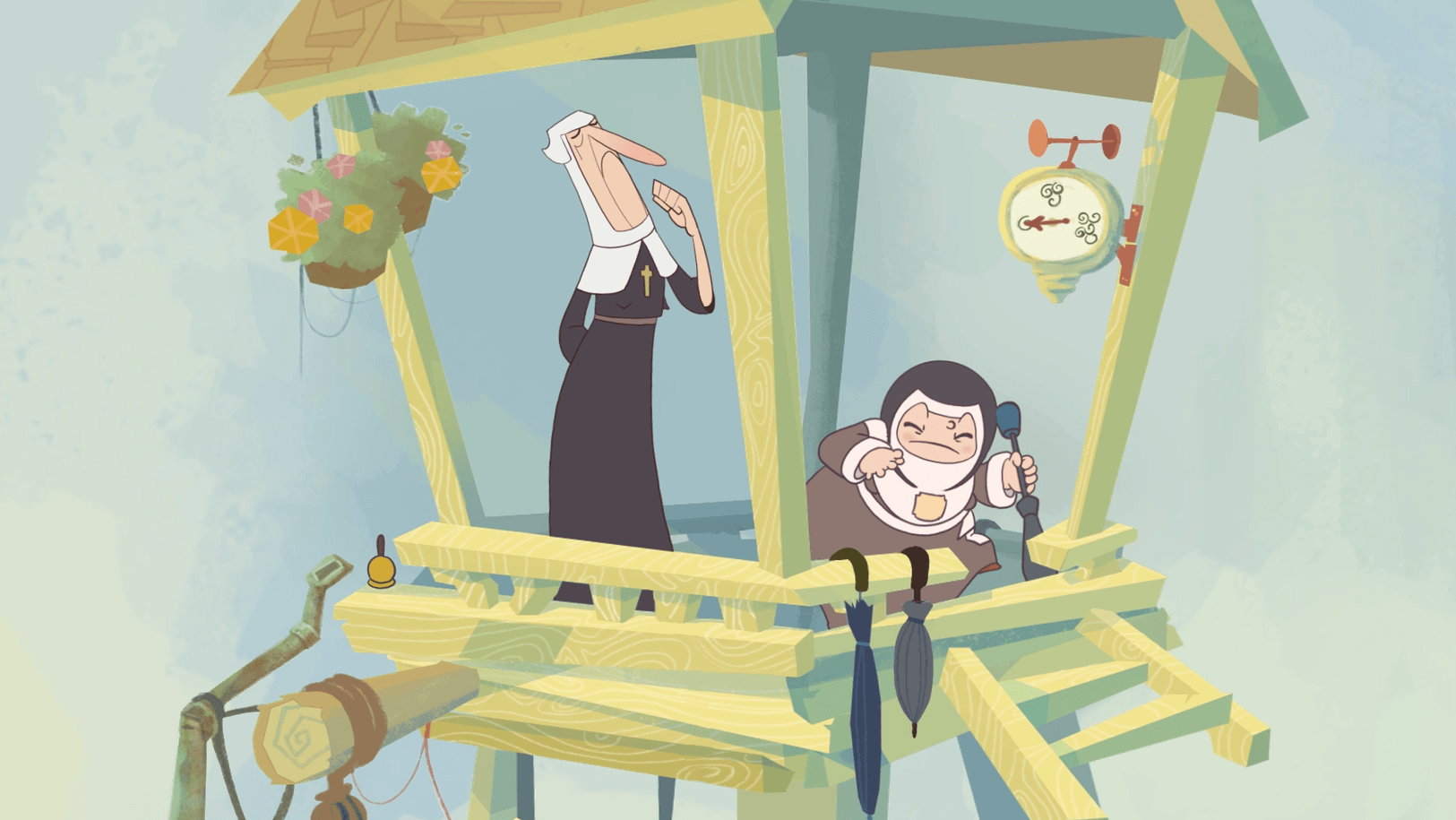 While you were working on your thesis project, which personified emotion from Inside Out would you have been?
Joy! Completing a thesis at AAU means managing your schedule, tracking your progress, doing the boards, characters, environments, animation, pitch, and so on and so forth. It was overwhelming at times, but in all honesty, the majority of the project felt rewarding and was a lot of fun. Working on the thesis really pushed me to improve and take ownership of my work, and I benefitted so much from that experience.
Tools/programs you used to make your film?
The tools I used for my film were: TV Paint, Toon Boom Harmony, Adobe Photoshop, Adobe After Effects, and good old paper and pencil.
Why did you decide to submit your film into festivals? 
When we work as much as we do on our films, we begin to think about very minute things. Things like whether or not a character's finger nails look correct. You and your director will debate about how pointed is too pointed for a fingernail and how much that matters for your success in the industry. When you share your film with others, it's rewarding in a bigger way. You see people bob their heads to the music or turn to the person next to them and say, "that was hilarious." And suddenly you're not stressing about the nails anymore. It feels great!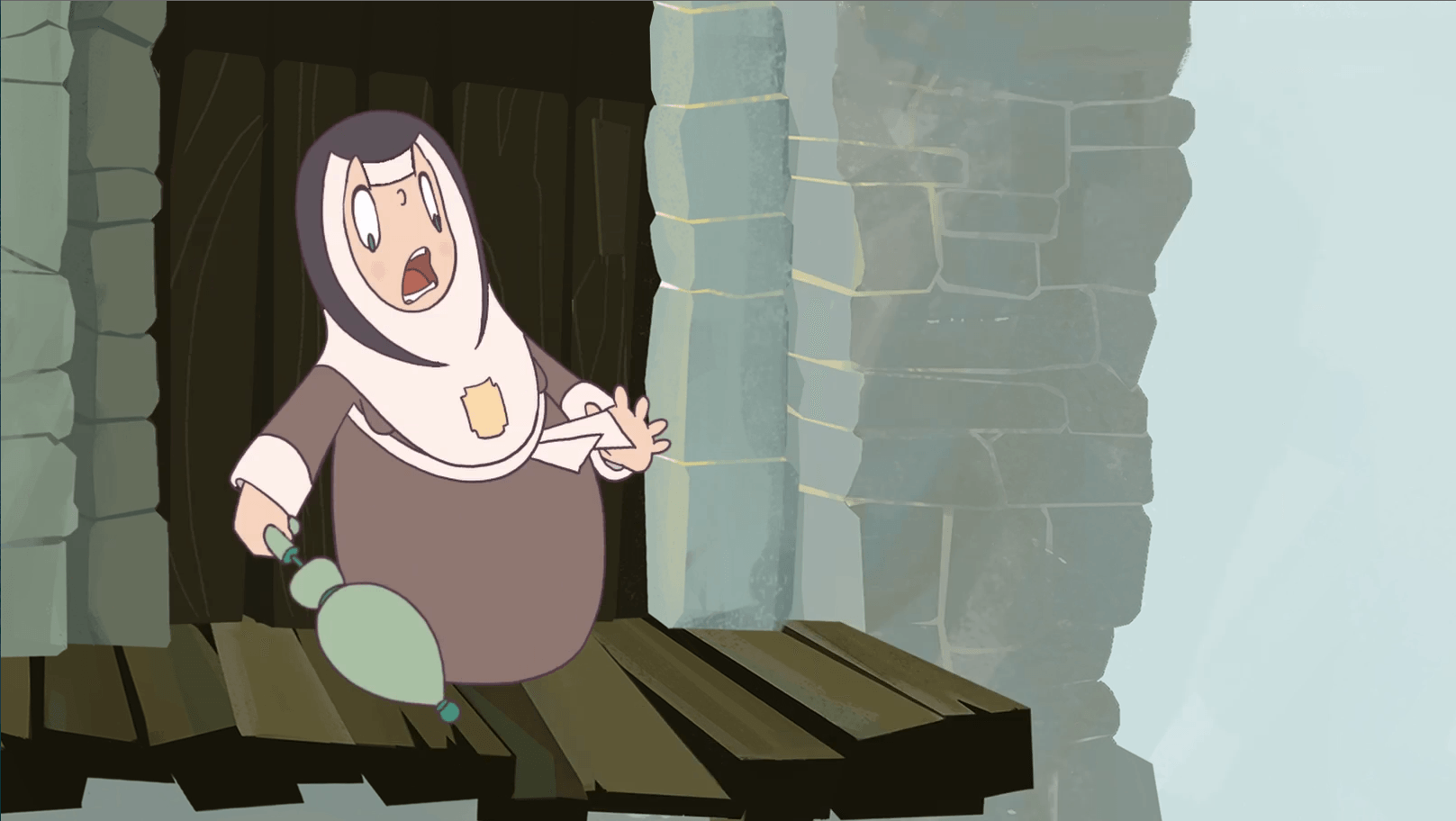 After graduating from AAU, what are you up to now?
I recently finished up a contract at Bento Box Entertainment. I was part of the team that worked on Season 3 of a show called The Awesomes.
Would you encourage future graduate students to submit their work to festivals? If so, what would you suggest for them to do and NOT to do?
Absolutely. It's a great way to connect with people and see great films. The only advice I would give is not to procrastinate too much with it. There is a lot on your mind when you graduate, but if you wait, there's a big chance you'll continue to put it off.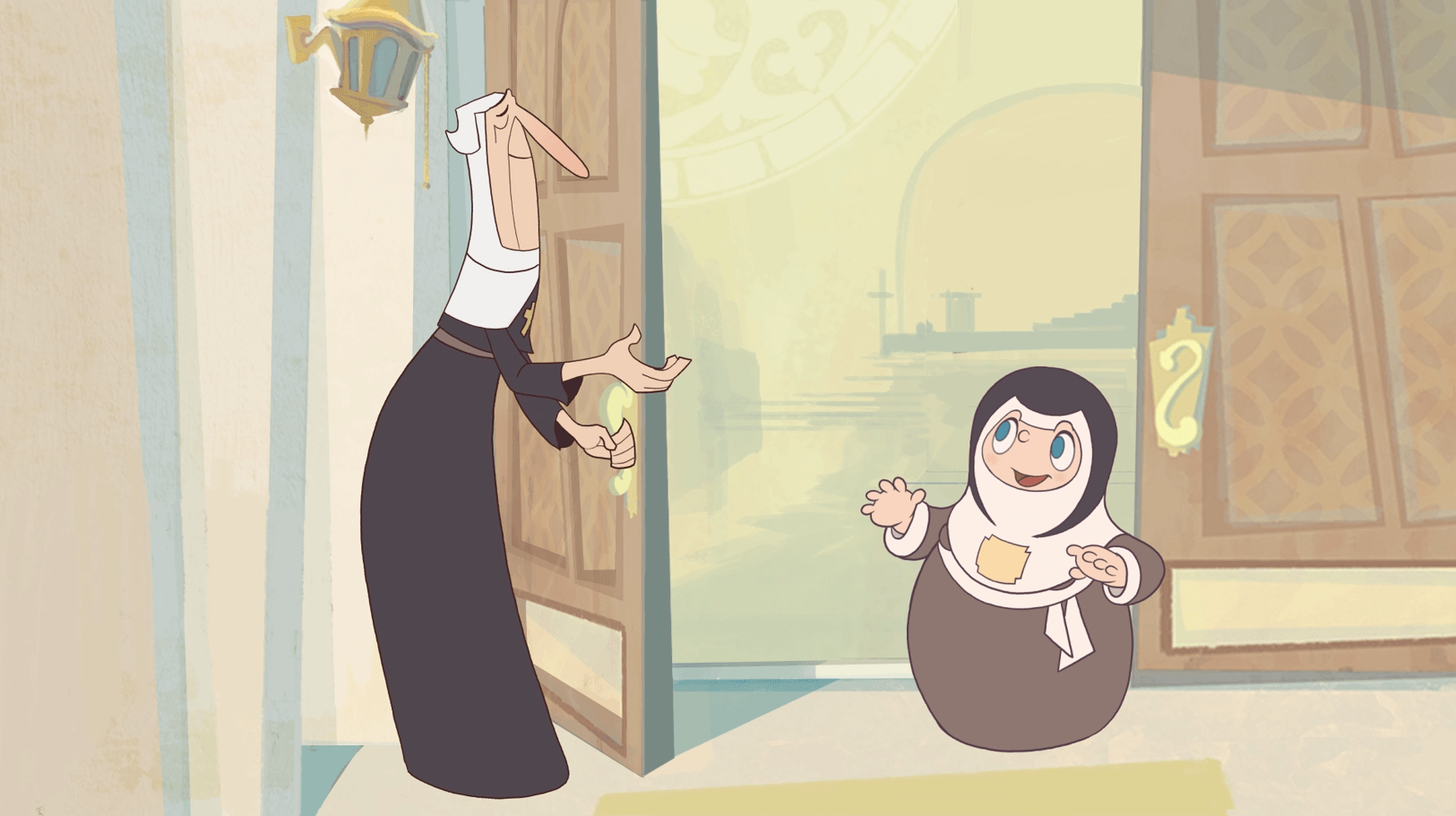 Which festival has been your favorite so far and why? 
I haven't been able to submit to too many festivals yet, so I can't say! I will say that from researching possible festivals, I have figured out that film festivals are in abundance, and that's great! Every city has them and fairly often. So even if you do not get into all the festivals you've decided to submit to, I'd recommend being part of the audience in at least a few.
If you could only watch one film on constant replay for the rest of your life, what would it be?
I love Shrek, but having to watch it on replay for the rest of my life might be asking too much…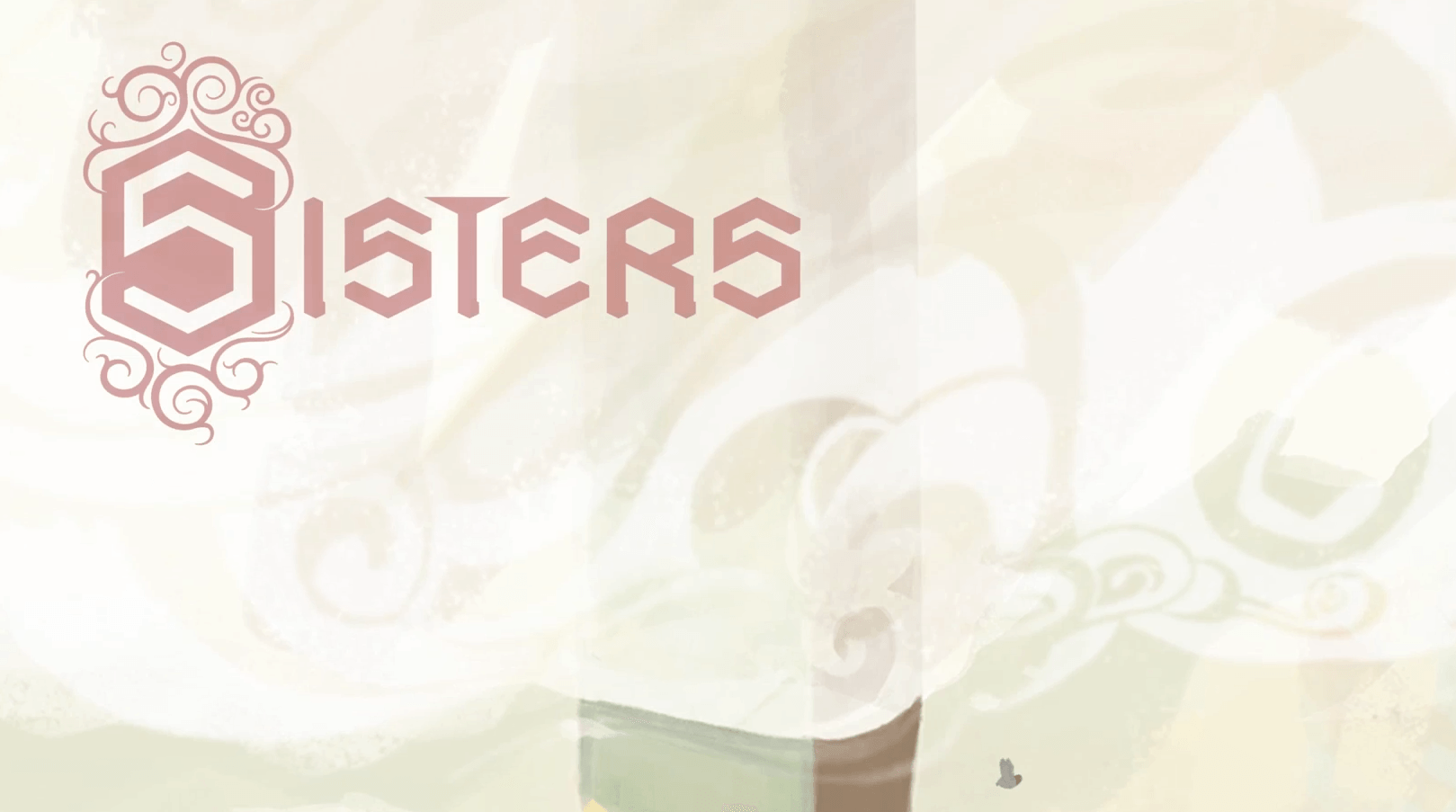 To look at Kim's work, check out: