new animated feature: "Ernest et Célestine"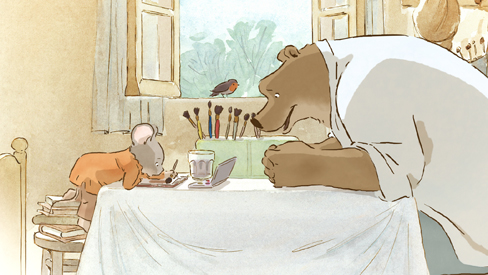 Looks like we can eagerly anticipate yet another wonderful hand-drawn animated film from France.   Thank goodness the French animators apparently did not get the memo that "2D is dead" . Hopefully this one will get picked up for U.S. distribution by GKids who also distributed "The Secret of Kells" and "A Cat of Paris" among other recent hand-drawn animated films.
The directors are Benjamin Renner, Stéphane Aubier, Vincent Patar,  the latter two of whom directed the recent stop-motion feature A Town Called Panic.
The 80-minute feature is a co-production between France (Les Armateurs, Maybe Movies, Studiocanal France), Belgium (La Parti) and Luxembourg (Mélusine Productions).
Ernest et Célestine  had  its world premiere in May 2012 at the Directors' Fortnight, which takes place during the Cannes Film Festival.
A "making-of"  video looking inside the studio which made the film.
More clips from the film: