The Story Behind Disney's Adorable New Short Film "Feast"
An article from BuzzFeed News about Disney's latest animated short, "Feast"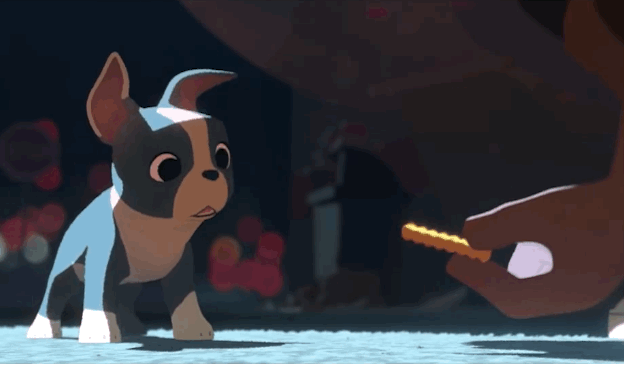 The filmmakers behind the animated short, playing in front of Big Hero 6, explain to BuzzFeed News why Disney is reinvesting in an art form that is guaranteed to lose money.
This weekend, audiences who've bought tickets to see Disney's latest animated feature film Big Hero 6 are first getting treated to the culinary exploits of an adorable Boston terrier named Winston. The animated short film Feast tells the story of a (largely unseen) man's romantic journey through the lens of the (largely human) food he feeds his dog. While it is Disney's third short in as many years, Feast also officially represents the company's return to its deepest, oldest roots.
"Well, the irony is that Disney's actually had a long, long history of making [animated] shorts," Feast's producer Kristina Reed told BuzzFeed News. "That's really where Mickey Mouse came from at the very beginning of it all. And I think we kind of lost our way." Disney's short film renaissance technically started with the 2D-3D hybrid Paperman, which played in front of 2012's Wreck-It Ralph and went on to win an Oscar for Best Animated Short Film. But unlike sister studio Pixar — which has always maintained a steady pipeline of animated shorts in front of its feature films — Paperman was something of a one-off fluke. Up to that point, Disney had largely abandoned making animated short films as part of its regular operations.
"It was more of a, hey, we're really exploring this idea of mashing 2D and 3D together," said Reed of Paperman's inception. "Here's an interesting idea from a young animation director that could be a vehicle for exploration. Let's put it into play."
After Paperman's success, however, another animator at the company hit upon the notion of honoring those old Mickey Mouse shorts by bringing the character into the world of 3D animation, ultimately resulting in the the delightful short Get a Horse!, which played in front of 2013's Frozen and was also nominated for an Oscar.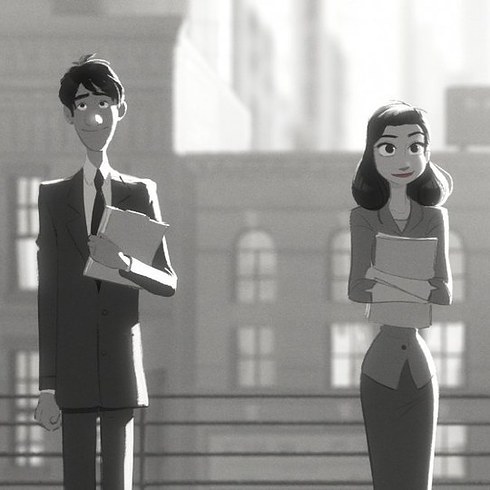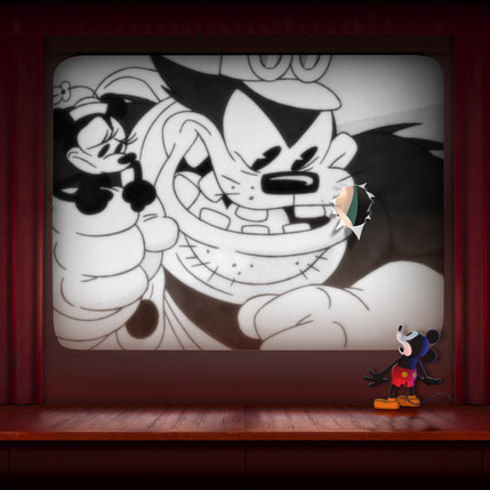 By that point, the enthusiasm at Disney for working on these two shorts was so palpable, Reed explained, that John Lasseter and Ed Catmull — who oversee operations at the otherwise independent animation studios at Disney and Pixar — realized something important was afoot. "The studio leadership looked up at some point and said, 'Whoa, there's this incredible energy that gathers around these shorts, and we want to make sure we keep that alive,'" Reed said. So Lasseter and Catmull decided to formally create a short film pipeline at Disney similar to the one at Pixar.
For Feast director Patrick Osborne (an animator on Wreck-It Ralph, Tangled, and Bolt), that meant submitting three possible ideas for a short, then honing in on his best idea, and then making a formal pitch to Lasseter. "I'd been playing with this idea [that] maybe you could tell a story through dinner," Osborne told BuzzFeed News. He actually did it, using the app 1 Second Everyday to document all of his dinners in 2012. But it wasn't until he hit upon the idea of using a dog as the mechanism for telling the story that he realized he had a film.
And then he had to wait. "Frozen was being worked on at the time, and most of John Lasseter's time was going to that," said Osborne. "So they told me every week [that] I was going to pitch to him, and then it got pushed to the next week — for four months." Osborne used that time to further perfect his concept, and by late October 2013, after pitching Lasseter, he finally had a green light. That meant a budget, a team, and a deadline: June 10, 2014, the start of the annual Annecy International Animated Film Festival in France, where the short was due to premiere. They made it with three days to spare, but as Reed explained, missing the film festival was the least of their worries.