Animators play it old school with Cuphead

Inspired by the cartoons of the 1930s, Studio MDHR Entertainment released their new video game this year, Cuphead. Within the first two weeks of its release, it has sold over one million copies.
Academy of Art University alumni from the Traditional Animation MFA program, Hanna Abi-Hanna, Joseph Coleman, and Danielle Johnson, have worked on the development of the game for the past few years. We asked them to share their experiences with us.
What is the game about?
Hanna Abi-Hanna (H A-H): I'm not the best person to answer this question but here is my best shot: The game is a "run-and-gun" 2D side scroller, animated in the style of 1930's cartoons.
Joseph Coleman (JC): Cuphead is the story of two brothers (Cuphead and Mugman) who lose a bet and their souls to the Devil. In order to keep their heads, they strike a deal to collect the souls of all the Devil's debtors.
H-AH: Also, they have cups for heads!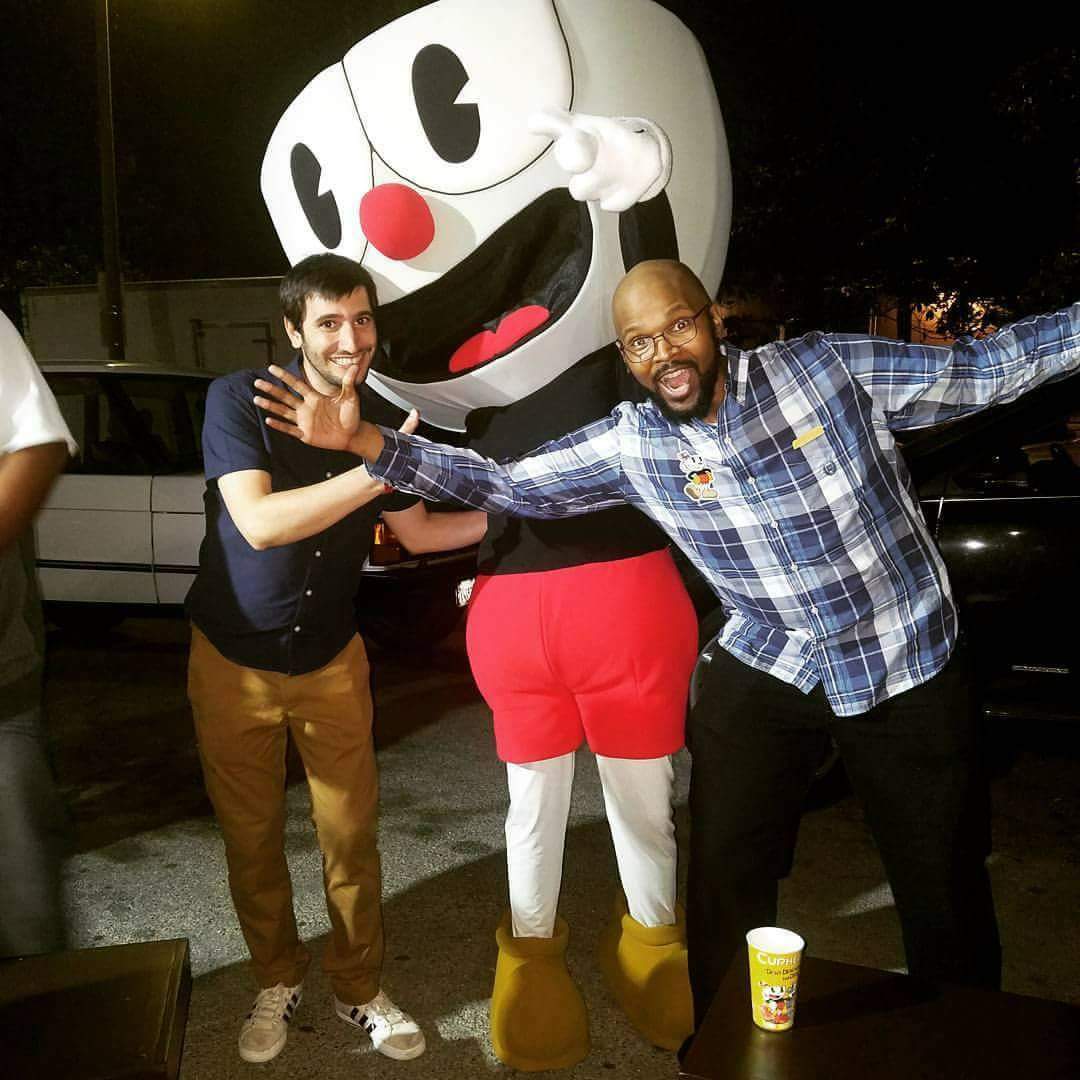 How did you get the job?
H-AH: I was contacted by Studio MDHR in late 2014 to help with the animation for the game.
JC: I was introduced to the project by Hanna. He was my former teacher during graduate school at the Academy of Art.
I started as a part-time animator. My initial role was as an in-betweener for Hanna and Studio MDHR. After several months of work, the studio hired me as a full-time animator.
From there, I have designed and animated many characters and special effects for Cuphead. My duties also expanded to illustration for the game, merchandise, and promotional materials.
Danielle Johnson (DJ): Hanna and Joseph are close friends of mine.
How long have you worked on it?
H-AH: I worked on it from November 2014 till April 2017.
JC: For over two and a half years now.
DJ: A year and a half.
What programs did you use?

DJ: Everything was done traditionally on paper.
H-AH: Toonboom Harmony was used for scanning and peg-hole registration.
JC: It was used to compile the drawings, and to send for inking after testing and approval.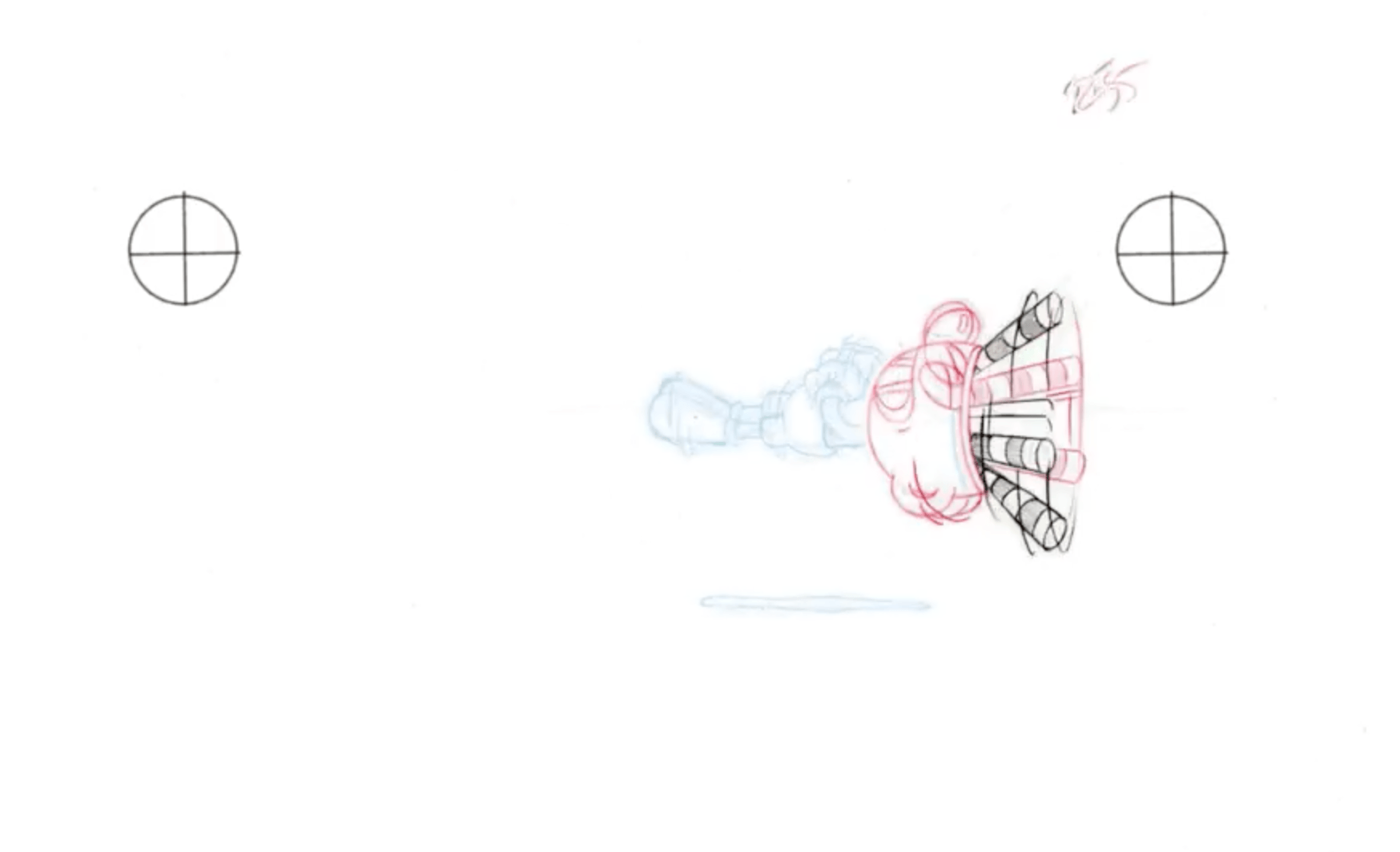 What was the most challenging part about working on this game?
H-AH: Constantly generating new ideas, and staying within the 1930's style.
DJ: Being remote and learning how to do things on the fly during crunch time.
JC: The biggest challenge was stepping away from work. Working from home, while I absolutely love it, requires a lot more discipline than one would think. It was very easy to neglect rest when I became focused on meeting deadlines. I had to remain vigilant of the hours I worked to avoid burning out.
What scene did you specifically animate and work on?
H-AH: I did animation on several of the boss fights in the game. The bosses I primarily worked on are the Vegetable Garden, the Flower boss, Beppi the Clown, the Dragon, the Pirate Ship, Sally Stageplay, the Cat and Mouse, and the Devil. I also worked on several of Cuphead's attacks and super-moves, and oversaw the animation of Mugman and a few of the secondary characters throughout the game.
DJ: I was originally brought on as an assistant animator to Hanna. I worked on some levels with him, then moved on to animating the world map npc's, and doing character design concepts. I was also involved with inking.
JC: I designed and completed all of the animation for Hilda Berg and King Dice.
Hilda Berg was my first big solo task for the game. Many hours went into research and design. I felt like Dr. Frankenstein, as I was combining so many unrelated elements into this zany character. Not so strange if you are channeling animation from the 1930s, I suppose.
For King Dice, I was greatly inspired by Cab Calloway. It was really important to me that I honored the Black artists of this era. When given the opportunity to design and animate characters for the game, King Dice flowed from heart to paper with ease.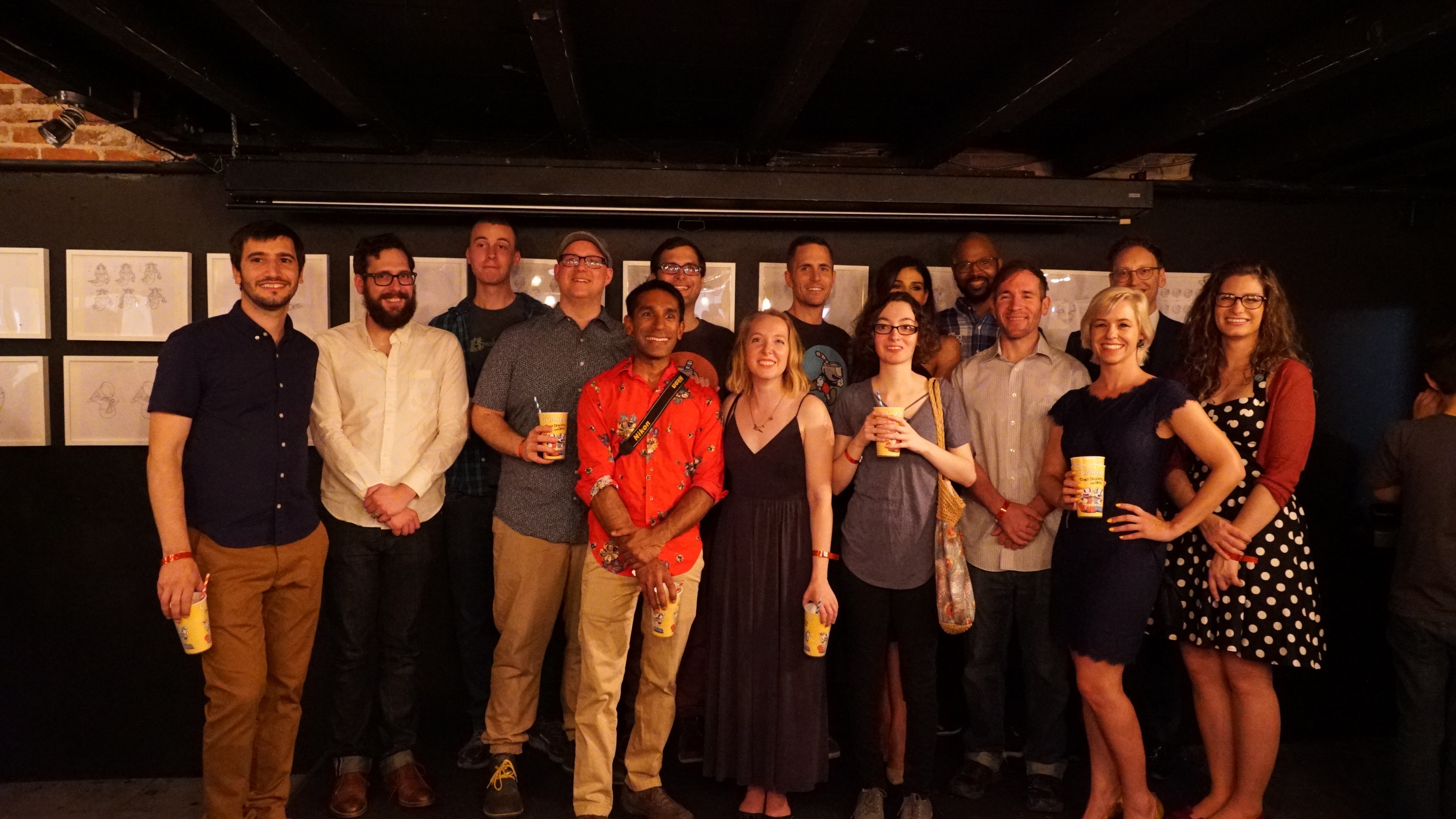 So…what's next for Cuphead and for you?
JC: What's next for Cuphead? Well, that is a secret. What I can say is that the future looks bright for our team.
DJ: Not sure what's next but I am excited for the future.
H-AH: Cuphead has hopefully learned his lesson, and will stop making deals with the Devil! As for myself, I'm currently working on a feature project at Duncan Studio, and I definitely hope to work with Studio MDHR again on their future projects. Over the course of this journey, they have grown from just a handful of people to a full-fledged studio, and it was a wonderful and humbling experience to be a part of the Cuphead family for the last 3 years.
JC: As for me, I will take this time to work on other personal and professional projects in need of my attention. There is always work to be done as an artist!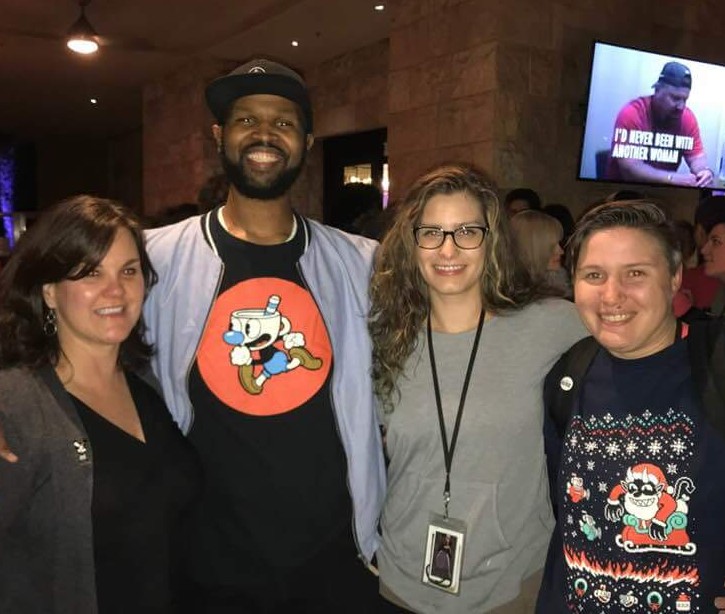 Director of the Traditional Animation MFA program, Sherrie H. Sinclair, also participated with her former students in the production of Cuphead. She shared her thoughts with us.
Sherrie H. Sinclair: When my former grad student, Hanna Abi-Hanna, approached me soliciting for help on the Cuphead game project, I willingly stepped up to participate!
As a former traditional Disney animator I was very excited to learn about a project being done "old school" with the hand drawn tactile qualities that today's computer productions lack for the animator.
It was SO much fun to "flip paper" again and "feel" the images come to life–inbetweening and animating on paper once again was a joy!
I knew Cuphead and Mugman was going to be a very special project, and although my contribution was small, at least I can say, "I had my toe in the water!"
There has been such a tremendous public response worldwide to this game and its look and traditional technique, that perhaps it will send a message to the U.S. industry that Traditional Animation is NOT DEAD and perhaps should be embraced once again.
During her trip to the Creative Talent Network (CTN) in Burbank this year, Sinclair came across another AAU alum that also worked on Cuphead: Abby Lee.
Lee is a graduate from the Traditional Animation BFA program and she shared her experiences with us.
Abby Lee: I was contracted through Hanna (Abi-Hanna) who was already working on Cuphead. I worked on the project for about one month in April of 2015.
The most challenging parts about working on this were the ellipses. Teeny tiny ellipses. Despite my efforts, I have always struggled with ellipses and cups are nothing but ellipses. After working on Cuphead, I feel far more confident now.
I worked on Mugman, and was responsible for making sure his head animation matched up with Cuphead's body animation such as his idle, jump and attack animation.
Cuphead has been a huge success for both gaming and traditional animation as a medium, and I am excited to continuously witness the response from fans of the game. I think that the success of Cuphead will cause a tremendous boost to interest in the art of traditionally drawn animation.
As for me, I have recently moved to Burbank and I work as a freelance animator in the independent animation scene.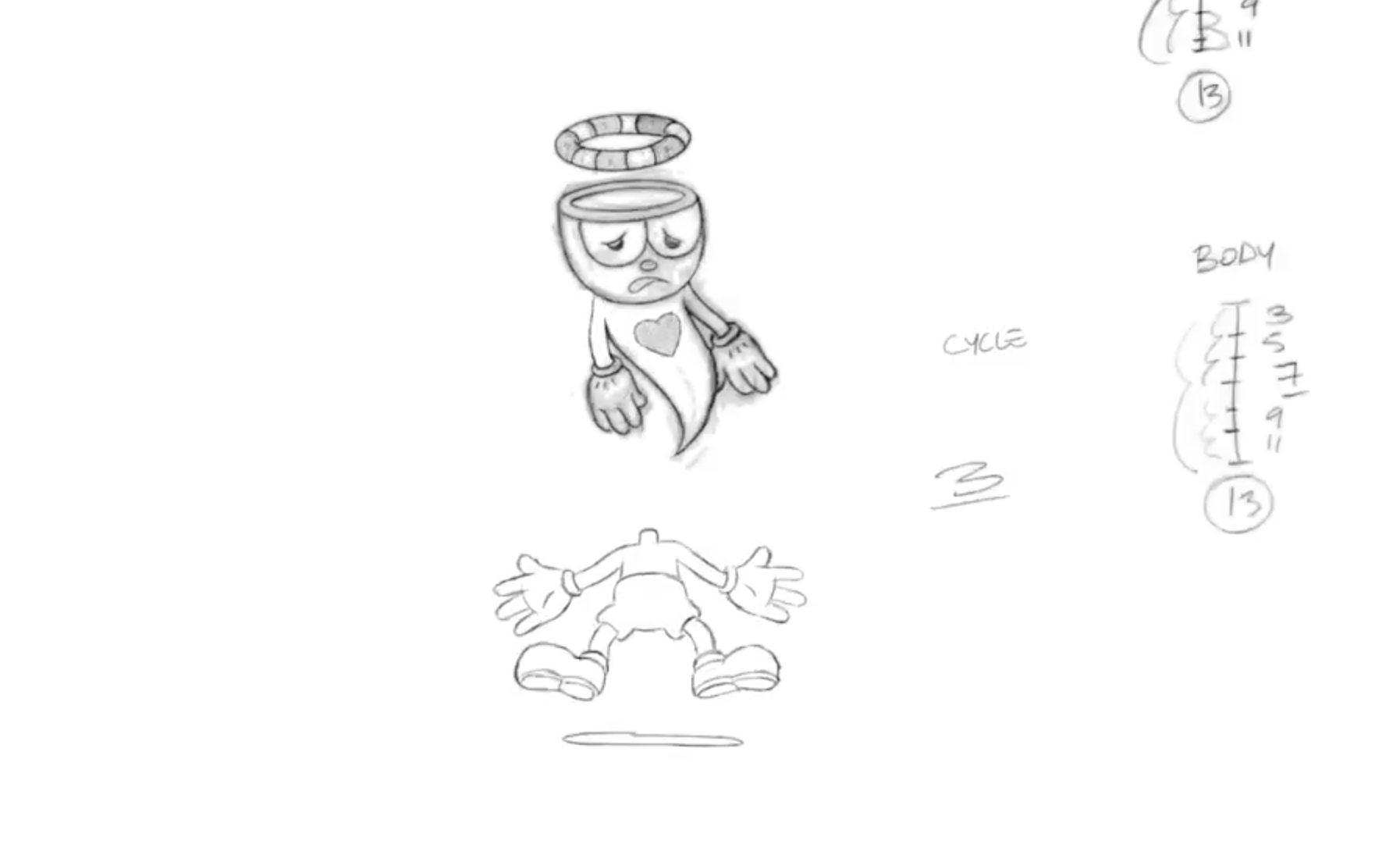 An edited version will be featured in the Academy of Art University Newspaper with a release date of December 4, 2017.