THE RABBI'S CAT
French animated comedy-adventure from Joann Sfar (Gainsbourg: A Heroic Life)
Starts January 18, 2013 in Bay Area
Landmark's Embarcadero Center Cinema
One Embarcadero Center, promenade level (Sacramento & Battery), San Francisco (415) 352-0832
Showtimes (valid 1/18 – 24): daily at 12:15 2:40 5:00 7:30 9:45
Tickets available at http://www.landmarktheatres.com/tickets and at theatre box office.
https://www.facebook.com/events/147764388709576/
Also opens 1/18 at Rafael Film Center in San Rafael.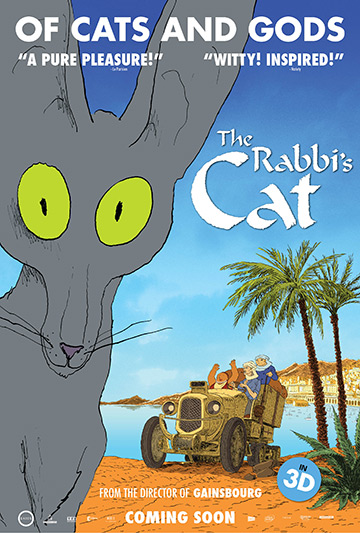 Official Web Site: http://www.gkids.tv/rabbiscat/
Based on the best-selling graphic novel by Joann Sfar, THE RABBI'S CAT tells the story of a rabbi and his talking cat – a sharp-tongued feline philosopher brimming with scathing humor and a less than pure love for the rabbi's voluptuous teenage daughter.
Algeria in the 1930s is an intersection of Jewish, Arab and French culture. A cat belonging to a widowed rabbi and his beautiful daughter, Zlabya, eats the family parrot and miraculously gains the ability to speak. Along with the power of speech comes unparalleled sardonic wit, and the cat – and filmmaker Sfar – spare no group or individual as they skewer faith, tradition and authority in a provocative exploration of (among other things) God, lust, death, phrenology, religious intolerance, interspecies love, and the search for truth. Rich with the colors, textures, flavors and music of Mediterranean Africa, the film embarks on a cross continent adventure from the tiled terraces, fountains, quays and cafes of colonial Algiers to Maghrebi tent camps, dusty trading outposts, and deep blue Saharan nights in search of a lost Ethiopian city.  Co-directed by Joann Sfar & Antoine Delesvaux.  Joann Sfar is an award winning filmmaker (Gainsbourg) and one of France's most celebrated comic artists.  The film's running time is 89 minutes; it is not rated. In French with English subtitles.
Winner: Grand Prize, Annecy Int'l Film Festival
Winner: César Award, Best Animated Feature
Nominee: European Film Award, Best Animated Feature
Nominee: ASIFA Annie Awards, Best Picture & Best Director
"Colorful, witty, and inspired!" – Variety
"This gorgeously animated affair showcases the artist's freewheeling style and colorful arabesque imagery. Sfar and co-director Antoine Delesvaux provide an incredible palette of visuals culled from the style Sfar originally created on paper: a loose and organic line filled with layers of color reminiscent of Chagall; figures marked by excessive traits (giant ears and noses) and expressive, beady eyes; and backgrounds crammed with sprawling detail, especially in the powerful Algerian city and landscapes, which take on a life of their own." – Hollywood Reporter
We encourage you to share this email with friends, colleagues, and moviegoers.
To add your name to Landmark Theatres weekly e-mail list and become eligible for free preview screenings, free music and other information about films playing at Landmark Theatres please sign up at : http://filmclub.landmarktheatres.com/