Animation Profile: Tina Hsu
Our first "Animation Profile" features Tina Hsu. Last year, Hsu's LADY and the frog was the 1st Place Winner for 2D Animation Short Film (Full Color) at the annual Spring Show 2014. Since the completion of her film, LADY and the frog has screened in 27 domestic and international film festivals. While Hsu currently works at Laika, she is doing some freelance work and developing personal projects.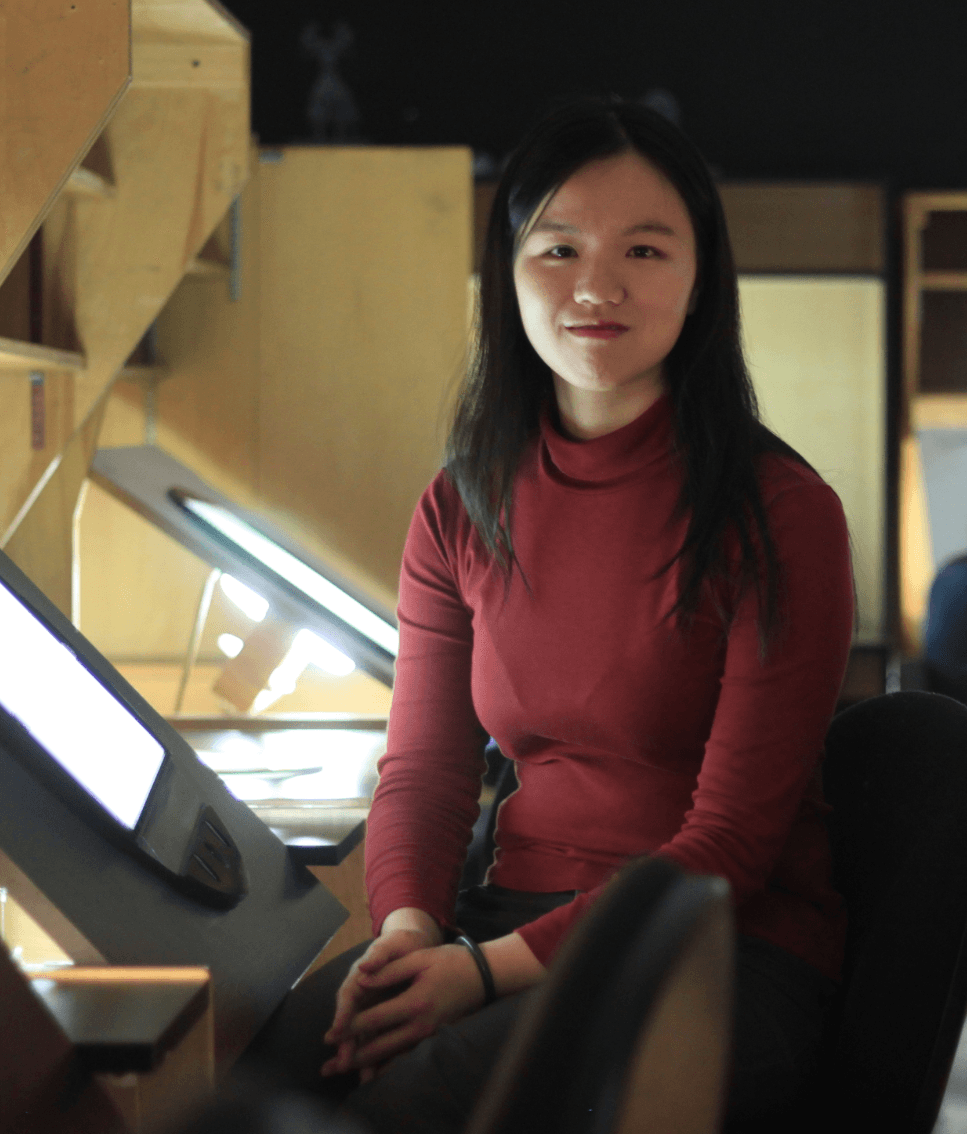 Why an MFA degree in 2D/Traditional Animation & Stop Motion at AAU?
2D animation has always been what I was most interested in, but I was always torn when it came to actually pursuing it because of how brutal the industry is, and how it is shifting away from the kind of 2D animation I like. I was in graphic design and did a little of both 2D and 3D animation in my undergrad at UCLA; but when it came down to what I wanted to do with my final degree, I just didn't want to compromise. Stop motion is something I discovered midway through my 2D thesis and I wish I had the opportunity to do more of it at school.
Name 3 big influences during your time as a student at AAU (ex: dead, alive, famous, completely imaginary, or an experience).
Sherrie Sinclair was definitely one of the biggest influences since she was the one that supervised and helped me navigate the production.
Nicolas Villarreal was also a huge influence. He was the first teacher I had at the Academy, and also a huge influence when it came to navigating film festivals.
Norm DeCarlo was also a huge influence as he was the instructor that introduced me to stop motion.
In less than 3 sentences, what is your film about?
A frog wakes up in a bag of mixed vegetables at a supermarket. A lady runs by and grabs the bag, and things happened.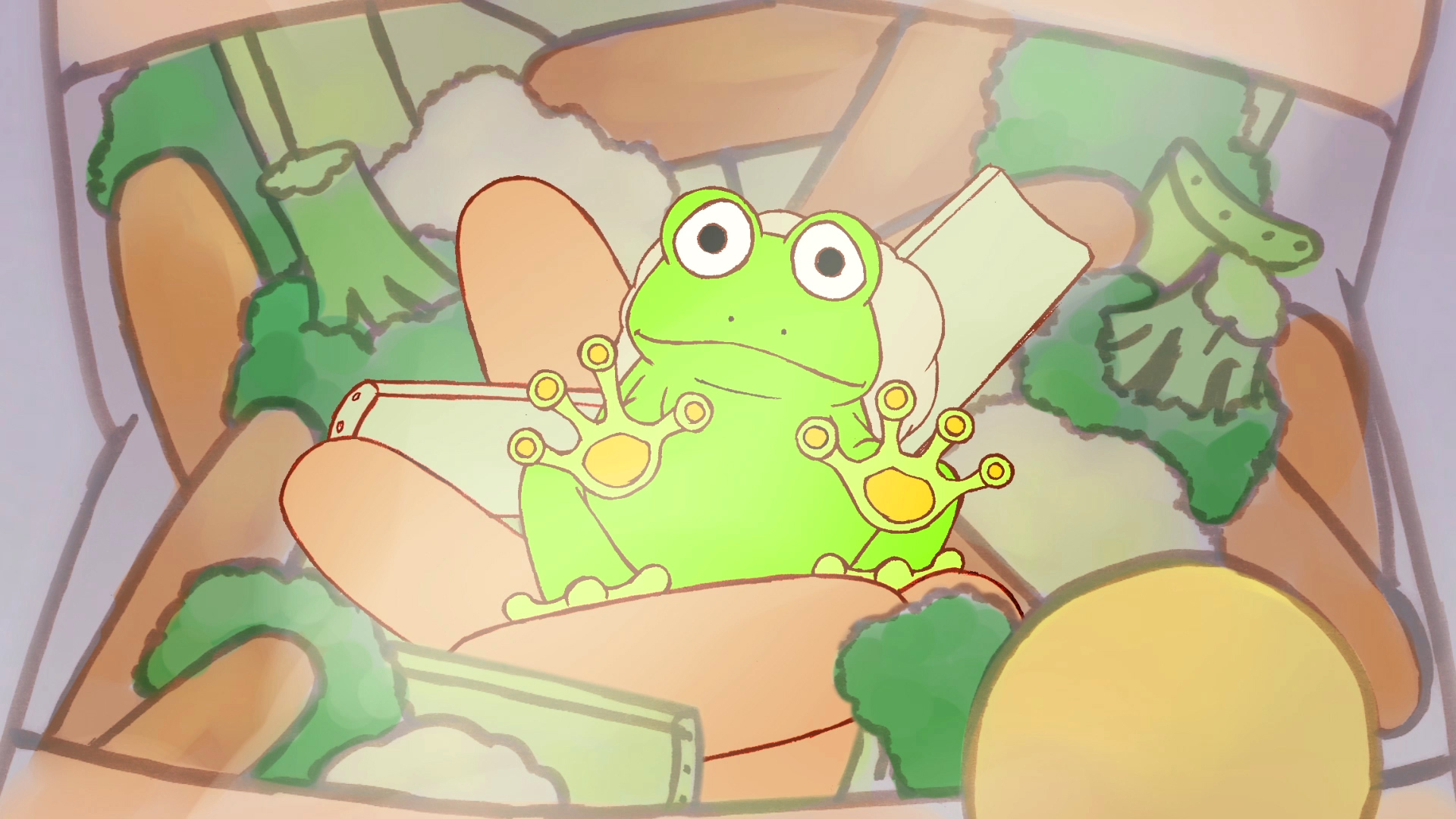 While you were working on your thesis project, which personified emotion from Inside Out would you have been (Joy, Sadness, Fear, Anger, and/or Disgust)?
Most of the time I was thinking to myself "how am I ever going to finish this on time!?" I did not finish on time, but I finished it eventually. For the rest of the time, I spent it having way too much fun or getting really depressed about it. Weirdly enough, fear has been a huge motivator for me to push forward.
Tools/programs you used to make your film?
97% of the animation is done with pencil and paper, the old school way. The drawings were then scanned into Photoshop, digitally cleaned up, colored in TVPaint and composited with After Effects. Since I knew I would not do a good enough job on the sound and music, I had to reach out to some very talented composers/sound designers.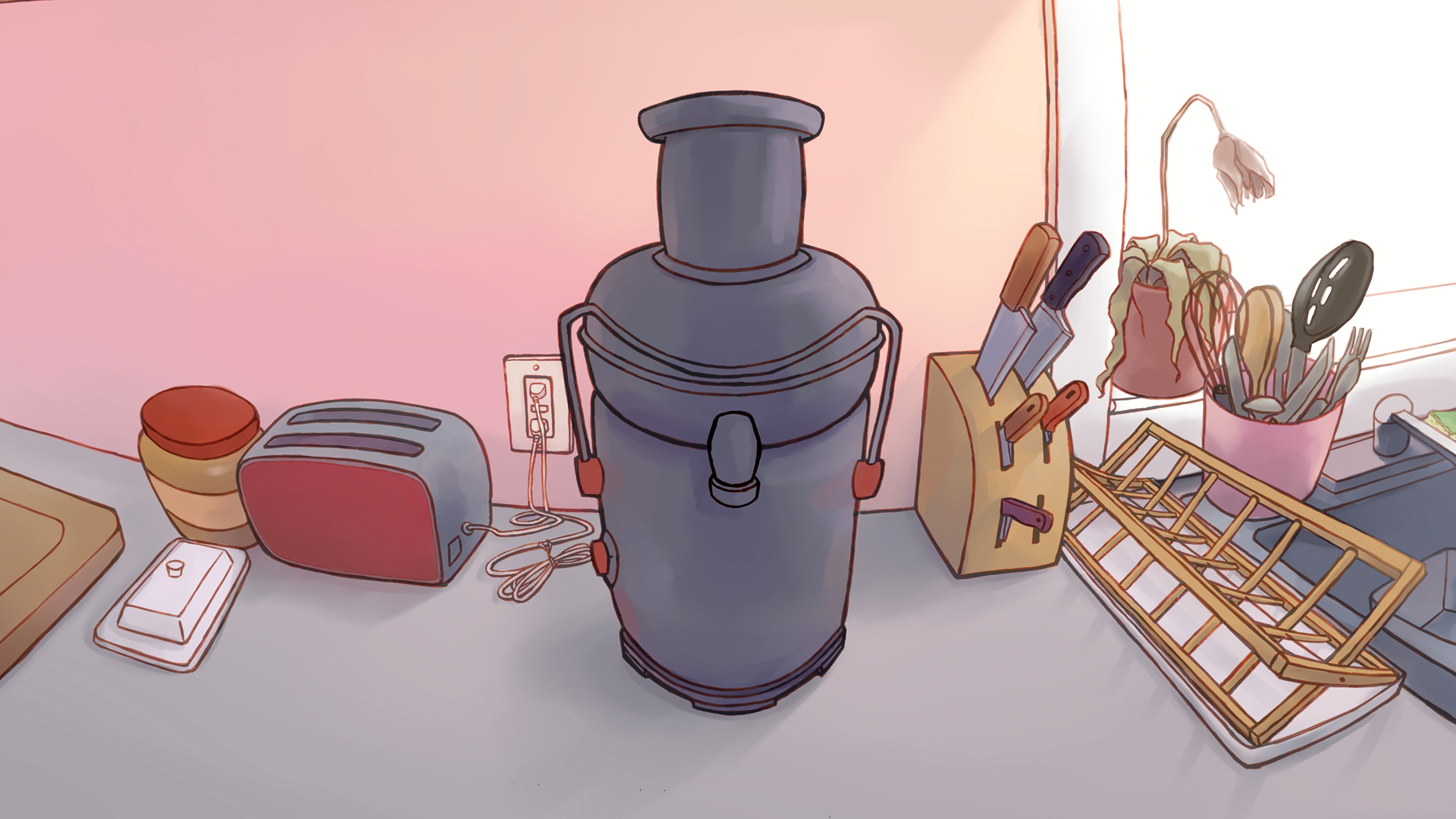 Why did you decide to submit your film into festivals? 
I started making the film without knowing much about festivals, and the biggest influence with submitting was seeing how Nicolas navigated the festival circuit. Generally speaking, getting into festivals is a resume booster so that is one motivation. I was also just curious to see how far the film can reach and how festivals work, so I figured I would give it a try.
After you graduated from AAU, what are you up to now?
I currently work at Laika processing 3D printed faces/objects. I usually describe my job to people as "We are kind of like make up artists for puppets. We make their faces presentable on camera."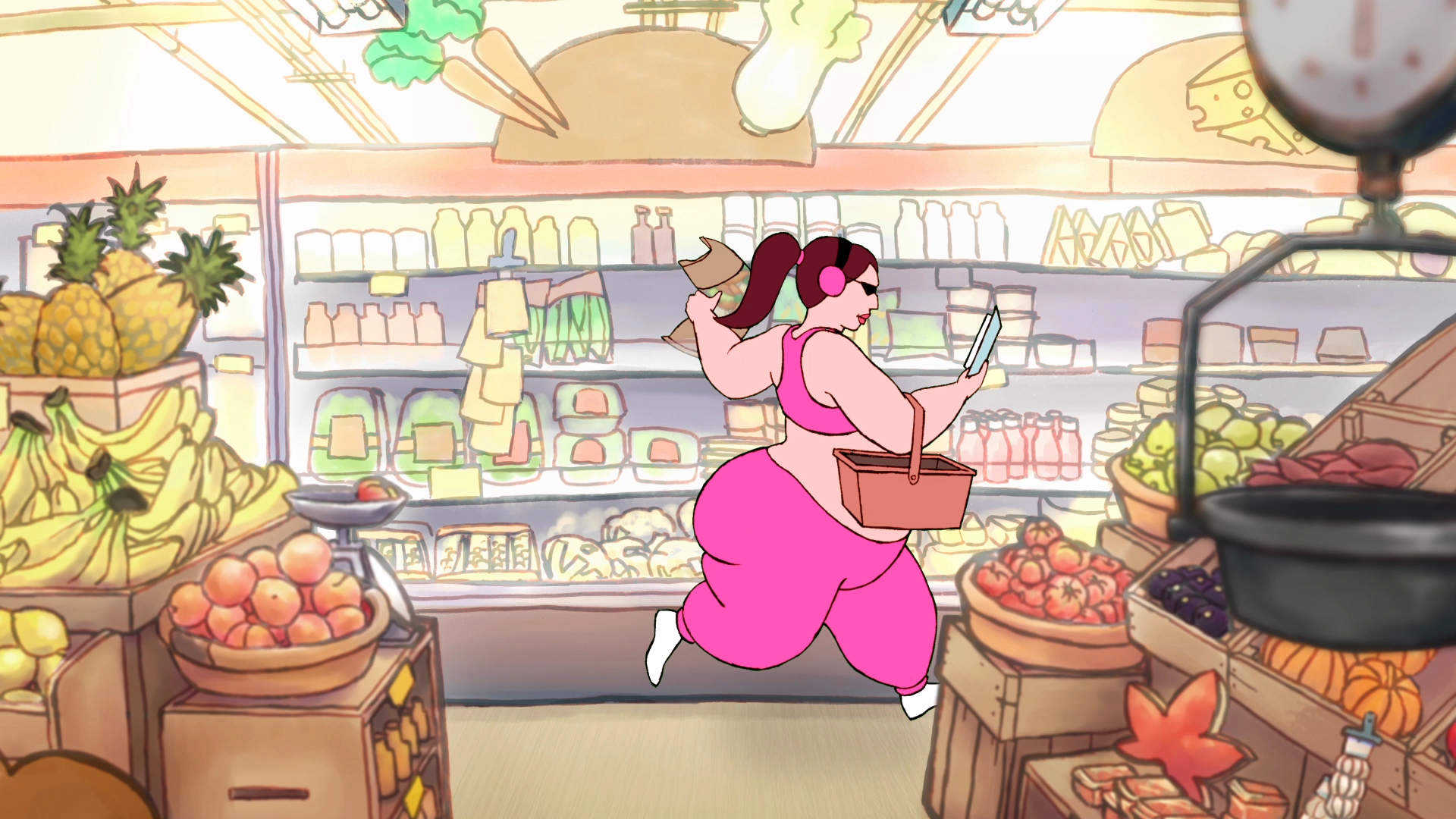 Would you encourage future graduate students to submit their work to festivals? If so, what would you suggest for them to do and NOT to do?
I would say yes. If you have a film, go ahead and submit it.  Just make sure you don't go too broke doing it because submission fees can pile up really quickly, so be selective. My strategy was to submit to the big ones with fees, then submit to a lot of free ones. Also keep an eye out for ones with student categories and cash prizes. It is worth the try. If you are lucky enough to get into a few big festivals, sometimes other festival coordinators will notice your film and invite you to their festivals as well, which is pretty awesome. Also don't get too discouraged if you get rejected to some of them. Many factors go into festival programming and results are very hard to predict. After a while, you just start losing track of the rejections and move on.
Which festival has been your favorite so far and why? 
I only went to four festivals physically due to lack of budget for travel. I think the one I had the most fun at was LA Comedy Fest. I happened to be in the area for CTN (Creative Talent Network) when it was happening, so I went to my own screening with a few local friends. The festival was hosted in a small theater and filled with mostly the filmmakers and their friends, so the atmosphere was very intimate and fun. About half the theater ended up on stage for the Q&A. I also stood next to an actor who played a drag queen in his film and he had the most amazing cartoon character ears. I had to compliment him and he took it very gracefully. The North America Chinese Director Short Film Tour was also an interesting one. The coordinator ended up shooting an interview with me about the making of my film. They screened it after the film and that was a weird experience.
If you can only watch one film on constant replay for the rest of your life, what would it be?
Perhaps Mystery of Rampo? It is not the best film I have seen, but it is very beautiful to look at; especially the traditionally animated sequence filmed delicately with the back light.
The opening sequence
List of festivals your film has been selected and screened at.
USA, MAY 9, 2014 (Academy of Art University in San Francisco, 1st Place 2D Animation Full Color Short Film)
USA, June 17 – June 23, 2014 (Palm Springs Int'l ShortFest Film Market)
USA, July 27, 2014 (San Francisco New Concept Film Festival, Best Animation)
Chile, Oct 23, 2014 (Festival De Animation Fida 10, International Animation Competition)
USA, Oct 25, 2014 (Roseville Film & Animation Festival, Official Selection)
USA, Oct 29, 2014 (North America Chinese Director Short Film Tour, Finalist)
USA, Oct 30, 2014 (Festimation International Animation & Media Arts Festival, International Student Film)
USA, Nov 21, 2014 (LA comedy Fest, Official Selection)
USA, Feb 26, 2015 (Big Muddy Film Festival, Official Selection)
USA, March 23, 2015 (Cleaveland International Film Festival, Official Selection)
Maroc, March 21, 2015 (International Short Animated Film Competition of the FICAM 2015, Official Selection)
Greece, March 27, 2015 (Athens ANIMFEST, Student Competition)
Cyprus, March 28-29, 2015 (International Motion Festival Cyprus, Official Selection)
USA, April 6, 2015 (Athens International Film + Video Festival, Official Selection)
USA, April 11, 2015 (Tiburon International Film Festival, Best Animation Winner)
USA, May 2, 2015 (Sunscreen Film Festival, Official Selection)
Bulgaria, May 5, 2015 (GOLDEN KUKER- SOFIA International Animation Film Festival, Student Competition)
Italy, May 5, 2015 (Future Film Festival, Official Selection)
Spain, May 21-22, 2015 (Non Stop Barcelona Animacio, Student Competition)
USA, June 28, 2015 (Nantuket Film Festival, Official Selection)
USA, Aug 30, 2015 (Middlebury New Filmmakers Festival, Official Selection)
Argentina, Sep 12, 2015 (ANIMA – Córdoba International Animation Festival, International Competition: Animation for Children)
USA, Sep 12, 2015 (Burbank International Film Festival, Official Selection)
Greece, Sep 24-27, 2015 (ANIMASYROS International Animation Festival + Agora, Official Selection)
USA, Oct 11, 2015 (NFF Now, Official Selection)
Greece, Oct 23-25, 2015 (Thessaloniki Animation Festival, Official Selection)
USA, Nov 9-15, 2015 (Gold Coast International Film Festival, Official Selection)
Click the link below for the most current list of festivals that LADY and the frog have gotten into:
http://www.ladyandthefrog.com/#!screening_press/c1t44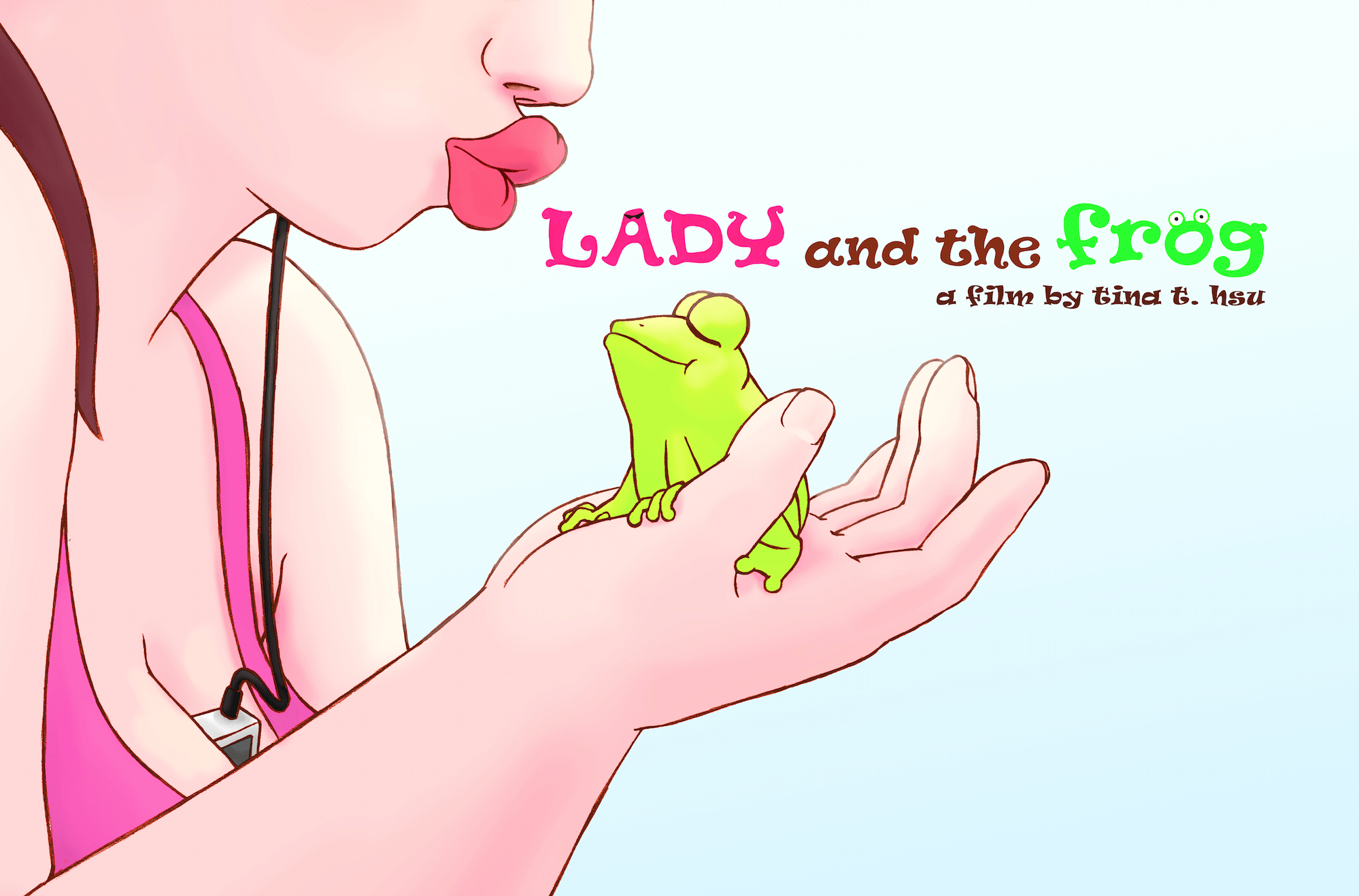 To follow Tina Hsu and LADY and the frog, visit the links below:
LADY and the frog
http://www.ladyandthefrog.com/
LADY and the frog's Facebook Page