Anthony Montes: Acting Faculty Spotlight
Anthony Montes teaches acting and Meisner technique. He is based in Los Angeles and flies up each week to teach his classes. Anyone who has Anthony as an instructor will know that his knowledge and passion for acting and directing is endless.

Q: How did you get to where your are today? What is your backstory?
AM: Through a lot of hard work. A lot of doing without. By creating my own opportunities.
When I began acting I had no support from my family, so I graduated school in 11th grade, went into the Navy for a couple of years and as soon as I got out, I began studying acting at H.B Studios, in NY.
From there I went to Los Angeles where I studied at Playhouse West, where I studied the Meisner Technique for four years, studying one summer with Sandy Meisner, himself. From there I auctioned for the Actors Studio and became a Working Observer, where I studied with Shelley Winters.
Having loved Al Pacino, I began studying with Charlie Laughton, who was Pacino's friend and coach. Because of lack of opportunity, I began my own theatre group called, The Artist Theatre Group. With my group I began teaching and putting plays.
Over the years I had produced with the group 90 plays and lost money on 89. I directed over 30 plays and acted in over 60 with my group. Eventually I began writing and that gave me more opportunities to act.
I have now written 11 screenplays and have had two, The Last Night Inn & The Last Train, made in which I got to star in.
Q: What are three tips of success that you can give to aspiring actors?
AM:
1. Do theatre.
2. Be in class.
3. Write.
Q: What motivated you to stick to acting as a career?
AM: Passion and need. I need to act, to write, to tell stories.
Q: What is a film or play that inspires you? Why?
AM: The Dreamer Examines His Pillow, by John Patrick Shanley, changed my life. In it the character Tommy needs to change his life. He can't continue the way he is going.
When I worked on the play, I was at a similar place. In the play Tommy paints to put what he is feeling onto the canvas, so that he can see himself and only put back what he wants and needs. I got myself paints, brushes and canvas and began doing the same thing. It didn't work.
So I began writing out my life and found what Tommy found and I was able to change the way my life was going and my life changed direction, in a positive way, because of that play.
Q: Number 1 tip for auditioning.
AM: Do your homework and going there prepared with strong, personal, interesting and active choices.
Q: What had been your biggest accomplishment as an actor? What has been your biggest challenge?
AM: Making my film, THE LAST TRAIN, is my biggest accomplishment. Paying my bills has been my biggest challenge.
Q: Tell me about what you are working on now?
AM:
My One-Man Show
Looking to make one of my 9 finished screenplays
Working on a T.V. show based on my traveling
Looking to get a Theatrical Agent
Looking to get a Literary Agent
Figuring out which countries I will teach in next.
Q: If you can be an animal in the world, what you be and why?
AM: A Dolphin. I love the ocean.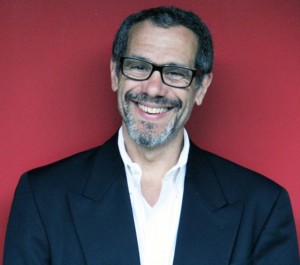 Anthony Montes founded THE ARTIST THEATRE GROUP in 1987. Originally from New York, he began studying acting at H.B. Studios. He moved to Los Angeles in 1983 and studied Sanford Meisner's acting technique and the Strasberg Method. Among his teachers were Sandy Meisner, Charlie Laughton, Bill Alderson, Susan Peretz, Barbara Bain, Bob Carnegie and Shelley Winters. THE ARTIST THEATRE GROUP was started as a gym for actors, writers and directors to work and develop their crafts He also teaches internationally in Mumbai, Dubai, Istanbul, Mexico City, Johannesburg, Stockholm, Berlin, and Paris.