Award-Winning Film by Animation School Alumni Uses Revolutionary Gaming Tech
2018 was quite the eventful year for Sonder, a film written and directed by Academy of Art University animation school alumnus and instructor Neth Nom.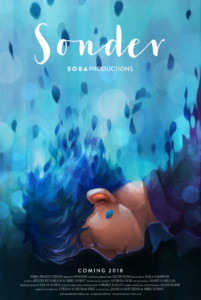 Sonder follows the journey of Finn, a man who wakes up in a strange fantasy land after a painful break-up. It screened at prestigious festivals like the Bucheon International Animation Festival, Edinburgh Short Film Festival, and won Best Animation at the California Independent Film Festival.
It also qualified for the 2019 Oscars nominations—its crowning glory. This clearly reflects the industry's recognition of the hard work that the team put in the project, although it was not officially nominated.
The Tech Revolution in Animation
Sonder pushed the envelope in more ways than one. It used a style usually reserved for video games, for example, while most video games aim for a cinematic feel.
To achieve its unique aesthetic, Sonder's team combined standard animation techniques with Unity, a video game programming platform. The team's creative approach let them streamline their production process while trying out new filmmaking techniques.
"Our goal is to push this technology so that viewers can no longer distinguish between a film that was made in Hollywood versus a film that was made in a game engine," states the team on their website.
Their innovations did not stop there.
The production team also had artists literally working from all over the world–mostly in their own homes. In the end, their willingness to branch out and experiment with systems and processes paid off with an amazing result: the finished film.
Meaningful Connections at the Academy
"In 2013, Yee Sum (our creative department manager) and I met Neth Nom (Sonder's director) at the Academy of Art University," narrated technical supervisor Andrea Goh. After collaborating on multiple projects, they "figured it would be great to work together on a short film."
Other alumni like illustrative artist Julia Blattman also played a critical part in bringing Sonder to life. The students involved, meanwhile, are sure to boost their animation portfolios with this project.
Notably, Sonder isn't the only big project to come from the Academy's animation school students, instructors, and alumni. Their StudioX program allows students to work on real projects from real clients. Ground-breaking classes in new areas like VR also prepare graduates for the ever-changing technologies in animation.
The Academy is thrilled to congratulate the hard-working staff of Sonder on a fantastic film. Bravo, and well done! Learn more about how the Academy can guide you on your path as an animator. Visit the official School of Animation & Visual Effects page.