Does hand-drawn (2D) animation need "saving" ?
https://www.facebook.com/songoftheseamovie
Read the whole article here:
It's Time To Admit That 2-D Animation Does Not Need 'Saving' .
"Once Pixar proved that CGI was viable, its prevalence increased, and while it currently dominates, that doesn't mean that 2-D is dying. The potential contenders for the Best Animated Feature Oscars contains two traditional films  ('Song of the Sea' from Cartoon Saloon , and 'The Tale of Princess Kaguya' from Studio Ghibli ) in addition to the stop-motion 'The Boxtrolls" from Laika.  While they are the minority, they are they ones that are pushing the artistic boundaries of animation these days."
(see earlier blog posts about 'The Tale of Princess Kaguya'  , and  'The Boxtrolls' )
https://www.facebook.com/songoftheseamovie
From the L.A. Times:
Gold Standard – TIFF 2014: 'Song of the Sea' will make waves in Oscar animation race

"Slam-dunk best picture Oscar contenders have been in short supply at this year's Toronto International Film Festival,  but one premiere here does look like a strong contender on the animation side:
"Song of the Sea," Tomm Moore's lovely follow-up to 2009's Oscar-nominated "The Secret of Kells," is, like its predecessor, rooted in Irish folklore and haunted by the idea that the country's storytelling traditions will soon be forgotten.   The hand-drawn animated film tells the story of 10-year-old Ben and his younger sister Saoirse, a Selkie, a being who lives as a seal in the sea and a human on land. Sent to live with their grandmother after their mother disappears, the children engage in a race against time to recover a coat that's the key to Saoirse's power as well as her very survival."
Now with ADD ON:    "The Prophet"  –
The article linked above , did not mention "The Prophet" , but this is another recent animated film made with (mostly) traditional animation techniques , including hand-drawn and clay animation , combined with some CG animation.   The director of "Song of the Sea" and "The Secret of Kells" ,  Tomm Moore , also contributed a sequence to "The Prophet" –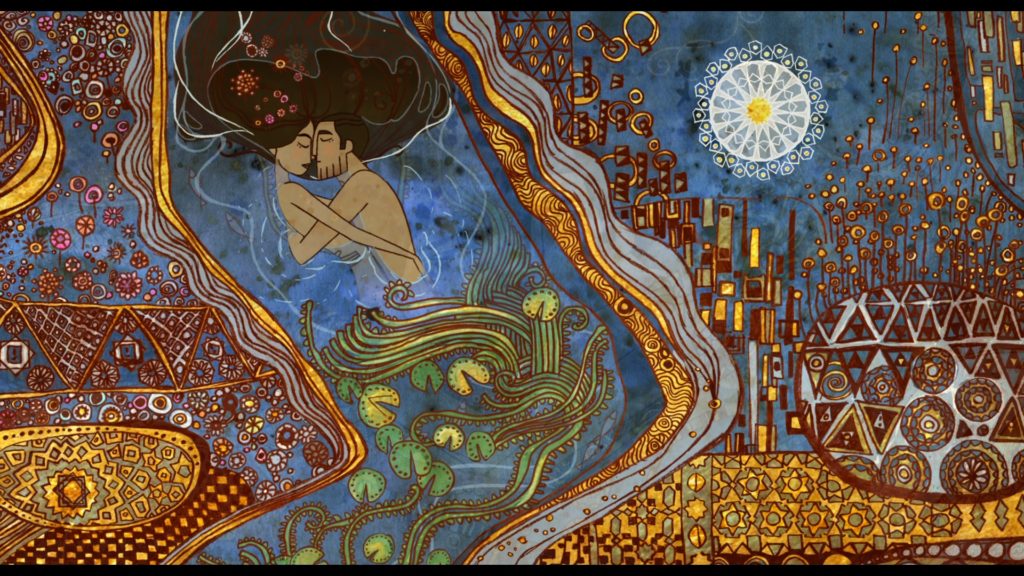 https://www.facebook.com/KahlilGibransTheProphet
http://www.gibransprophetmovie.com/
TIFF 2014 Review:"Kahlil Gibran's 'The Prophet'

http://www.canculture.com/2014/09/11/tiff-review-kahlil-gibrans-the-prophet/

"The movie version of Gibran's work takes his simple words and transforms them into a colourful, stunning, visceral animation. These images are his words made visible."

"Some sections are abstract and painterly, others are flat and pop-arty. Against Khalil Gibran's words they are all, unquestionably, extraordinary."
Directed by: Roger Allers , with sequence directors  Gaëtan Brizzi, Paul Brizzi, Joan C. Gratz, Mohammed Saeed Harib, Tomm Moore, Nina Paley, Bill Plympton, Joann Sfar, Michal Socha
Produced by: Salma Hayek
http://www.cartoonbrew.com/feature-film/25-beautiful-stills-from-the-new-anthology-feature-the-prophet-gallery-99861.html
.