Barrier-Free Enrollment Saved My Life: One Instructor's Journey from the Streets to Success
Academy of Art University graduate-turned instructor Michael Buffington always walks around with a beaming expression of joy on his face. This is especially true during the holiday season.
However, the majority of his childhood was nothing to smile about.
"I'll never forget the Christmas where my mom sat down and told us that my dad had sold all of the presents that she had bought us so that he could buy drugs," Michael admitted.
Michael was born and raised in the pre-gentrified Mission District of San Francisco primarily by his teenage mother from Nicaragua. Michael's father later in life became a gourmet chef, but during his childhood, he and his siblings watched his father struggle mightily with an addiction to cocaine and alcohol.
The neighborhood they lived in was primarily Latino-based; filled with prostitution, drugs and violence. With an addict as a father and a mother who would struggle daily just to put dinner on the table, money was always a point of contention.
"There were times where we would come home and there would be no TV in the house," Michael said. "We didn't ever have to ask where it went. We just knew not to get attached to anything because eventually, my dad would sell it to fuel his addictions."
Eat or Be Eaten
In his environment, it was survival of the fittest.
For that reason, Michael got caught up early on in the kind of trouble parents hope their kids never encounter, let alone get involved in.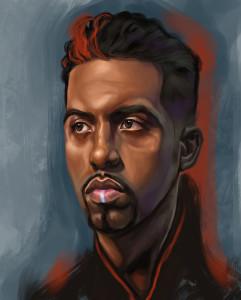 "I'm very lucky to be here," he said sternly. "I've been shot at, I've had to fight off multiple attackers. I've watched my friends get buried and still know people serving time behind bars."
Rescued by a Gorilla
To this day, Michael truly believes his mother aspired to become an artist. She never had much to her name, but when he was a child, she pulled out a drawing kit that she had stashed away. She sat him down at the kitchen table and showed him how to draw a gorilla.
"That was it. From that point on, all I wanted to do was draw," Michael said.
A pencil, paper, and an idea was all he needed to entertain himself.
"With all of the craziness and domestic violence going on around me, the only thing I can remember that brought me any sort of solace was drawing," he said.
Built for Something Different
Michael hated school as a teenager.
He attended a Catholic high school before his mom transferred him into public school due to financial reasons. Plus, what financially-struggling parent would shell out extra money on schooling for a kid that showed zero interest in academics? Michael would often skip class and hang out in the art room with his teacher. His passion for art was always there, but his passion for the structured school scene wasn't.
While his friends out in Marin and Orinda would talk about going to college, it became increasingly difficult for him to connect with them.
"For us in the city, it was more of a question of 'What are you going to do just to survive?," he said.
But how was a "kid from the hood" with zero resources going to make something of himself?
High school graduation came and went. His suburban buddies left for college. Michael's life remained unchanged: same neighborhood, same crimes, same violence.
"I knew that I didn't want that life. I knew I was built for something different," he said.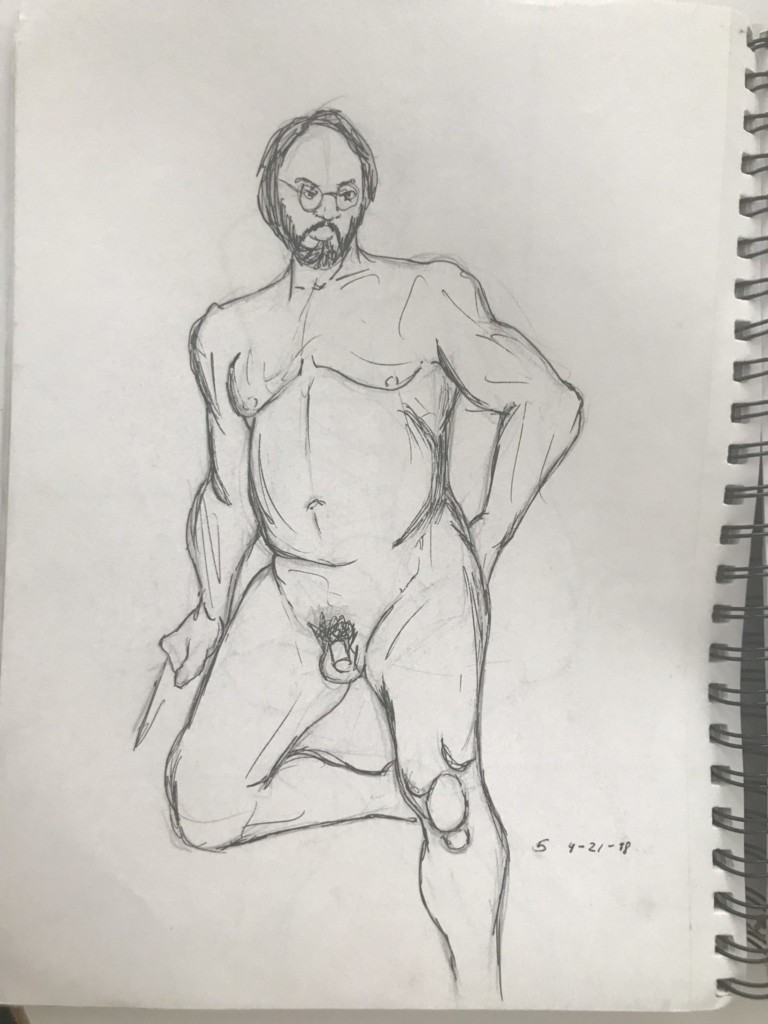 Special Delivery
With some encouragement for his mom, he got a job at UPS and signed up for some general education courses at City College of San Francisco.
Holiday season quickly approached. The work hours got longer. Balancing what now became a full-time job with classes wasn't working. He wasn't sleeping. He wasn't keeping up with the schoolwork. To top it all off, he absolutely hated his job.
"I knew this wasn't for me. I had zero passion for what I was doing," Michael said.
So he decided to take a leap of faith.
Not only did he leave his job at UPS, but he also stopped taking classes at City College.
"I just couldn't do something that I didn't love. Some people get up every day for more than 30 years and just sit under those horrible fluorescent lights, get abused by their bosses, and just eat it. I'm not wired that way," Michael said.
"The Art School Downtown"
Even though his father lacked traditional parenting skills, Michael credits his father for one of the most important bits of advice of his life: The encouragement to attend Academy of Art University.
After he saw Michael struggling to find something that would work for him, he suggested that he go check out "The Art School Downtown." Turns out, he was referring to the Academy.
"I walked down here as a 19-year-old kid fresh off the streets, and said to the man at the front desk, 'I want to go here,'" Michael laughed as he said.
The man at the front desk laughed, too.
He asked Michael what he was interested in doing at the Academy.
"Art," Michael replied.
Cue birds chirping….
What's Open Enrollment? What's a Portfolio?

After being re-directed to the admissions office, the counselors talked with him about the different programs and financial aid. At the end of the conversation, they asked him if he had a portfolio.
His heart sank. However, they took the time to explain to him what a portfolio of work was and that it wasn't absolutely necessary in order to attend the Academy.
It was at this point where he learned what open enrollment was.
"Thank God for the open enrollment policy because I didn't even know what a portfolio was at the time," he said.
First seen in the 1960s and 70s, open enrollment policies were implemented by a number of colleges and universities as a way to remove barriers to higher education. Rich or poor, tall or short, experienced or not: open enrollment was a way for everyone to get a college degree.
"I probably wouldn't have been able to get into any other art school in the country," Michael said. "Open enrollment saved my life."
Starting from the Bottom
Michael started building his legacy at the Academy in the Computer Graphics Department (now known as The School of Web Design/New Media) in 1997. One of the first courses he took was a figure drawing class. He thought it would be a breeze given the fact that he grew up drawing.
"I remember the first day. Eighty percent of the students were better than me. All of the swag and confidence I had was gone," he said.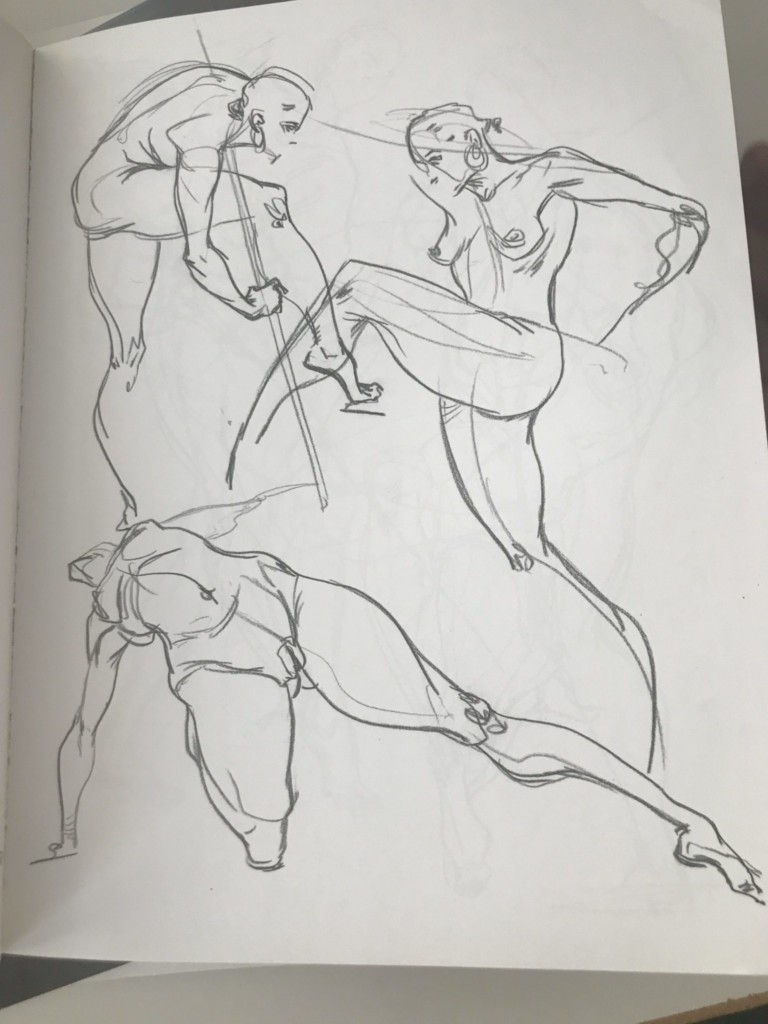 "All I could think about was what the hell to do now."
He had left his job at UPS, left traditional college, and by this time, he even had a girlfriend and a child to take care of. He started to think about the open enrollment policy and whether or not it was a mistake for him to be at the Academy.
It was at that point where he became determined to make art school work. Open enrollment had given him the only chance he had to pursue his real passion, and he was not about to give that up.
"When you come from the environment that I came from, the one thing you learn to do is not to quit. Quitting in my neighborhood could mean death," he said.
From that moment on, Michael switched his major to illustration and essentially ate, slept, and breathed drawing for the next few years.
"I worked like a maniac to catch up and essentially was a sponge in class. By the time I was a senior, I was at the top of my class in terms of draftsmanship," he said.
Fast forward to senior year. After countless sleepless nights spent finishing projects, a whole lot of networking, and even some tears—Michael won best sketchbook in his graduating class.
For a boy from the streets, this was like winning Olympic gold.
Look Out, World. Michael's Here.
A few weeks after graduation from the Academy, Michael was off to his first job in the industry. He had accepted a position in Los Angeles where he created concept art for video games. He soaked up the atmosphere of his first job. During his years working in L.A., he was chosen to take part in some amazing projects, which expanded his skill set.  He learned live action storyboarding, worked with comic books, and was a creative artist for major motion pictures.
"I've pitched animation ideas to Disney and have made connections all throughout the world thanks to my education here at the Academy," he said.
Coming Home
San Francisco will always be home for Michael. Coincidentally, it was also the location of his next gig after living in the star-studded city of L.A. As a concept designer on season 3 of "The Clone Wars" at LucasFilm Animation, he was "in his glory."
Staying in close contact with those who helped him along the way at the Academy also proved to be very useful.
In 2012, Michael became an instructor at the Academy as a Concept Art lead in the School of Game Development where he currently works. He's big on remaining a working professional in the industry as well as teaching. He keeps fresh by doing freelance projects for a variety of big name companies.
"I am passionate about teaching and giving back to the Academy because I know what it's like to suck," he laughed as he said. "I get students' frustrations and I understand how to build skill from zero. That was me."
Forever Indebted to the Academy
Without the open enrollment policy at the Academy, Michael said he would probably still be on the streets of San Francisco.
"This school gave me the opportunity to do what I love for a living," he said.
He could have taken the safe route and stayed at his job at UPS. He could have continued taking classes at a school he wasn't in love with.
"The surest road to mediocrity is to do the safe thing. Greatness involves taking risk," he concluded.
He may not have known what it was at the time of his open enrollment, but now, twenty years later, Michael has a portfolio of his finest work.
"To me, I look at it like I came back home. I love Elisa and everyone else in the executive office, because had they not built this (referring to the Academy), I would not have had this career."
Check out Michael's current portfolio of work.
Start building your own legacy at the Academy today.