Rudolph the Red-Nosed Reindeer, You'll Go Down in History!
As the holidays come closer, we are reminded of the story of Santa Claus. Santa has his helpful elves, jolly belly, and the memorable Rudolph. Rankin/Bass' stop motion animation, Rudolph the Red-Nosed Reindeer was first aired on NBC on December 6, 1964. Once the young buck was born, everyone treated him like a misfit due to his shiny red nose (including Santa). Even his parents wanted to hide their son from the other deers. Later on, Rudolph meets a elf named Hermey who does not want to build toys like the other elves. Instead, Hermey desires to be a dentist. Together, they decide to be "independent" and run away to begin their journey of being misfits (they say this in one of their songs).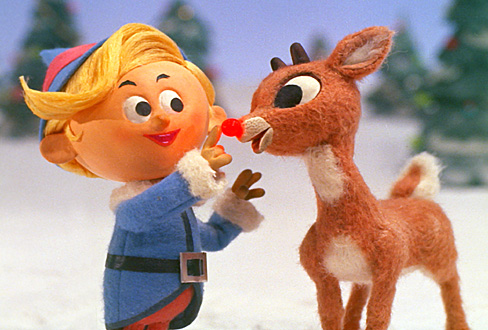 The Rudolph and Santa puppets that were used in this holiday special had been damaged over the years due to children's play and attic storage. The puppets were appraised on PBS's Antique Roadshow in 2006. Later in 2007, the puppets were restored to their original condition by Screen Novelties. Screen Novelties is a collective of film directors specializing in stop motion animation in Los Angeles. Formed in 2003, they were the first to adopt a digital capture system. Screen Novelties is known for mixing classic cartoon elements with puppets and miniature model photography. They helped launch Robot Chicken and Moral Orel for Adult Swim.
For nostalgia and if you want to listen to some entertaining dialogue from the 60s, below is the 1964's Rudolph the Red-Nosed Reindeer. Enjoy.
http://www.youtube.com/watch?v=K5sYJfIYOF8