Students Create Vibrant 8-Story Mural on Cova Hotel
A hotel in the once notoriously gritty Tenderloin neighborhood of San Francisco is getting a colorful revamp, thanks to students at Academy of Art University!
The Cova Hotel, a local boutique hotel in San Francisco, is excited to announce the unveiling of a vibrant, 8-story high mural on-site at 655 Ellis Street.
The mural was completely designed and completed by Academy students.
In order to celebrate this accomplishment, the hotel is hosting a free community reception. Feel free to stop by the Cova Hotel on July 12 at 5:30 p.m. as the scaffolding is removed and new lighting is displayed. Light refreshments will be served.
P(art)nership
Owner Simon Sin chose to partner with the Academy and its mural painting class after he was impressed with its collaborative mural project at the PG&E substation on the same block. At that site, students painted large-scale panels showcasing the history of the Tenderloin.
This isn't the first time Mr. Sin has chosen Academy students to help beautify his properties. Earlier in the year, he tasked them to produce a mural at a new hostel, which is currently undergoing renovation on Franklin Street.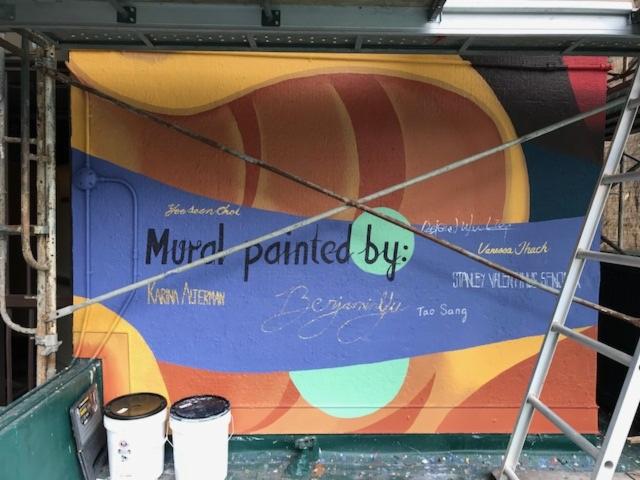 A Little Color Goes a Long Way
Mr. Sin explains his interest in adding the mural to the hotel is two-fold. His first goal is to beautify the building and advance the positive experience of his guests. Secondly, he wishes to add vibrancy and color to the neighborhood. Additionally, he sees the mural as a gift to the community. The artwork is rich in color, offers an art-deco style, and portrays a savvy traveler surrounded by scenery and iconic San Francisco destinations.
Across the country, wall murals have been growing in popularity because of their ability to capture attention and make businesses easily identifiable. In addition o making landmarks identifiable, businesses who choose to have murals on their buildings are getting genuine, authentic art.
Mural Painting is a Teachable Skill
Carol Nunelly, an instructor for the mural painting course, is passionate about the class. Additionally, the benefits to both the students and the community are what inspires her.
She explains the course offers real-world professional experience to serious art and design students. The students learn to work as a team, manage deadlines, and communicate to tell a story. All murals developed by the class are hand-painted and undergo a 5-week design, planning, and preparation phase.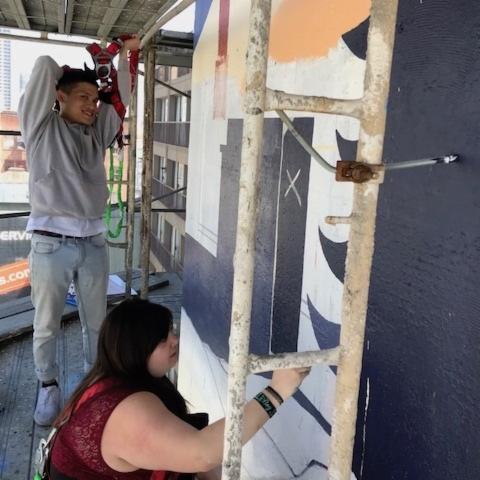 Finally, from week 6 until the semester is over, students research, design, paint, and complete the artwork.