Volvo Taps Academy Students for Self-Driving Truck Project
Students from Academy of Art University's School of Industrial Design recently had the chance to work with Volvo Car Corporation to develop the self-driving truck concepts of tomorrow. In addition, students from the schools of  Graphic Design and Web Design & New Media joined in on the project.
This follows a fruitful collaboration in 2016 that paired the Academy and automaker Jaguar.
"It is always great to work with real companies and real projects," said Tom Matano, Executive Director, School of Industrial Design. "Our students receive guidance and feedback from professional designers. It gives them a taste of the real world."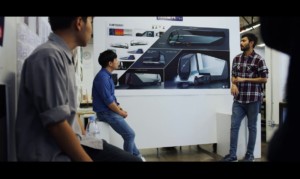 Partnerships with industry leaders benefit both the students and the companies involved.
Volvo understands the upside of collaborating with young, creative students. Fresh young minds can provide insights that may give a company the competitive edge.
For Academy students, the opportunity to get real-world work experience is priceless. Working with industry experts in a professional environment is a once-in-a-lifetime experience.
Larger Lessons
And they're not only learning design skills.
For the Volvo self-driving truck project, students learned the true value of the brand and how to execute that brand.
"Volvo's brand philosophy of safety, family and innovation became part of the design," said Academy student Sungsu Kang.
"They learn the importance of thinking things through," adds Matano. "They have to think beyond hardware, and consider all factors including the logistics of the trucking industry."
Attending the Academy has its perks. Rubbing elbows with industry legends like Volvo is only one of them.