Women in Sound Design: How Daphne Oram Broke the Glass Ceiling
"Who run the world?" Beyoncé asked.
"Girls!" they replied.
Now, while there is no debate as to Beyoncé's utmost, divine perfection, this loud and proud battle cry in her monster hit of a track is not necessarily true—at least not insofar as the music industry is concerned.
And while, perhaps, it is clear that Kween Beyoncé has already secured an enviable spot as both ruler and royalty in the annals of modern music history, the fact remains that she is but one of the very lucky few. The sadder part about all of this is that for whatever success the few female music artists around do enjoy, luck actually has very little to do with it.
Beyond sheer talent and audience appeal, making it in this intensely cutthroat industry requires dedication to the craft, endurance to overcome the many obstacles littered along the way, and courage to beat the odds and stay true to the artists they truly are. And yet, even while women in music do manage to check all these boxes, the environment itself still makes it very difficult for them to succeed.
Missed Representation
According to the latest study from the Annenberg Inclusion Initiatives, female artists are still very much underrepresented in music. The report shows that women comprise less than 17 percent of the industry's performing artists, and even less work as producers at only 2 percent.
These numbers, while certainly not indicative of talent, offer but a glimpse of the inequalities women face in the industry. From lack of resources to restrictive stereotypes of female artists, women find it challenging to break into the music scene.
That is why for young ladies aspiring to join the industry, having other women to look up to and serve as inspiration is critically important. And by inspiration, we mean not just the likes of Beyoncé, but others who have broken glass ceilings, setting trails ablaze, and forging paths for others to follow.
Inspiration such as renowned music pioneer Daphne Oram.
Daphne Oram
Daphne was an unlikely star in the industry. Born in England in 1925, she lived during a time when women were expected to marry and raise a family. Although Daphne played instruments, and was educated in musical composition, she did not expect music to be her career. Instead of attending school, Daphne surprised many by working as a junior studio engineer and music balancer at BBC.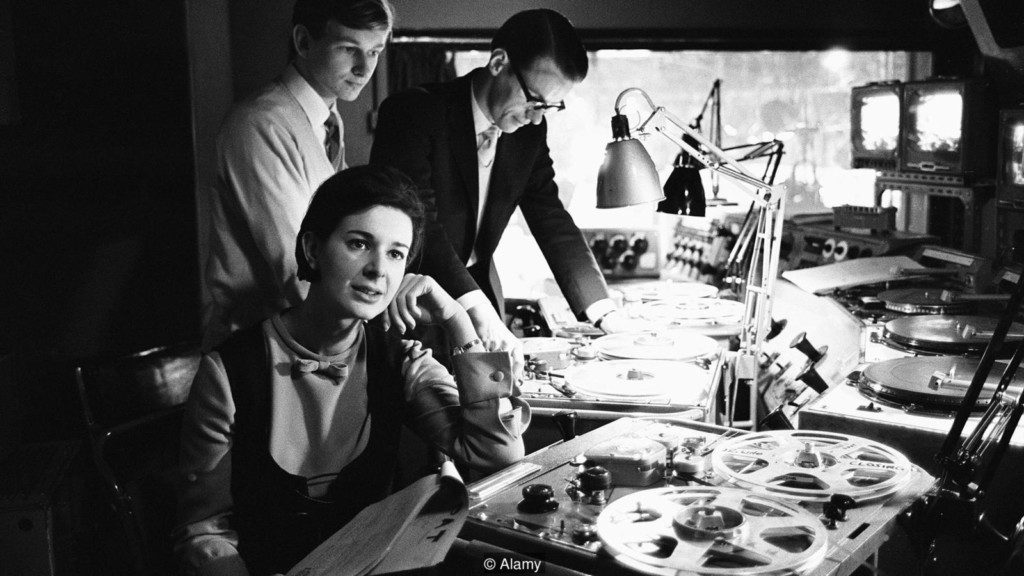 Daphne's creative nature would not allow her to simply put in a day's work and go home. After everyone left the office, she often stayed to experiment with recording, splicing, looping, and editing sound. In her 20s, Daphne dedicated time to composing music and became one of the first composers to create electronic sound. It was new, innovative, and totally unexpected.
Daphne's career surprised many. In addition to producing music for others, she became a highly successful composer and was named the first studio manager of the BBC's Radiophonic Workshop. Long after her death in 2003, people around the world continue to enjoy Daphne Oram's compositions for television and film.
Now is Your Time
Inspired by Daphne Oram? It's your time to shine. Embrace the opportunity to become part of a small, extraordinary sorority of women who change the face of music. Mark your change now at the Music Production and Sound Design Program at Academy of Art University.
From mastering audio equipment to working with production software, we teach you the skills necessary for a career in music.
Imagine perfecting your art against the eclectic backdrop of San Francisco. Our music production school will prepare you to compose, produce, and edit soundtracks for film and video game production.
Brad Hughes, director of School of Music Production & Sound Design is the perfect example of the caliber of faculty. With nearly 25 years of experience, he has provided music and sound services to clients like DreamWorks and Creativity Studios.
Hughes is a voting member of the National Academy of Recording Arts & Sciences (NARAS), serves on the education committee of its San Francisco chapter. He holds a BFA in World Arts & Cultures from UCLA and an MFA in Music from The California Institute of the Arts. Because he spent a decade in Los Angeles as a studio musician, Hughes offers students valuable insight only an insider can.
Where to Begin
There's a myth that the entertainment is impossible to break into. That's simply not true. Like every industry, entertainment is always on the lookout for talented and well-trained artists. The training at Academy of Art University is customized to prepare you and make you stand out from the crowd.
If your dream is to work in the music industry, prepare to leave your mark now. Contact us to learn more about how you can get started.