Back to School Series: First Day Must-Haves
The countdown is totally on! Can you imagine you're now officially an art school student? Well, you most likely have, which is why you chose to come to Academy of Art University in the first place. Before you embark on this latest, exciting adventure of your life, make sure you've got everything ready.
There's plenty of work to be done, and at the Academy, there is no such thing as wasting time. In fact, Orientation Week is already well underway. So organize your things—and thoughts—and expect to hit the ground running. You better have your textbooks and supplies sitting pretty in your bag when you come to class starting Monday.

T-5 before until your Academy Day 1 begins!
Day 1 Checklist
Student ID
Not only does this card certify that you are an Academy of Art University student, it also gives you access to all Academy buildings and facilities, including the free shuttle service. So make sure to pick it up ASAP; you only have until Friday, February 1, to do so.
Textbooks
Here in the Academy, we believe in a holistic approach to education, which is why students will experience both theoretical and applied learning. To do this, you need to have the proper materials. Check out the list of places you should get your stuff from.
Alexander Book Company
50 Second St.
415.495.2992
alexanderbook.com
Academy of Art University Virtual Bookstore
ecampus.com/aoa
Chegg
chegg.com
Art Supplies
BLICK

979 Market St.
415.908.3811
As the main store location, this should have the most variety of stock. Items available for pickup.
149 New Montgomery St.
415.777.6920
This branch has a basic variety of stock. Items available for pickup.
1930 Van Ness Ave.
415.409.1359
Industrial Design students can enjoy professional grade stock in this branch. Items may be limited, however.
466 Townsend St., 3rd Floor
415.908.3811
This campus store houses supply for Foundations and Architecture.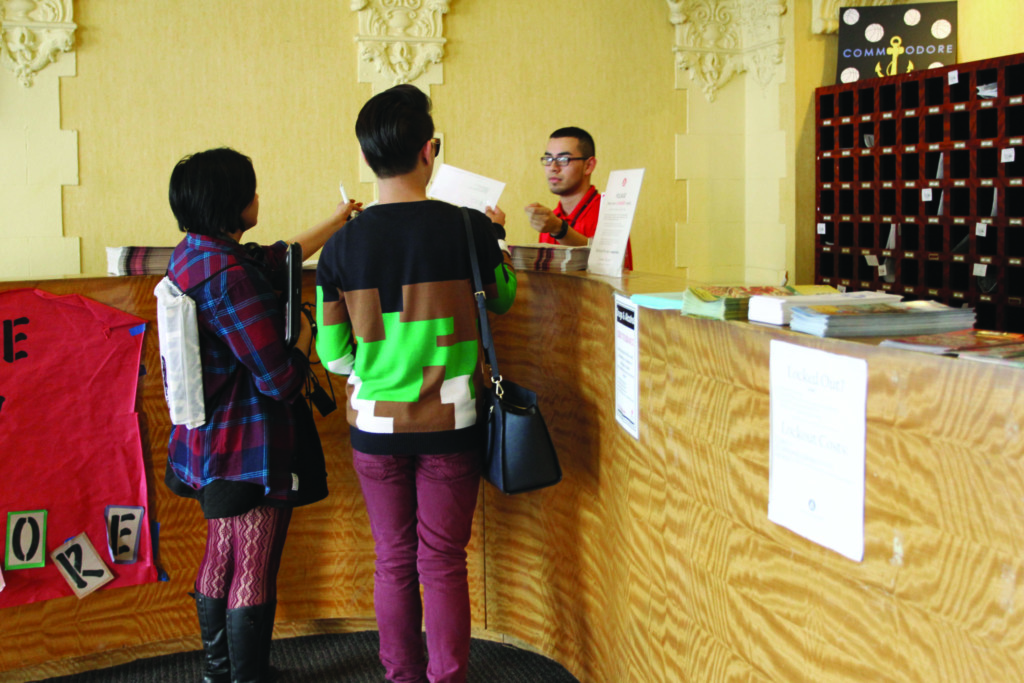 Find Your Classroom
The Academy's goal is to help you master your craft, but also help you find your place. Literally. As in find your classroom so you can actually get some learning. For this, each academic building will have a huge poster containg the list of every conceivable class there may be, as well as where and when it will happen.

If you're not particularly keen on squeezing yourself in between people (that may soon be your friends, you never know!) just to take a quick look at the info you need, you can login the student portal via the Academy App instead.
Get a Locker
Unless you have separation anxiety from your school stuff, you might as well leave them in your lockers. There are a couple of ways you can get one.
If you're using a credit card—or are a graduate student reserving your first locker—simply login to your student portal to make the rentals.
Paying with cash or check? Go to the Accounts Receivable office located on the 4th floor at 150 Hayes. Call this number to confirm their service hours: 415.618.6429.
Do take note that lockers can only be rented out one semester at a time. At the end of each term, you should clear your things out. Undergraduates may rent a locker for $20. Graduate students, meanwhile, get one (1) for FREE, but will be charged $20 for any additional rentals.

Once payment has been made, details should appear in your student account. You may then proceed to the locker location, where you will show proof of rental to the Campus Host. Also, bring your own locks; the Academy does not provide them for you.
Download the Academy App
Keep your First Day High for the rest of the semester. Stay on top of your class schedule and be in the know on important university updates and fun events. Download the Academy app for all these and more, including the complete shuttle schedule so you don't miss out on anything.
App for iOS downloadable here.
App for Android downloadable here.