Back to School Summer Series: Campus Safety and Security
We want our students, faculty, staff, and all other community members to enjoy our facilities and premises, but also, we want you all to stay safe.
Because let's face it: as cool and awesome as it may be that Academy of Art University is very well a part of San Francisco's profile, city living can also be rough and tough.
Take note of these offices and services offered by the Academy to ensure your safety throughout your stay with us:
ART U Campus Safety Alert
Subscribe to this SMS notification program so you can be updated immediately in case there are any emergency situations in any of our campus buildings or properties. Don't worry, it's free.
Campus Cruiser or Walking Escort
Some days you'll find yourself doing school work well into the night and much later than you would want. In case you've missed the last of the school shuttles and you're not comfortable walking back to your dorm by yourself, you can request the school to assign you a campus cruiser or walking escort.
Offices and Services Directory
Find and contact the office that you need, when you need it, so you can be provided the assistance you seek.
We've compiled everything here for you, so go ahead, save a copy on your phone. Have a fun—and safe—stay at the Academy!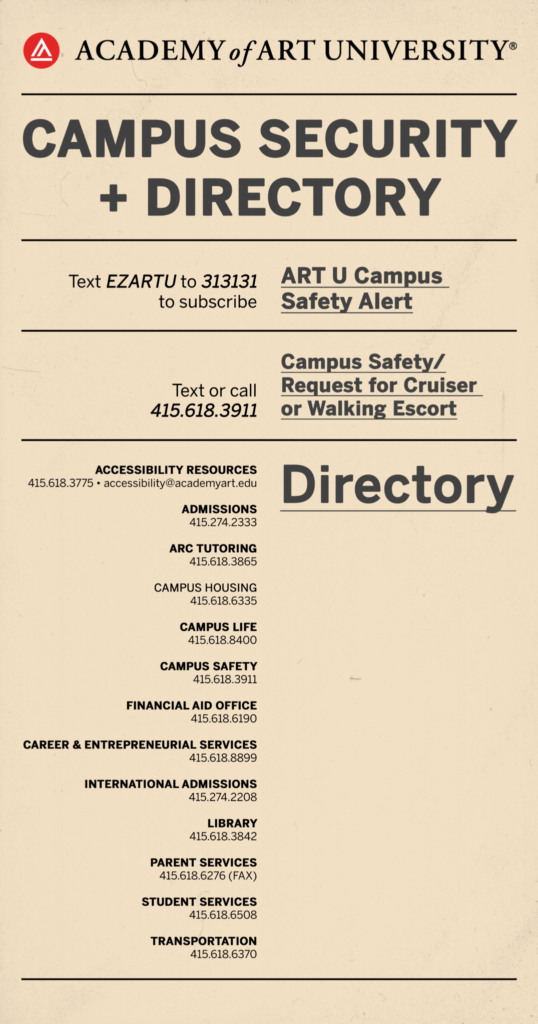 ---
Apply now to become a part of our community. Get in touch with an admissions representative to request information on our degree programs.