Congratulations to Oscar Nominees!
Academy of Art University is proud to congratulate its list of alumni who are part of crews for Oscar-nominated films this year—including Borrowed Time, Doctor Strange, Silence, Moana, Suicide Squad, and more!
The journey from classroom to international awards stage is made possible by the Academy's specialized schools in art and design. With educational backgrounds from the School of Animation & Visual Effects, School of Motion Pictures & Television, School of Illustration, and School of Photography, our alumni have made outstanding industry contributions achieving critical acclaim.
See the full list of Academy alumni recognized for their success in the film industry below! Be sure to tune in for the Oscars on Sunday, Feb. 26 at 5:30 PST!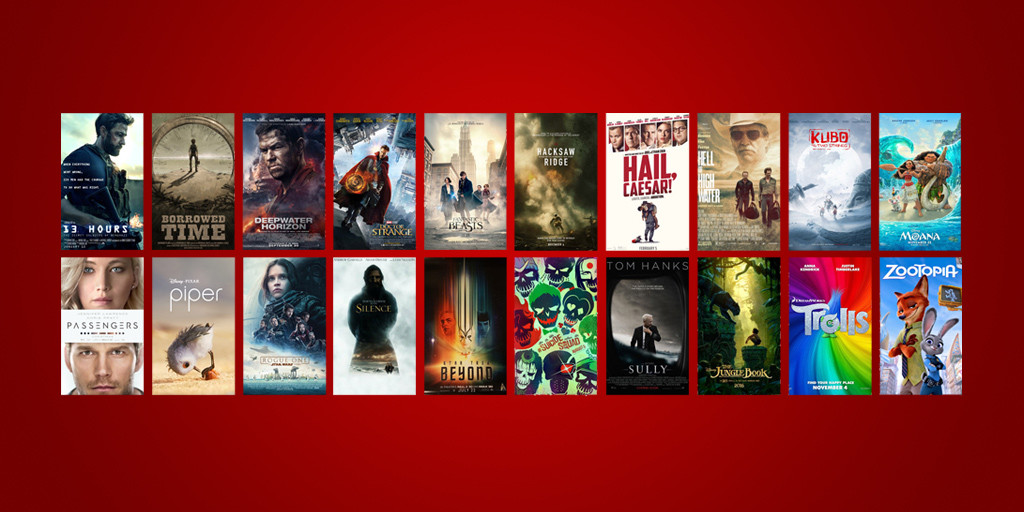 13 Hours: The Secret Soldiers of Benghazi
Natapon Huangsakuncharoen ('09; School of Animation & Visual Effects)
Senior Creature TD
Industrial Light and Magic
Borrowed Time
Charlie Ramos ('91; School of Illustration)
Layout Artist
Pixar Animation Studios
Doctor Strange
Yunmi Ahn ('04; School of Animation & Visual Effects
Sr. Roto Artist
Method Studios
Maragot Bodharamik ('07; School of Animation & Visual Effects)
Animator
Industrial Light and Magic
Joseph Cavanaugh ('03; Computer Arts)
Head of FX Council
Sony Pictures Imageworks
Chih-Wen Huang ('15; School of Animation & Visual Effects)
Model/Texture Artist
Luma Pictures
Nicholas Kim ('04; School of Animation & Visual Effects)
Compositor
Method Studios
Heath Kraynak ('91; School of Advertising)
Senior Compositor
Industrial Light and Magic
Ryan Lang ('09; School of Animation & Visual Effects)
Concept Artist
Marvel Studios
Kyoungsoo Min ('14; School of Animation & Visual Effects)
Hard Surface Model/Texture Artist
Luma Pictures
Mohammad Modarres ('14; School of Animation & Visual Effects)
Model/Texture Artist
Luma Pictures
Dan Nguyen ('14; School of Animation & Visual Effects)
Roto/Paint Artist
Luma Pictures
Rebekah Noulles ('10; School of Animation & Visual Effects)
VFX Production
Industrial Light and Magic
Mauricio Valderrama ('08)
Senior Compositor
Method Studios
Evan Wen ('12; School of Animation & Visual Effects)
Compositor
Method Studios
Mingquan Zhou ('12; School of Animation & Visual Effects)
Character TD
Method Studios
Fantastic Beasts and Where to Find Them
Brandon Blevins ('11; School of Animation & Visual Effects)
Senior Compositor
Rodeo FX
Soomin Chon ('13; School of Animation & Visual Effects)
FX TD / Artist
MPC
Brooke Dibble ('12; School of Illustration)
Assistant Modeller – Props Modelling
Warner Bros
Hacksaw Ridge
Mario Pace ('14; School of Animation & Visual Effects)
Matte Painter
Lindeman and Associated
Hail Caesar
Karl Burian ('11; School of Motion Pictures & Television)
Feature Film Assembly Editor
Universal Pictures
Hell or High Water
David Kim (School of Motion Pictures & Television)
VFX Producer
Vitality VFX
Kubo and the Two Strings
Gentry Davidson ('12; School of Animation & Visual Effects)
Digital Paint Artist
Laika, Inc
Matthew Ellsworth ('09)
Facial Animator
Laika, Inc
Daria Eremina (School of Animation & Visual Effects)
Jr. RP Rigger
Laika, Inc
Tina T Hsu ('09; School of Animation & Visual Effects)
Rapid Prototyping QA
Laika, Inc
Dhanad Islam ('14; School of Animation & Visual Effects)
Junior CG Modeler
Laika, Inc
Ovi Nedelcu ('99; School of Animation & Visual Effects)
Story Artist
Laika, Inc
Desiree Ong '(13; School of Animation & Visual Effects)
Art Department – Production Assistant
Laika, Inc
Tarek Saleh ('13; School of Animation & Visual Effects)
Stereo Pain Artist
Laika, Inc
Moana
Sungjoon Bae ('15; School of Animation & Visual Effects)
Lighting and Compositing Artist
Walt Disney Animation Studios
Youngjae Choi ('02; School of Animation & Visual Effects)
Animator
Walt Disney Animation Studios
Serry DeLorme ('05; School of Illustration)
Senior Toy Designer
Jakks Pacific
Ryan Lang ('09; School of Animation & Visual Effects)
Visual Development Artist
Sony Pictures Animation
Benjamin Min Huang ('03; School of Animation & Visual Effects)
Senior Look Dev and Lighting
Walt Disney Animation Studios
Joey Ramos ('04; School of Illustration)
Sr. Designer
Jakks Pacific
Joey Shen ('04; School of Illustration)
Senior Toy Designer
Jakks Pacific
Richard Van Cleave ('05; School of Animation & Visual Effects)
Character TD
Walt Disney Animation Studios
Shaofu Zhang ('10; School of Animation & Visual Effects)
Animator
Walt Disney Animation Studios
Passengers
Eva Kristjans ('09; School of Illustration)
DMP Artist
MPC
Vijay Selvam ('02; School of Animation & Visual Effects)
Lead Compositor
MPC
Piper
Charlie Ramos ('91; School of Illustration)
Layout Artist
Pixar Animation Studios
Rogue One: A Star Wars Story
Maragot Bodharamik ('07; School of Animation & Visual Effects)
Animator
Industrial Light and Magic
Cynthia Crimmins ('01; Computer Arts)
Line Producer/Production Manager
Industrial Light and Magic
Bridget Dash ('07; School of Animation & Visual Effects)
Recruiter
Industrial Light and Magic
Ellery Ortiz ('03; School of Animation & Visual Effects)
Sr. Matchmove/Layout Artist
Industrial Light and Magic
Tzuen Wu ('05; School of Photography)
Senior Compositor
Industrial Light and Magic
Silence
Karl Burian ('11; School of Motion Pictures & Television)
Associate Producer
Motive Creative
Phoenix Lee ('13; School of Animation & Visual Effects)
Freelance FX Technical Director
Post Mango
Star Trek Beyond
George Antz ('06; School of Animation & Visual Effects)
Previs/Postvis Lead
Paramount
Matthew Boston ('96; Computer Arts)
Animator
Double Negative
Daniel Giron ('14; School of Animation & Visual Effects)
3D Environment Artist
Atomic Fiction
Ingo Gudmundsson ('10; School of Animation & Visual Effects)
Previs Artist
Proof Inc
Chen Kuang Hsu ('14; School of Animation & Visual Effects)
Matchmove Artist
Atomic Fiction
Chih-Wen Huang ('15; School of Animation & Visual Effects)
CG General Artist
Prologue
Melissa Huerta ('04; School of Animation & Visual Effects)
Roto/Paint Artist
Kelvin Optical/Bad Robot
Lea Antonette Irianda ('15; School of Animation & Visual Effects)
Production Assistant
Atomic Fiction
Byunggun Jung ('00; Computer Arts)
Senior Lighting TD
Double Negative
Jeff Kim ('05; School of Animation & Visual Effects)
Senior/Lead Animator
Double Negative
Chen Kuang Hsu ('14; School of Animation & Visual Effects)
Matchmovie Artist
Atomic Fiction
Dan Kunz ('02; School of Fine Art)
Capture Supervisor
Double Negative
Jaymie Lam ('03; School of Animation & Visual Effects)
Compositor
Double Negative
Patrick Louie ('10; School of Animation & Visual Effects)
Compositor
Atomic Fiction
Evangeline Torres ('13; School of Animation & Visual Effects)
Junior Compositor
Atomic Fiction
Shaun Tsou ('15; School of Animation & Visual Effects)
Compositor
Atomic Fiction
Suicide Squad
Teddy Cheong ('13; School of Animation & Visual Effects)
Compositor
MPC
Soomin Chon ('13; School of Animation & Visual Effects)
FX/TD Artist
MPC
Khizer Diwan ('11; School of Animation & Visual Effects)
3D Digital Matte Painter
MPC
Namjin Heo ('12; School of Animation & Visual Effects)
Digital Compositor
MPC
Seung Hoo Ihm ('08; School of Animation & Visual Effects)
Senior Character Animator
Sony Pictures Imageworks
Nadezda Kuzmina ('10; School of Illustration)
Concept Artist
MPC
Amanda Pamela ('07; School Animation & Visual Effects)
Senior Compositor
Sony Pictures Imageworks
Foram Pardiwala ('13; School of Animation & Visual Effects)
Digital Compositor
MPC
Ryan Saper ('13; School of Animation & Visual Effects)
Modeler
Sony Pictures Imageworks
Barbaros Sarisozen ('11; School of Animation & Visual Effects)
Modeler
Sony Pictures Imageworks
Ali Tezel ('06; School of Animation & Visual Effects)
Senior Layout TD/Artist
Sony Pictures Imageworks
Robby Wong ('09; School of Animation & Visual Effects)
Layout
MPC
Sully
Soomin Chon ('13; School of Animation & Visual Effects)
FX TD / Artist
MPC
Vijay Selvam ('02; School of Animation & Visual Effects)
Lead Compositor
MPC
The Jungle Book
Gak Gyu Choi ('10; School of Animation & Visual Effects)
Modeler
Weta Digital
Eva Kristjans ('09; School of Illustration)
DMP Artist
MPC
Dan Kunz ('02; School of Fine Art)
Motion Editor/ Anmiator
Weta Digital
Andrew Leung ('02; School of Illustration)
Concept Artist
Walt Disney Animation Studios
Vijay Selvam ('02; School of Animation)
Lead Compositor
MPC
Roland Yepez (School of Animation)
Senior Animator
Weta Digital
Trolls
Minyu Chang ('02; School of Animation)
Senior CG Modeler
Dreamworks
Charles Ellison ('04; Computer Arts)
Head of Modeling
Dreamworks
Jonathan Gomez ('07; School of Animation)
3D Modeler
Dreamworks
George Ho ('97; Computer Arts)
Lighter
Dreamworks
Patrick Johnson ('08; School of Animation)
Assistant to Producer
Dreamworks
Anthony Meschi ('08; School of Visual Development)
Stereoscopic Compositor
Dreamworks
Brian Missey ('08; School of Animation & Visual Effects)
Lead Character FX Artist
Dreamworks
Andrea Pun ('03; Computer Arts)
Senior Surfacing Artist
Dreamworks
Scott Raymond ('07; School of Visual Development)
Character Cycle Animator
Dreamworks
Ann Sidenblad ('03; School of Animation & Visual Effects)
3D Modeler
Dreamworks
Nikhil Sinha ('11; School of Animation & Visual Effects)
Image Finaling Lead
Dreamworks
Zootopia
Katie Amanek ('11; School of Photography)
Production Office Manager
Walt Disney Animation Studios
DJ Byun ('10; School of Animation & Visual Effects)
Effects Animator
Walt Disney Animation Studios
Youngjae Choi ('02; Computer Arts)
Animator
Walt Disney Animation Studios
Christopher Erickson ('13; School of Animation & Visual Effects)
Lighting Artist
Walt Disney Animation Studios
Benjamin Min Huang ('03; Computer Arts)
Look Development Supervisor
Walt Disney Animation Studios
Hiraoki Narita ('10; School of Animation & Visual Effects)
Effects Artist
Walt Disney Animation Studios
Richard Van Cleave ('05; School of Animation & Visual Effects)
Character TD
Walt Disney Animation Studios
Ryan Winch ('12; School of Illustration)
Character Designer
Walt Disney Animation Studios
Shaofu Zhang ('10; School of Animation & Visual Effects)
Animator
Walt Disney Animation Studios