Countdown to the Graduation Fashion Show: Meet the Designers Part III
What: School of Fashion Graduation Fashion Show
When: 3 PM – 4 PM on Saturday, May 11th, 2019
Where: 625 Polk Street, San Francisco, CA 94124
RSVP
Have you been enjoying getting to know the student designers joining this year's Fashion Show? Good, because there's plenty more where those profiles came from.
For this next batch, we have a couple of collaborations and some really introspective designs based on travel and experience. Say hello to the featured School of Fashion designers for Part III below.
Clara M. Chandra and Jack Gunnin
"The Art of Identity"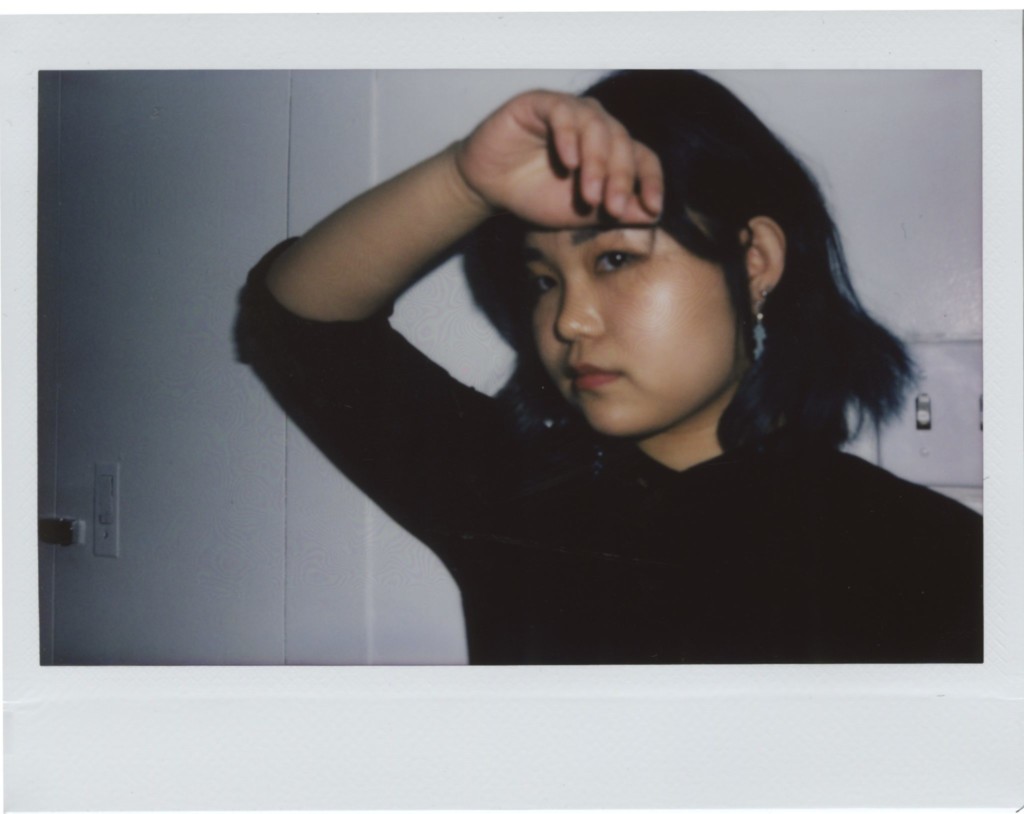 B.F.A. fashion design student Clara M. Chandra and B.F.A. textile design student Jack Gunnin became a creative team to give visual voice to Chandra's experience of her heritage and identity. While growing up in Indonesia, Chandra experienced what she describes as 'discrimination' both personally and also through stories of other Chinese-Indonesians living in smaller, rural regions.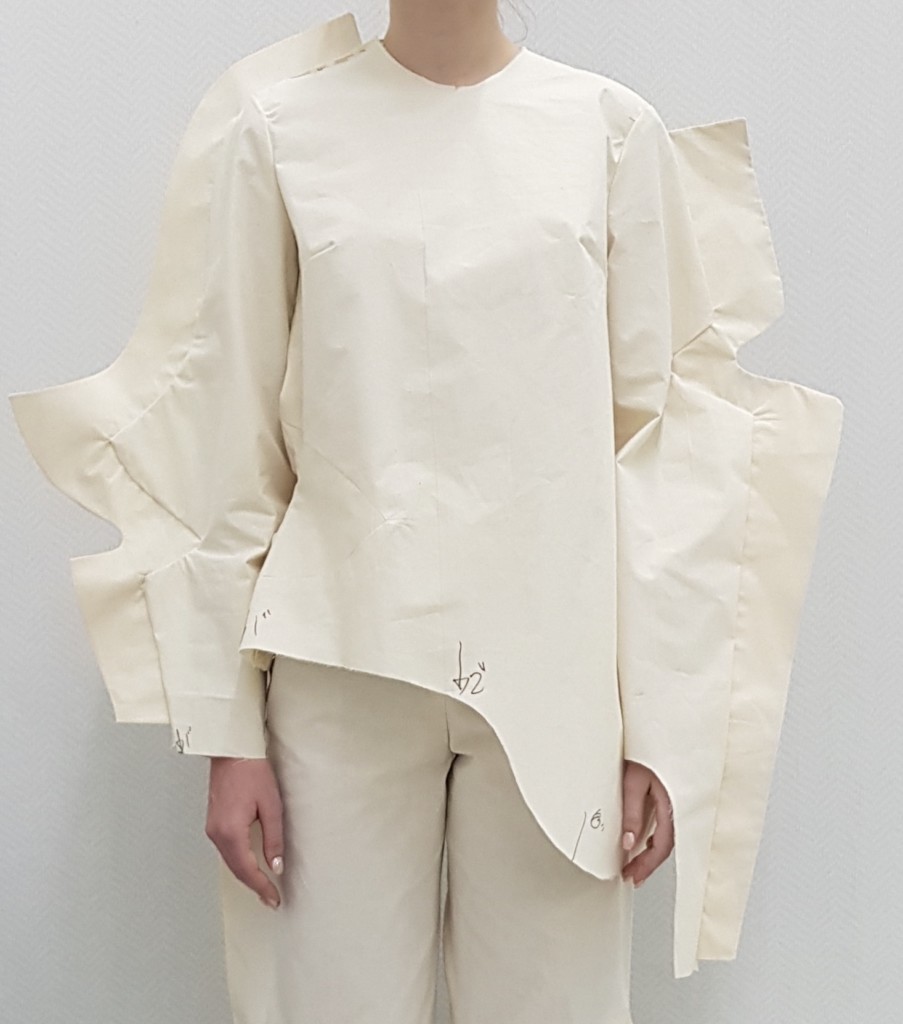 To honor her mother, Chandra and Gunnin incorporated shadows from one specific photograph of her mother when she was a young woman. In his research, Gunnin was further inspired by the beauty and purple hues of the Indonesian national flower, moon orchid. His textile prints for the collection incorporate both the parts of the photograph, as well as manipulations of images of moon orchids to create vibrant, abstract prints. For the duo, the resulting images from both the photograph and moon orchids, symbolize Chandra's mother's life and pieces of her identity – which naturally extend to Chandra.
Above excerpt by Madison Ahmani, Fashion Journalism student
---
Claudia Tan and Pamela Toribio
"Cruel Intentions"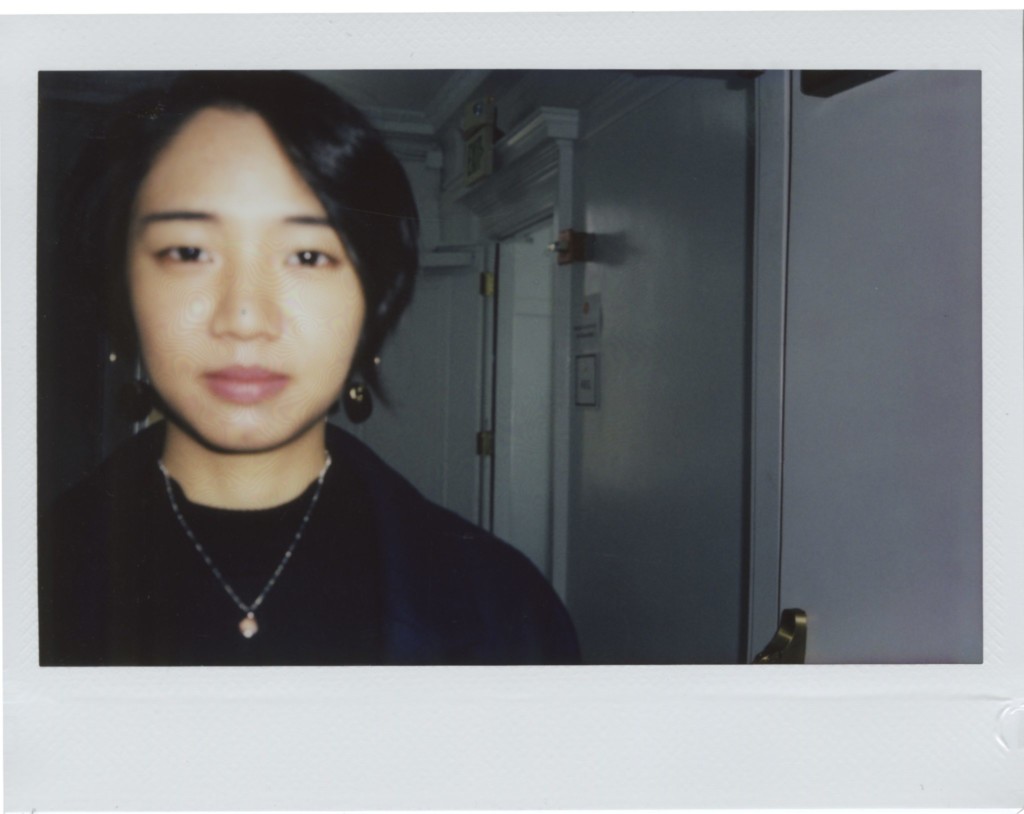 There's a road in Hong Kong called Goldfish Street, where rows upon rows of plastic bags, filled with colorful goldfish, create a beautiful walking art gallery of vibrant color. Then, one realizes that there is cruelty beneath the beauty; after all, these are genetically manipulated goldfish, trapped in plastic prisons, modified to look more attractive for human consumption and enjoyment. The guilt of finding beauty in cruelty serves as an inspiration for the collaborative collection of Claudia Tan, B.F.A. fashion design and Pamela Toribo, B.F.A. textile design.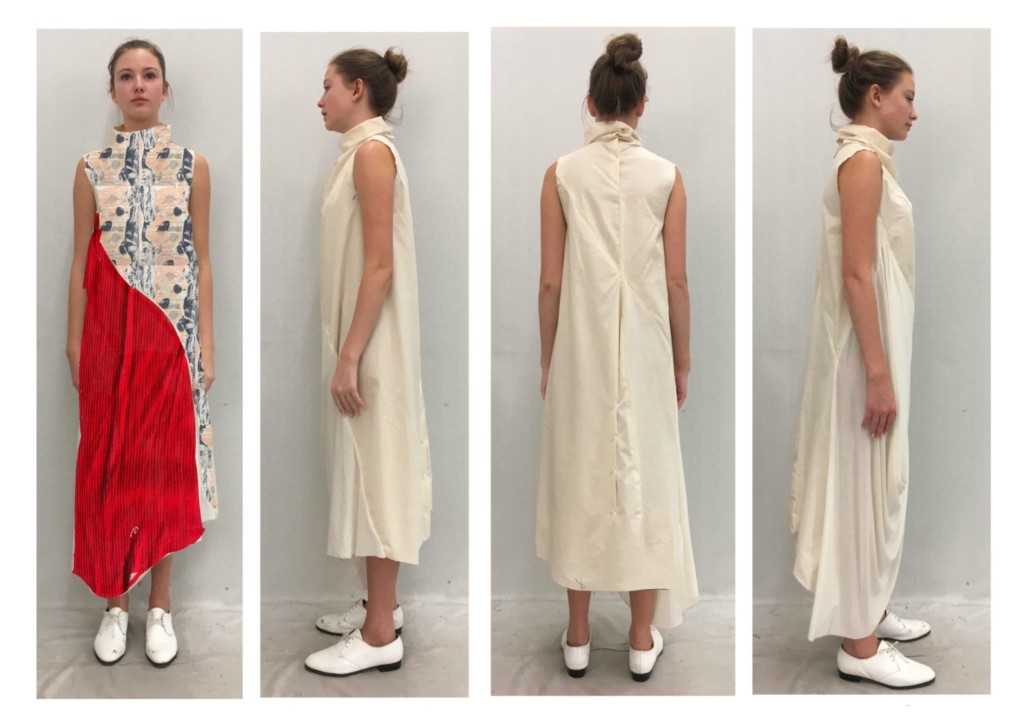 The designs and the textiles merge seamlessly, indicative of the duo's harmonious working relationship. Together, Tan and Toribo simultaneously reflect the ironic cruelty underneath the surface of beauty, while questioning the ethics of a disturbing live animal market.
Above excerpt by Adriana Georgiades, Fashion Journalism student
---
Florence Canonoy
"Can't Get Detention Now"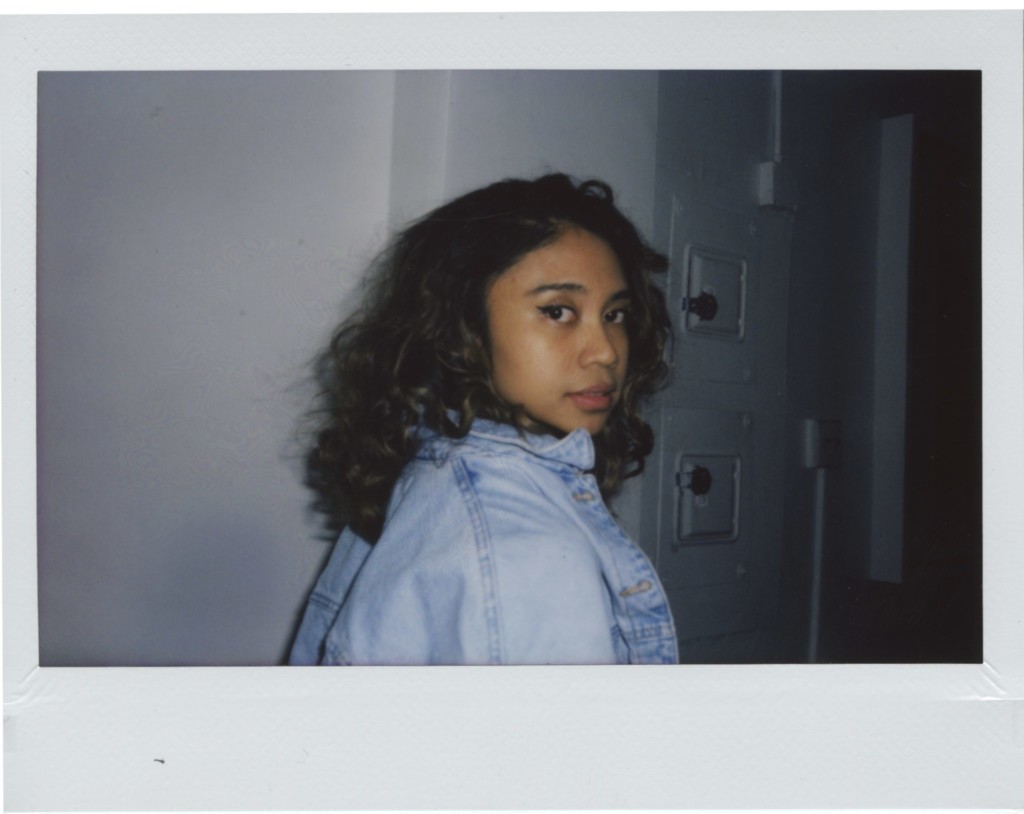 Canonoy, a Council of Fashion Designers of America (CFDA) scholarship finalist in 2018, embraced her personal disposition by shortening her skirt and tying her necktie the way the boys were required to tie them. Receiving detention after school every other month didn't stop her from repeating the deconstruction experiments over and over again. Her collection represents the free-spirited girl that didn't understand why her creativity always got her in trouble.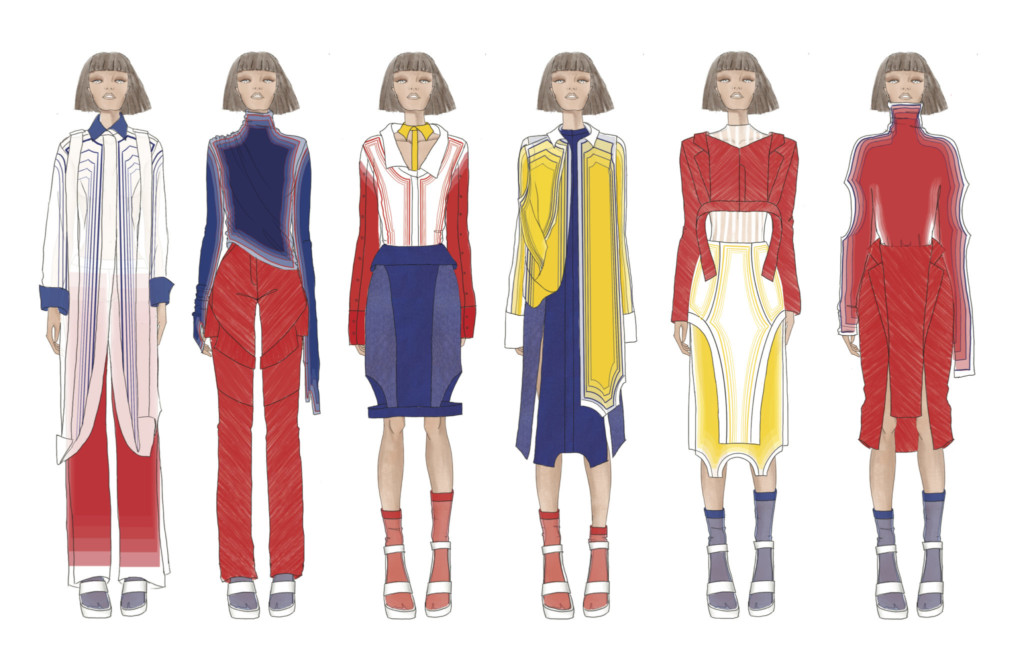 The essence of Canonoy's garments lies in their versatile, convertible elements. A cotton batiste shirt with magnetic straps can change in length and be worn in multiple ways. The convertible concept is more than just a modification; it supports Canonoy's wish for having an environment where students were encouraged to express themselves, rather than having set rules around what to wear and how to wear it during her high school days.
Above excerpt by Camila Encomendero, Fashion Journalism student
---
Hanan Sabir Argaw
"Hooked on Fashion"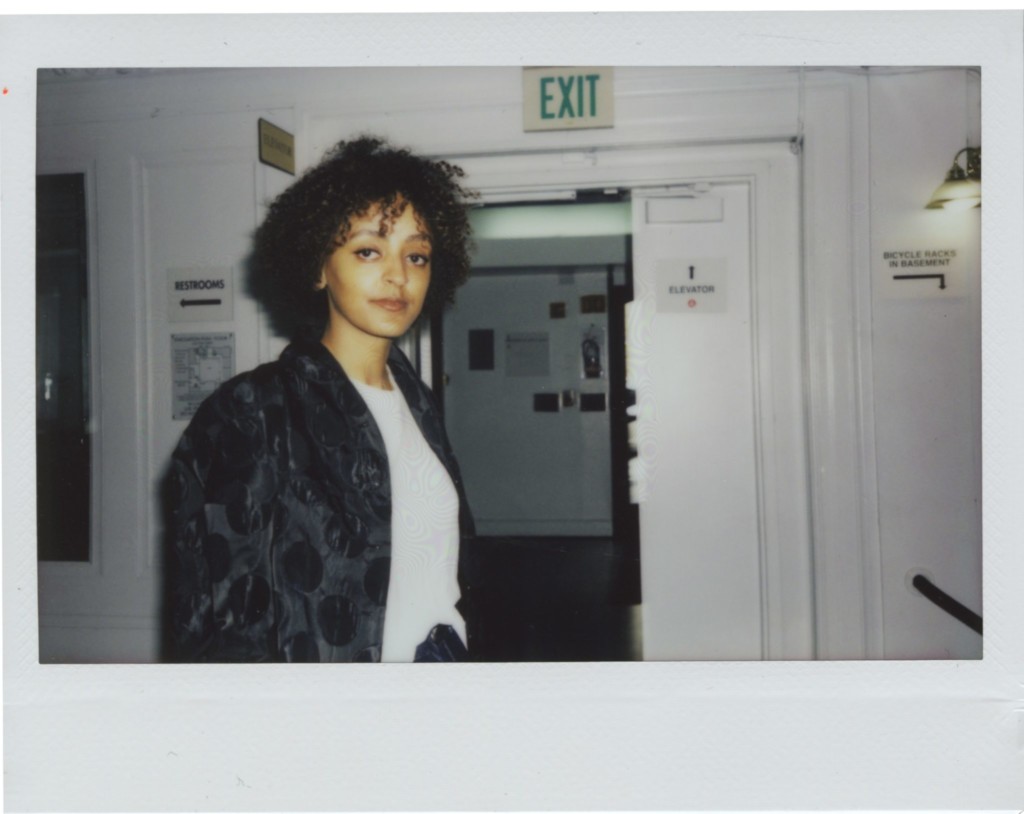 B.F.A. fashion design student Hanan Sabir Argaw's senior thesis is a collection that almost didn't happen. The Ethiopian-born designer was a year and a half away from completing her psychology degree when she quit to pursue her real dream: fashion design. Her collection is a testament to choosing one's passion over doing what others expect of you.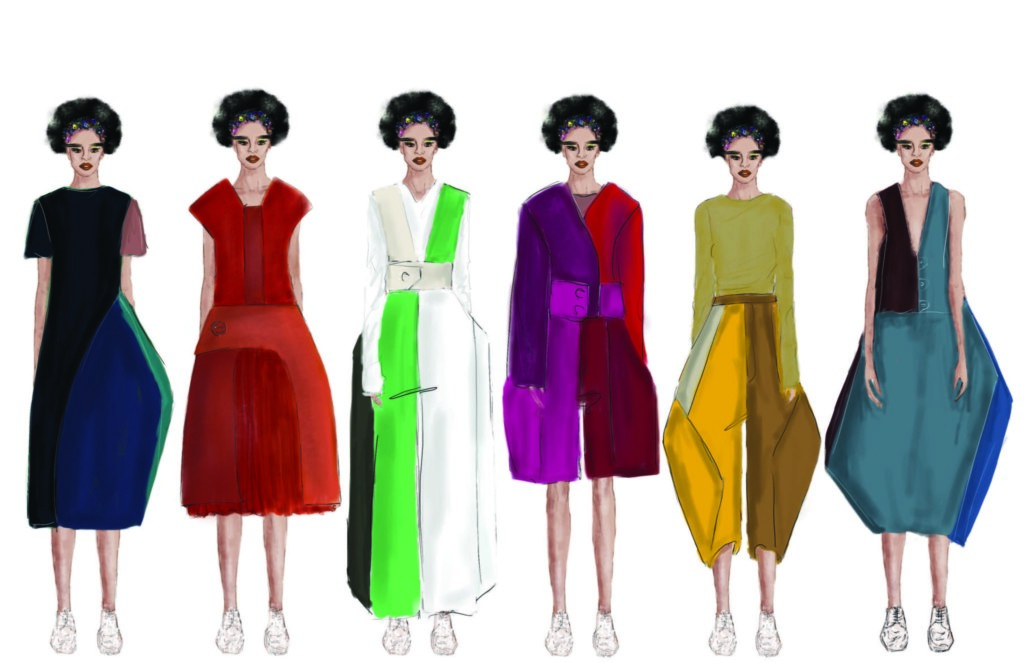 Argaw incorporated a wide variety of materials into her work, including jersey, wool, silk, corduroy, and cotton twill. The collection is entirely sustainable, as most of the fabrics were sourced from either FabScrap, a company that recycles materials, or FilzFelt, a company that sells felt offcuts from previous projects that would otherwise have been discarded. The theme of sustainability ties in with the topic of wellness, as both relate to healthier choices for the environment and the individual respectively.
Above excerpt by Adriana Georgiades, Fashion Journalism student
---
Isaiah Garcia
"When Painting Captivates Fashion"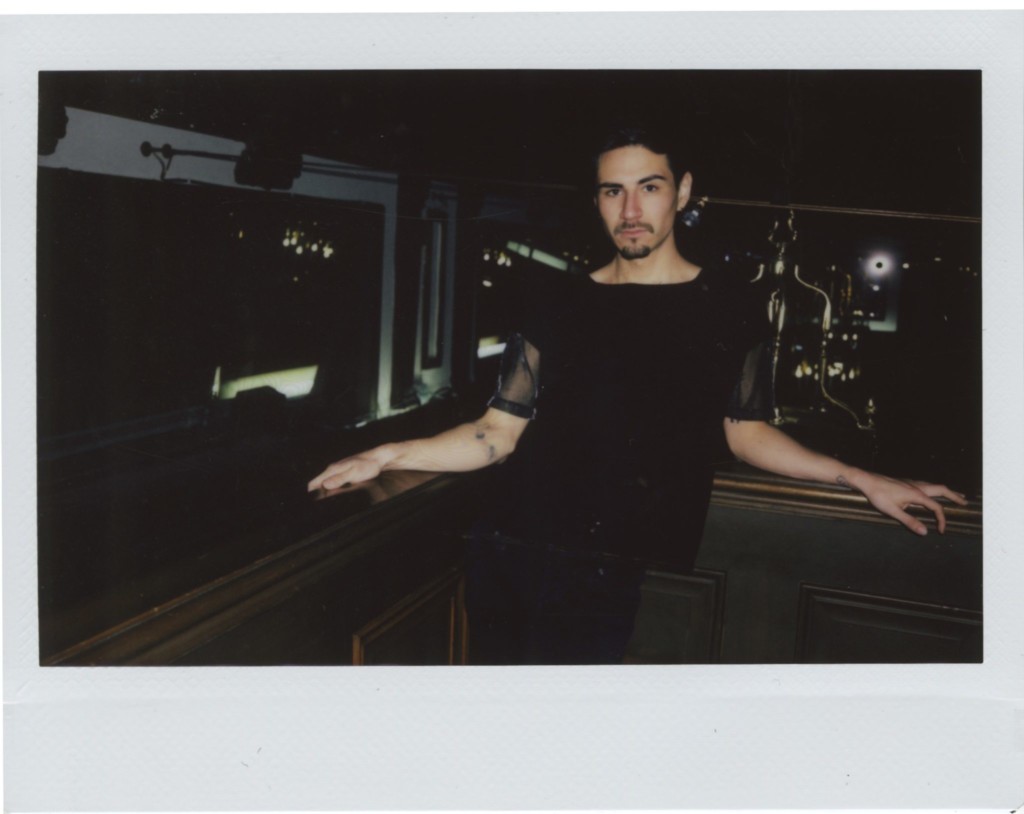 "I think fashion is one of the highest forms of art created," said B.F.A. fashion design student Isaiah P. Garcia. And his collection certainly looks like it. Garcia's innovative technique, made up of free-flowing, organically shaped plastic overpieces filled with dyed hair gel, showcases his former artistic background as a painter. His alternative to fabric was meant to channel the fluidity and movement of water, which inspired his collection.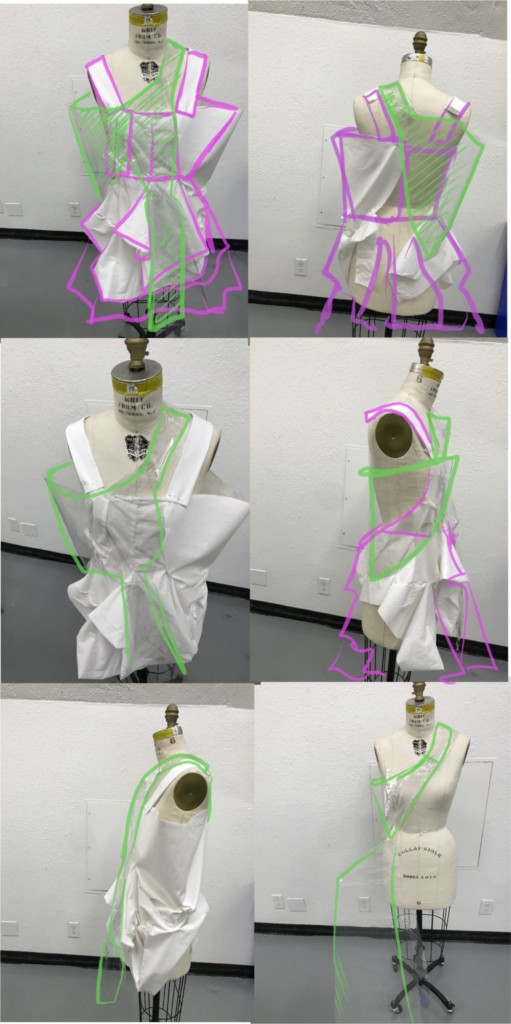 Each overpiece is made by hand. Each piece has to be individually measured, cut into shape, filled with dye, and then sealed with heat. The process is incredibly time consuming and meticulous, making each overpiece have its own custom construct.
Above excerpt by Adriana Georgiades, Fashion Journalism student
---
Counting Down With the Academy
We're only halfway through the list of student designers showing off their collection at the Fashion Show next week! Keep it posted here for the rest. Meanwhile, don't be a stranger; meet the other designers featured in Part I and Part II.
---
Header image courtesy of Pamela Toribio