Countdown to the Graduation Fashion Show: Meet the Designers Part I
What: School of Fashion Graduation Fashion Show
When: 3 PM – 4 PM on Saturday, May 11th, 2019
Where: 625 Polk Street, San Francisco, CA 94124
RSVP
Everyone loves a behind-the-scenes sneak peek, and Academy of Art University is more than happy to provide.
Students at the Academy's School of Fashion are counting down the days 'til our biggest fashion event of the season: the Graduation Fashion Show.
Leading up to the main attraction, we'll be sharing profiles of our student designers three times every week. Since we have quite a few designers to cover, we'll be revealing their names—alongside teaser images of their collections—in alphabetical order.
So RSVP today, and read on for excerpts from designer profiles written by student writers in our Fashion Journalism program.
Ana Karen Juarez Ibarra

"Starting a Revolution"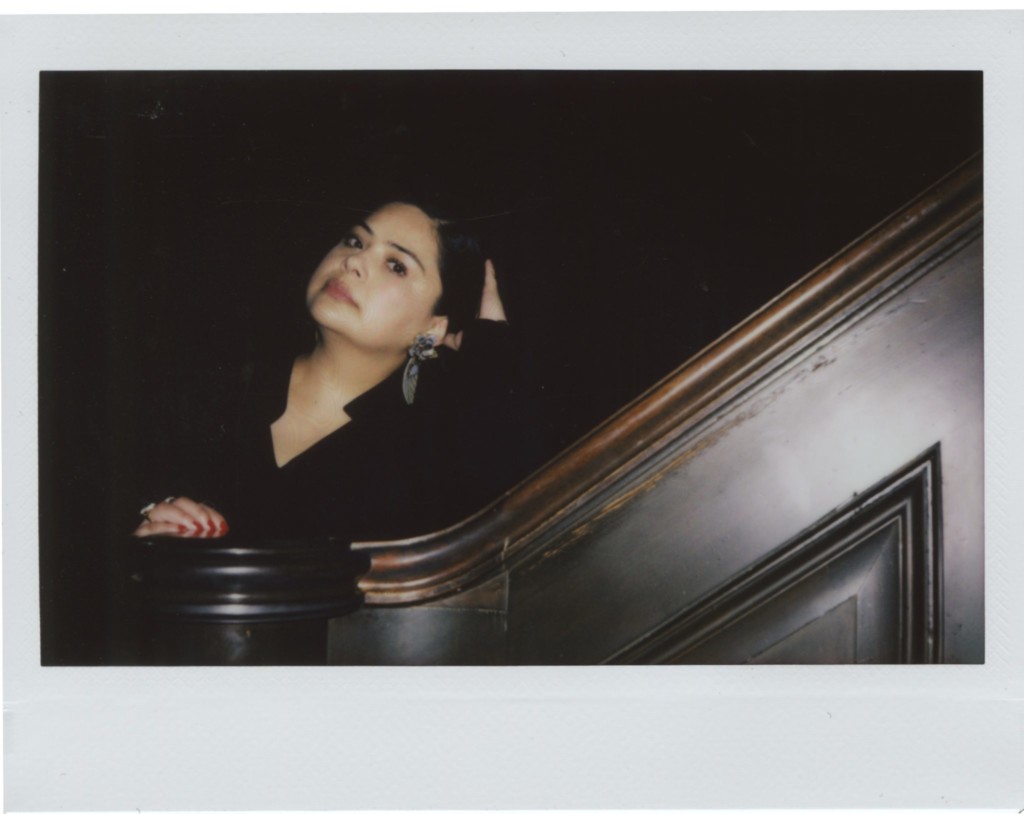 Strong women. That's the inspiration behind B.F.A. fashion design student Ana Karen Juarez Ibarra's senior thesis "In Between." And she should know; she's one of them. The design student earned her bachelor's degree in marketing and a master's in advertising, before moving onto her third degree in fashion design. "I got married, but I didn't want to be a housewife. My parents didn't raise me that way," she said.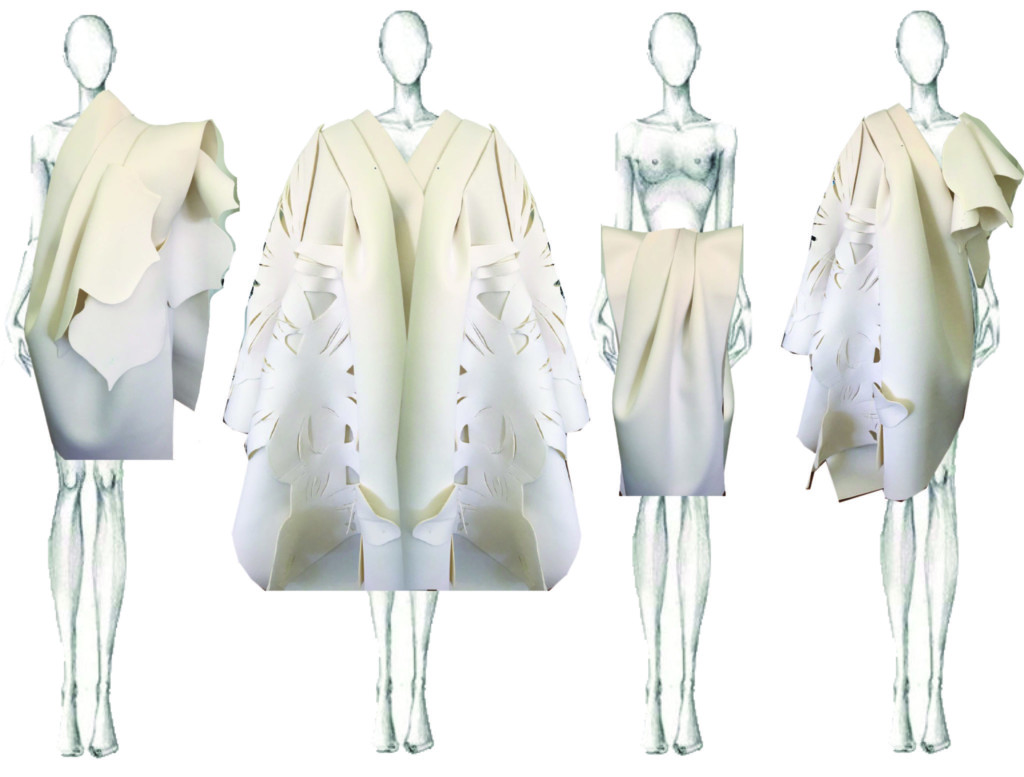 "In Between" is also inspired by large-scale flowers. The silhouettes are voluminous and sculpted, resembling big petals that move in different directions. Mossy greens, light grays, rich purple, and scarlet hues form the color palette. The colorful garments may look as delicate and beautiful as a flower, but they're structured and strong, a metaphor for the beauty and strength of women.
Above excerpt by Adriana Georgiades, Fashion Journalism student
---
Anna Yepes Tucker
"A Dysfunctional Fashion Condition"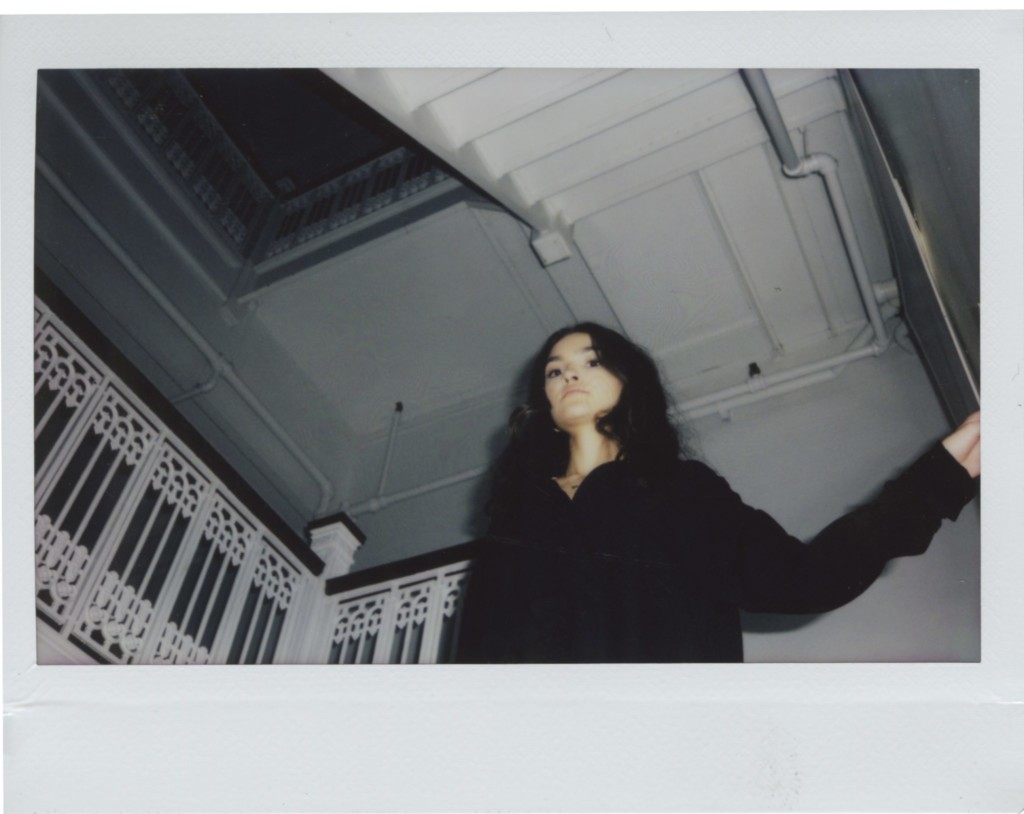 Anna Yepes Tucker would constantly compare her work to others and minimize her ability to create compelling designs. Her journey towards this collection has to do with expressing imperfection, and manifesting her struggle with confidence and perseverance. With her mind continually drifting to thoughts about not doing enough and, in her own words, "weird feelings," Tucker came to discover the Japanese technique of Shibori.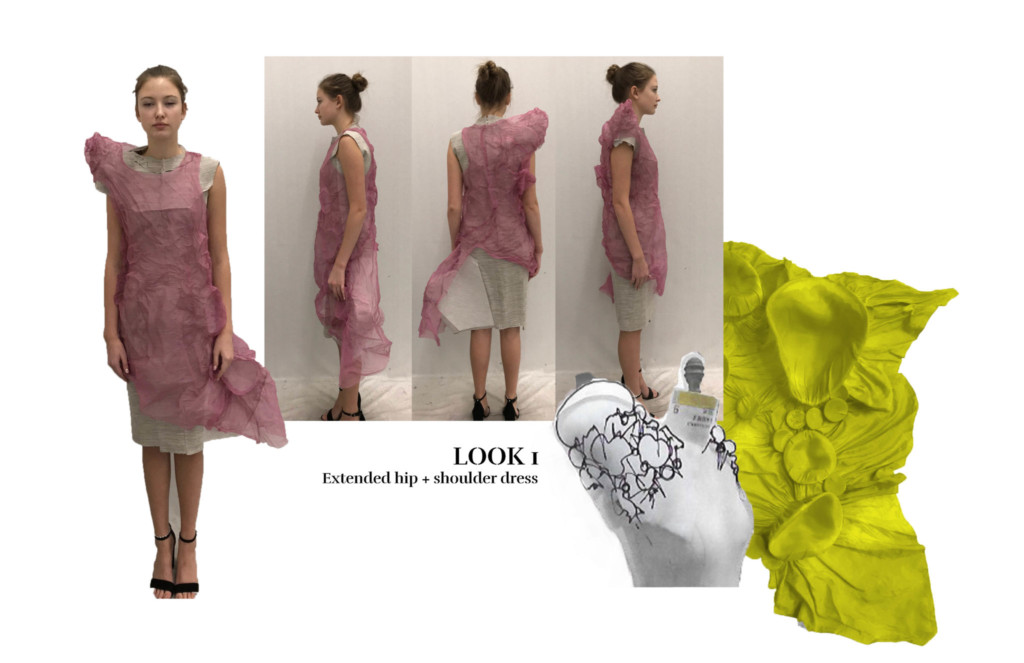 This dyeing technique involves indigo dye and white fabric. After tying and wrapping fabric on circular objects, different patterns and volume emerge once the fabric is unveiled. Tucker was intrigued by the unusual forms that the technique creates. Out of control and disproportionate, each shape alludes to the uncontrollable feeling which Yepes compares to an infectious disease.
Above excerpt by Camila Encomendero, Fashion Journalism student
---
Anna Yinan Zhou
"Unbreathable"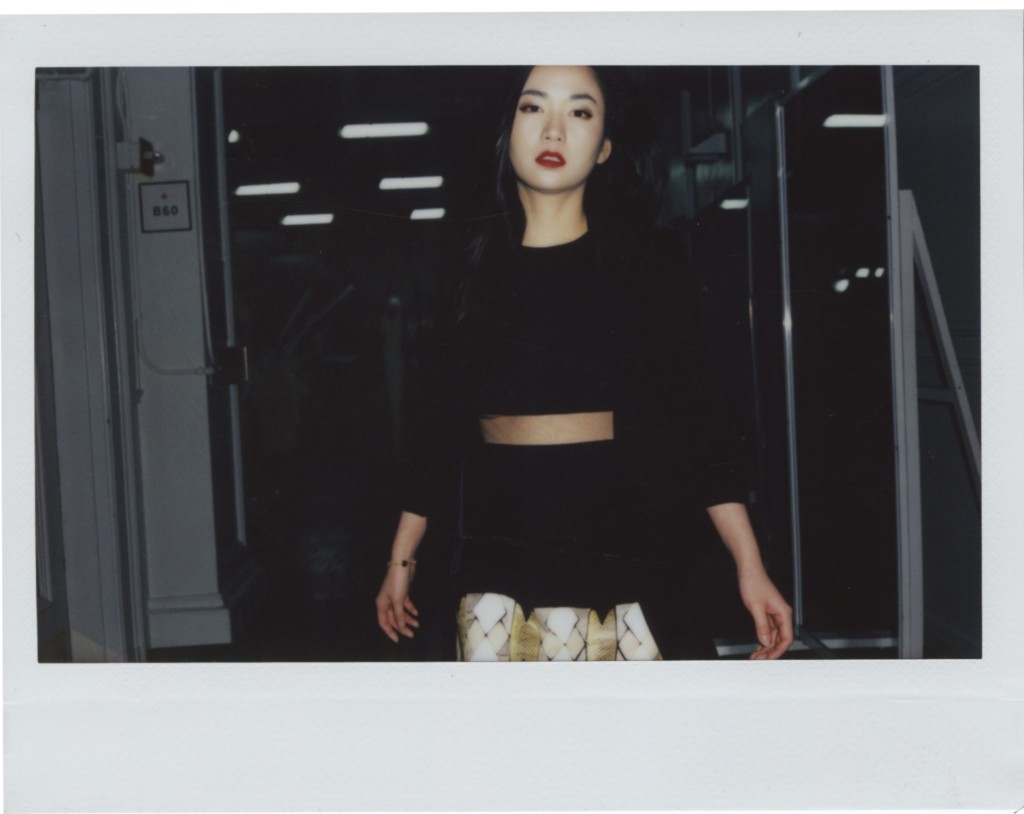 B.F.A. fashion design student Anna Yinan Zhou based her collection off of a heartbreak. For her, it became a way to express how the relationship made her feel—like she was choking. To create her collection, Zhou chose to put herself back into the sad emotions felt during her relationship. Even though times were dark for Zhou, she created videos of her shadow, symbolically allowing her shadow to speak and express feelings, instead of doing so herself.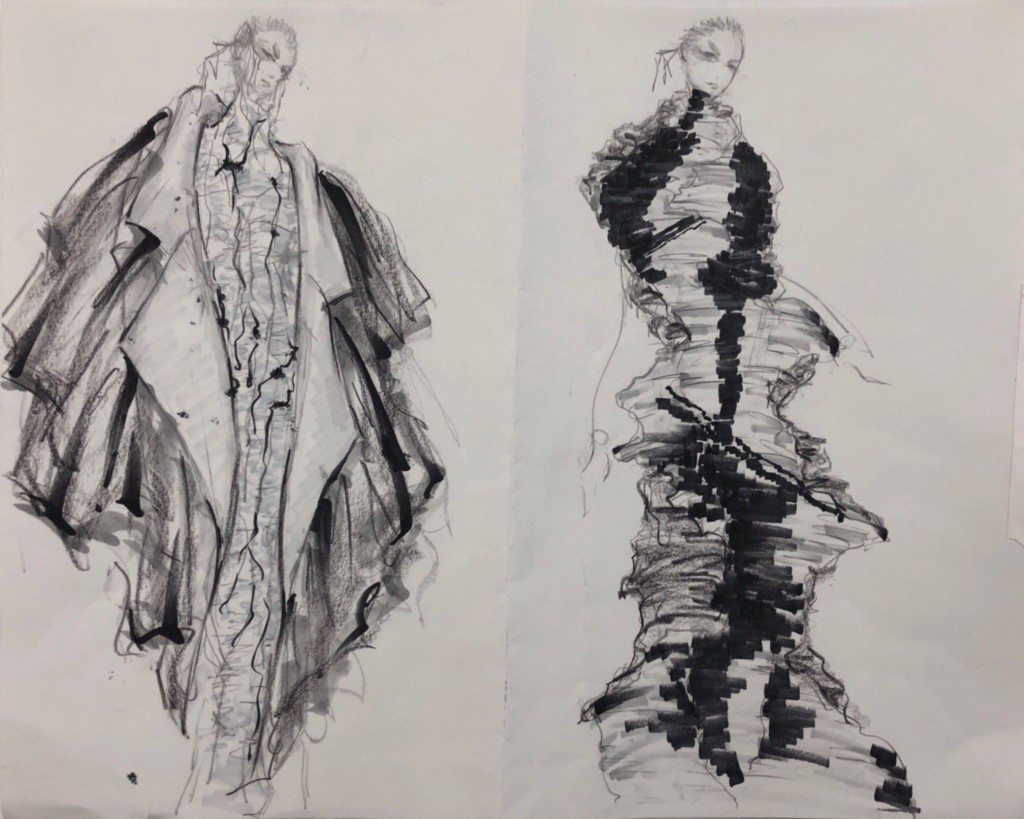 Zhou's silhouettes were inspired by the shape of her shadow while dancing, which she captured on film. She was unwilling to capture herself on camera because it represented the shame she felt from the relationship, whereas her shadow is free of that shame and represents her true self. Then, she would review the videos and take screenshots of the way her body was flowing and make dramatic sketches to interpret the shadows.
Above excerpt by Madison Ahmani, Fashion Journalism student
---
Anrong Huang
"Avant-Garde Mutation"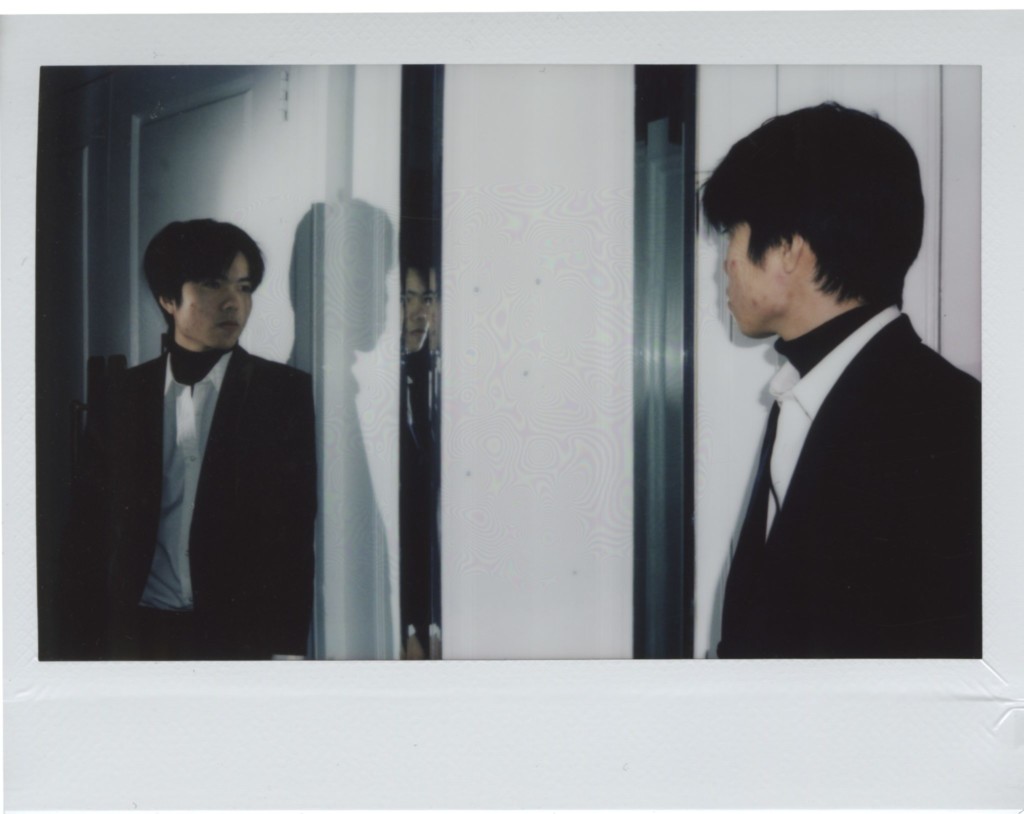 Staying up until 1:00 a.m. or 2:00 a.m. was a part of B.F.A. fashion design student Anrong Huang's daily routine. He describes those nights as a continuous search of trying to find ideal silhouettes for his garments and to realize the main idea for his collection – functionalism. Huang recalls waking up in the middle of the night to modify the sketches of garments he was working on. Ideas were continually popping into his mind and inspired him to symbolize change and versatility in his collection. Inspired by the idea of a multi-use garment and the "Vitruvian Man" drawing by Leonardo Da Vinci, Huang created looks that can be adapted to fit different styles and multiple personalities.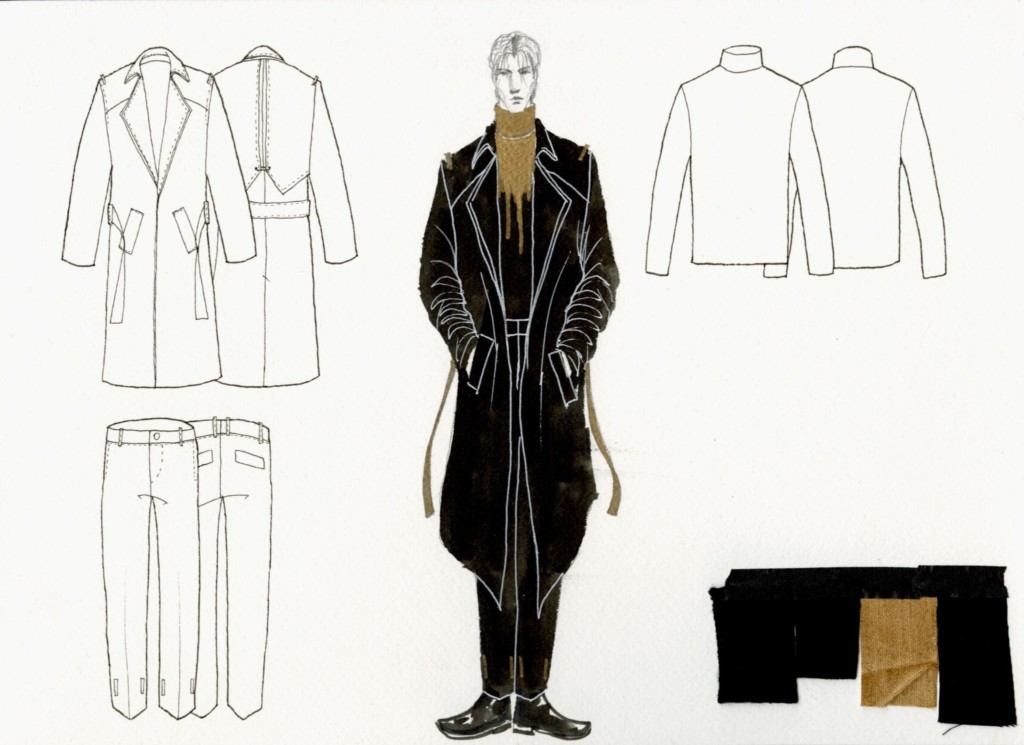 Reality focuses on the present; however, reality can change depending on one's feelings and mood. Huang's designs can transform into entirely different garments. In other words, one garment can transition into another just through a zipper or through a folding technique. Turning, folding, and closing are steps incorporated to modify every look into a different one. The transition involves going from casual to formal and using reflective fabric, highlighting a playful mood within the sophisticated collection.
Above excerpt by Camila Encomendero, Fashion Journalism student
---
Aya Chang
"Look at Her Now"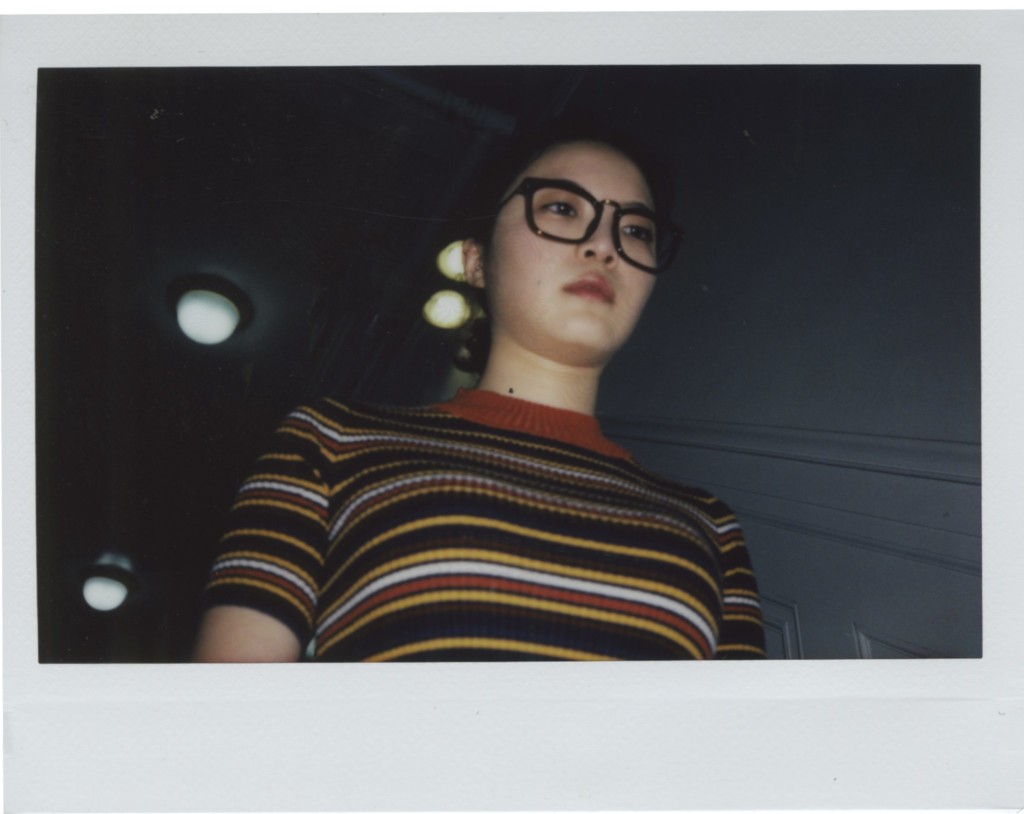 With bright colors, cartoon-esque motifs, and a variety of patterns, B.F.A. fashion design student Aya Chang's childrenswear collection symbolizes a happy and free childhood, one she sought to experience. Bullied in school and insecure about her appearance, Chang designed her collection to evoke the vibrant, confident child she wished she was. "I wanted to be happy. I don't want my kids to grow through some of the struggles I went through. I want them to grow up like my garments did," she said, pointing to her collection. "I never really felt like I belonged at school. I really struggled. Why are kids so mean?"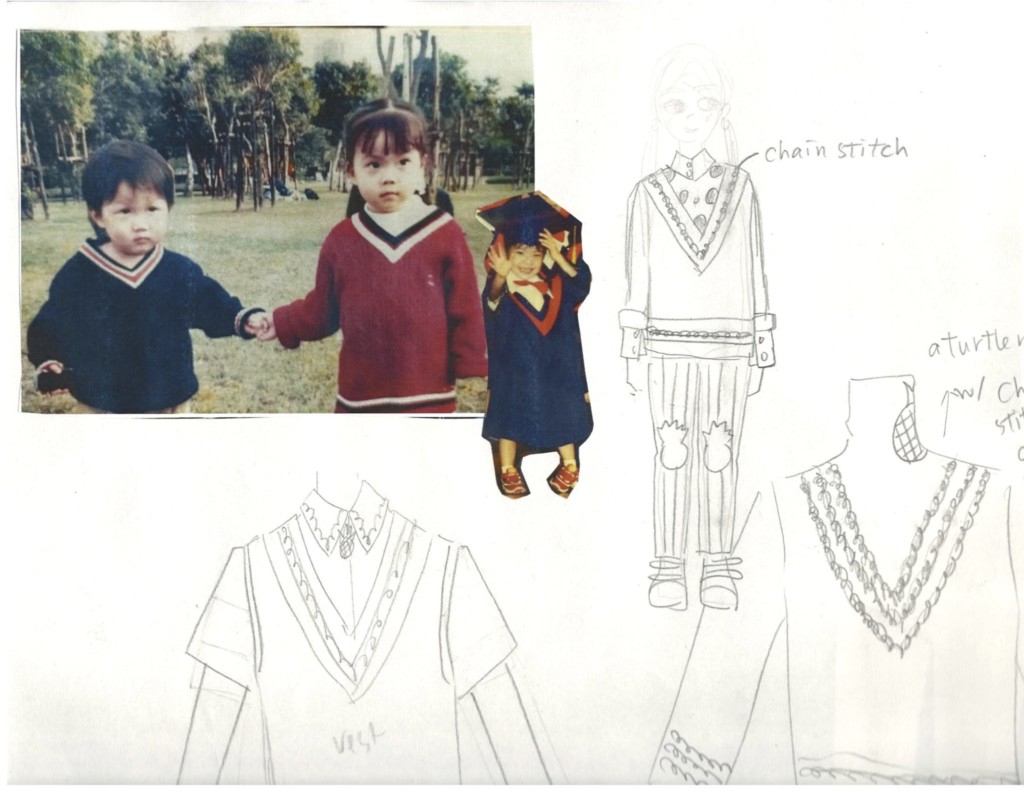 Many of the garments feature cartoon images reminiscent of children's drawings, like denim dungarees with the face of a cartoon fox, a blue checkered skirt embellished with two cherry cupcakes, and an oversized sweater dress showcasing a cartoon car. The colors range from various shades of pinks and purples to baby blues and bright oranges, and each look is heavily layered.
Above excerpt by Adriana Georgiades, Fashion Journalism student
---
Counting Down With the Academy
With that, we conclude part one of our fashion show countdown. Don't forget to return for part two on Wednesday, May 1st!
---
Header image courtesy of Ana Karen Juarez Ibarra