Meet ArtU's Hearthstone Team
Being a hero sometimes means playing your cards right.
This past Fall semester, Academy of Art University assembled its first-ever ArtU Hearthstone collegiate Esports team. The Urban Knights Esports team went on to compete in the Hearthstone Regionals against the University of British Colombia, which was aired on Blizzard Entertainment's official Hearthstone Twitch channel.
Hearthstone is a free-to-play digital collectible card video game created by Blizzard Entertainment. The game uses the same characters, elements, and relics of Blizzard's Warcraft and challenges users to play in a turn-based card game to beat their opponents. Players can customize their card decks, earning and buying new cards to improve their chances of winning additional rewards.
We spoke with ArtU's Hearthstone team about their experience on the Academy's collegiate team and tips on how to succeed in the game! Read below to see what ArtU Hearthstone team captain Dane Muller (2019, School of Game Development), and players Jericho Caballero (2018, School of Visual Development) and Ziwei Chen (2018, School of Animation & Visual Effects) said about their experience!
ArtU: What have you learned about gaming since joining the Academy's Esports team?
Dane Muller (Graduate): Playing at Academy of Art University was amazing. It's a completely different game than playing at home. The competition is intense. The support from the college is great. And we got the chance to meet people we otherwise would not have and learn more about the game.
Jericho Caballero (Undergraduate): The support that we got from Academy of Art University was awesome. Michael [Witzel], our coordinator for this whole event, was nothing but amazing. He made us feel like winners, which pushed us to do well in our matches. I want to thank Academy of Art University for opening up Esports. And I want to thank Michael, my teammates Dane and Z for the best Esports experience ever.
Ziwei Chen (Undergraduate): I personally feel like I learned a lot and have more to learn when it comes to Esports. Esports is not just playing video games or playing toys in a traditional sense, I'm sure many people still have a misconception about Esports. Esports/gaming is more than just having fun—it's work, in many aspects.
I also think Esports is fairer in comparison to traditional physical sports. Esports has less limits and still requires players to put time, thoughts, and effort into it. Gaming also requires teamwork especially in those team-based games like Overwatch.
ArtU: What are some important takeaways you've learned from your experience on the Academy's collegiate team?
JC: The main takeaway from this experience is that playing with people who are passionate about a game as much you are is an amazing thing. You feel a real sense of belonging and the experience becomes something else. It becomes more than just a game.
ZC: I think I should be more prepared since this was my first major tournament and I had no idea what to expect, but Academy of Art University provided a pretty good environment for our practicing and organized the event very well. All I needed to do was just worry about the game, which saved me a lot of time and helped me focus on the game itself.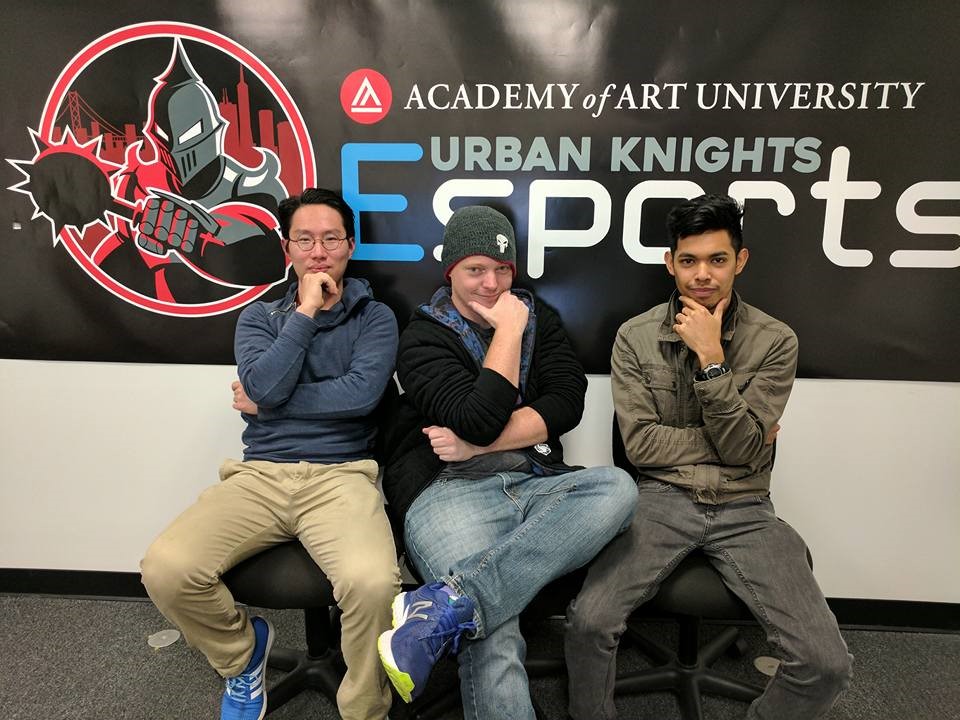 ArtU: What is one piece of advice/strategy within the game you would recommend to other players?
JC: In Hearthstone, it's easy to find a deck list online that will help you do well in ladder. What I love about Hearthstone and a lot of card games is the exploration. Building fun decks that may not win you games, but may create a surprising situation that you may never encounter if your goal is just to win all the time. Just have fun with it.
DM: Take your time and think each move over—don't rush it. You should be thinking about what your best play for the current turn is, but also how it sets up the board for the following turns and how your opponent will react.
ZC: I highly recommend other players to think more before you make a play. Try to think about all the possibilities you can make each turn, don't mindlessly make a play coming out from the top of your head. I guarantee your overall win rate will rise up by just taking your time and thinking ahead of your opponents.
Check out more updates from ArtU's Esports teams by following them on Facebook and Twitter! Be sure to check out ArtU's Twitch channel for live streams of intramural tournaments.