How Music Production School Can Help You Master Sound Design
If you have a good ear for sound effects, you could turn this interest into a rewarding career. Attending a music production school is a surefire way to get started!
Despite the name, music production schools aren't only for composers. Learn more about what sound design is and what kinds of careers you can pursue with this degree.
What is Sound Design?
When you watch your favorite movie or play a video game, you're mainly using your eyes and ears. Visual effects refer to what you see, while sound effects are what you hear.
Though often forgotten, sound effects are every bit as important to visual media as visual effects are. Consider what you hear in the background during TV shows or video game playthroughs. What would a horror film be like without the whisper of something creepy moving out of sight? How about the clanging of swords in a video game battle? Or even the ring of a doorbell off-stage in a play?
Sound design involves learning how to create and work with these sound effects. Overall, the goal is to help craft the atmosphere of the story being told and enhance the audience experience.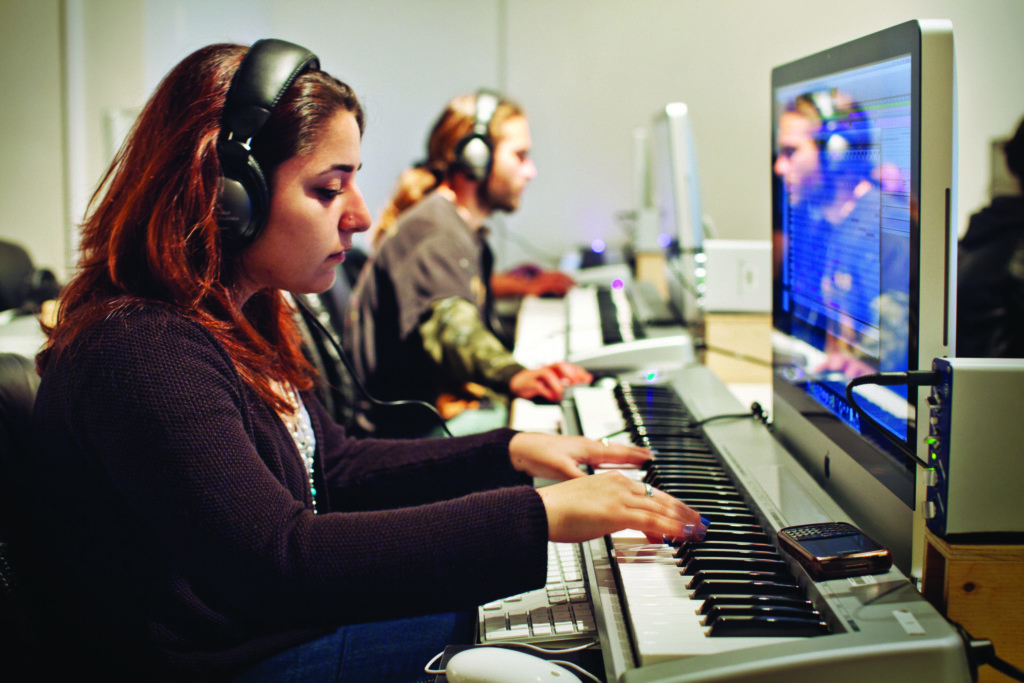 Career Options in Sound Design
You'll find several career options available when you have a degree in sound design. Ultimately, your choice should align with your own interests and long-term career goals. Some options that you can pursue with a degree from a music production school include the following:
Music Editor
Sound Editor
Audio Designer
Sound Designer
Audio Engineer
Sound Engineer
Sound Artist
Creative Sound Designer
Technical Sound Designer
These career paths provide you with opportunities to work on films, video games, and more. For example, Mark Cofer, an alumni from Academy of Art University's School of Music Production & Sound Design, worked with Sony on box office hits like Spider-Man: Homecoming and Spider-Man: Into the Spider-Verse. Another alumni, Stephen Lamar Moore, produced music for hip hop, R&B artists, and indie films.
Academy alumni have also found work at notable companies including Apple, Corduroy Media, and Fantasy Studios. Clearly, sound degree students can build careers in more industries than many expect!
Becoming a Sound Designer
So how do you break into the sound design industry? Aside from a strong interest in sound effects, you'll need professional training and experience—as well as professional equipment.
Music production schools like the Academy can provide you with all of that and more. With access to the latest technology and state-of-the-art facilities, you'll learn how to use tools that you can't find anywhere else. You'll also be taught by industry professionals who can get you a foot in the door after graduation.
At the Academy in particular, you'll team up with students from different departments to design sound for projects from the Schools of Animation, Game Development, Motion Pictures & Television, and more. As a result, you'll develop a solid portfolio of demo music that sets you apart from the competition. Most importantly, you'll leave with the confidence and practical hands-on training that you need to thrive.
Learn more about the Academy's music production school and which program fits your goals. Don't worry if you don't have a background in music or sound design; we offer different curricula for learners at different levels, including beginners and advanced students.