Learning by Moving: Japanese Architect Designs with Space for Growth
"Always, people are asking, 'What is architecture?' It's about the life."
This is just one of the many nuggets of wisdom that renowned Japanese architect Takaharu Tezuka shared with the audience in his "Nostalgic Future" lecture at Academy of Art University, as he talked about his architecture career.
Held in partnership with the Consulate General of Japan in San Francisco, and with kind support from the Ministry of Foreign Affairs Japan (MOFA), the Academy's School of Architecture was able to provide students—and other curious attendees—an opportunity to learn firsthand from one of the leading architects around the world.
Let the Children Play
Mr. Tezuka and his firm, Tezuka Architects, which he leads together with his wife Yui Tezuka, is best known for their work in Fuji Kindergarten in Tokyo. This school, located in the suburb of Tachikawa, features an oval-shaped, open space roof deck where as much as 600 children aged two to six can freely run and play about.
Understandably, a lot of issues and concerns on the safety of the children were raised when Mr. Tezuka first presented the structure's unconventional design. However, as he pointed out, "Small dosage of danger is important because that is how they learn."
This kind of perspective in real-life learning is not surprising, especially considering how Japanese society encourages and instills independence in children early on. In fact, kids usually begin learning how to commute all by themselves at the very young age of seven.
"You don't need to protect them so much. This is their training, they are moving by themselves," Mr. Tezuka eagerly explained as he flipped through a slideshow photos of children playing on the kindergarten rooftop.
"That is the power of architecture."
Silence, Learning, Structure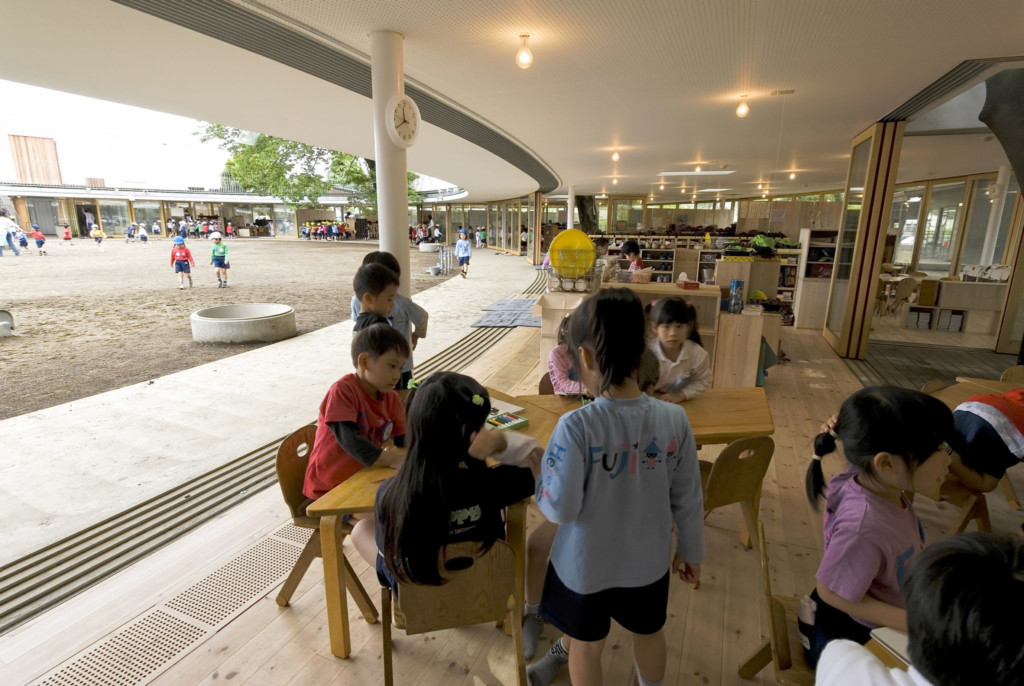 Another interesting feature of the kindergarten—which was declared by the Royal Architectural Institute of Canada (RAIC) as the winner of the 2017 Moriyama RAIC International Prize—is that there are no walls between classrooms. Students in one class may be learning mathematics, while students next door may be learning music. Still, this does not prove to be a hindrance to the students, and in fact, even let them focus better.
His philosophy on the matter is that it is important to have some kind of background noise, whether or not you may be conscious of it. Complete silence is unsettling, he said, and we need to be a part of noise. "Students sleep better when I'm talking," he joked.
Future of Architecture Design
Mr. Tezuka noted that people's common perception when they talk about the future is that it's going to be machine-driven. For him, however, the future is invisible. However, he would like to envision "a future that is more human than technological.
You know, these days, students are trying to get ideas from magazines, but they should know that every single published magazine is designed for 5 years ago, and the idea is 10 years old. So, everything in magazines [is] obsolete.

– Takaharu Tezuka
That's something worth considering the next time architecture students look to magazines for project inspirations. Mr. Tezuka's bottom line is simple: design architecture that also makes room for growth—that is the way to look at the future of design.
This is what guided them in their creation of the kindergarten. They were designing architecture for children, and so they also had to design for the space that these children can grow up in.
At the end of the day, you can create a really long-lasting design, but still, it may not last for as long as intended because of this simple truth:
"It's easy to design architecture to stand for a long time just as a structure, but usually people destroy it before its lifetime because people don't like it. Old structures are not durable but people try to save it because they like it."
There are plenty more words of wisdom from Mr. Tezuka, so go ahead, click on that Play button and tune in to his very interesting and inspiring lecture series!