Veteran's Resource Center Unites Service Members
Ryan Bailey and Lodhi Sikander sat at a table at 79 New Montgomery Street for well over an hour, talking and drinking coffee.
The two men had never met before and come from very different backgrounds.
Bailey, a college freshman in his late 20s, is from Southern California. He's spent his career so far working in the information technology industry. His dream is to create documentaries that shed light on reality for a living.
Born and raised in Pakistan, Sikander is working on his fifth career and believes in pursuing all of his passions in life. Originally a physical therapist, he emigrated to America to work in hospitality and real estate. Now, he's a free spirit trying to make a name for himself in the world of fashion journalism and photography.
Despite their different backgrounds, they have one common denominator: both Bailey and Sikander are Army veterans pursuing art and design degrees at Academy of Art University.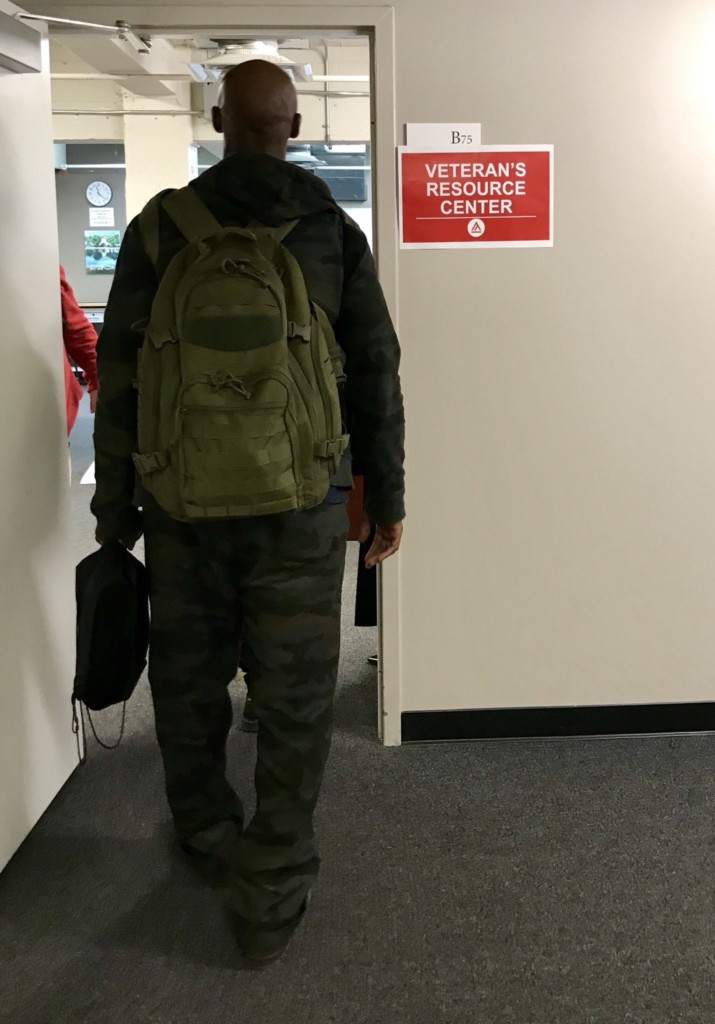 8 Keys to Success
In 2013, then-President Barack Obama introduced an initiative called the 8 Keys to Success as an ongoing effort to foster postsecondary educational opportunities and dramatically improve employment outcomes for returning service members.
"I'm calling on schools across America to join us in this effort. Let's help our veterans get that degree, get that credential, and compete for the high-skilled jobs of tomorrow," President Obama said at the Disabled American Veterans National Convention in Orlando, Florida.
The Academy has voluntarily affirmed its support for the 8 Keys ever since.
The New Resource Center
With a student veteran population of nearly 800 students, the Academy recognized the need for a safe space for student veterans. On Thursday, February 15, the new Veteran's Resource Center was christened at 79 New Montgomery, located next to the ArtU Newsroom.
You'll find the friendly smile and warm welcome of Student Services Coordinator Chrystal Beamon as you enter the center from 8 a.m. to 5 p.m., Monday through Friday. All Academy students who've served our country are welcome. Beamon has personal ties to the military community and is eager to take on this new role.
If you need to work on assignments, there are desks. If you want to take a break between classes, there's a couch and a television. If you need help with veteran-specific issues—the VA, military tuition assistance, GI Bill® benefits—Ms. Beamon will be there to provide assistance.
A Safe Haven
Bailey and Sikander are just two of nearly 80 veterans and dozens of staff members who came to the center during the soft launch.
Each veteran found in the lounge a comfortable environment to share their personal stories and describe how their journeys brought them from the service to the art studios.
"I knew I always had a passion for creativity," Bailey said.
During his six years of Army service, he was stationed first in Hawaii and then in Georgia.
Primarily, his job required dealing with routers, wires, and very technical computer equipment. Not something he wanted to deal with for the rest of his life.
"To be able to project my military experience on film is my ultimate goal. I had to come out here by faith, and I know this is where I was meant to be," Bailey said.
Sikander didn't start his military career until age 35.
For the next nine years, he went back and forth between army bases in Oklahoma and Texas.
During his last few years in the army, he got the opportunity to pick up a camera and discovered a passion for fashion photography. After talking to some of the directors at the School of Fashion, he decided to pursue a degree in fashion journalism.
Much More to Tell
The center is now officially open, but there will be many more additions and resources for veterans to come in the next few months.
Get more information on veteran resources at the Academy.
Interested in other student stories about life after the military? Read Daryn LaBier: A Veteran's Journey.
GI Bill® is a registered trademark of the U.S. Department of Veterans Affairs (VA). More information about education benefits offered by VA is available at the official U.S. government Web site at https://www.benefits.va.gov/gibill.