Graphic Design Student Celina Oh's Designs Shine in the Nonprofit Sector
Academy of Art University graphic design student Celina Oh is using sharp design and commitment to philanthropy to make a difference in the nonprofit sector.
Last year, Celina Oh's talent truly took off. In a class taught by School of Graphic Design Associate Director Tom McNulty, Oh led one of two student design teams that worked to rebrand Five Keys. The organization is a nonprofit education corporation that brings high school and GED education to incarcerated adults. While this was Oh's first time employing her graphic design skills for nonprofits, her career in volunteer work and philanthropy began when she was young.
"My mom is very community-oriented, so she took me to galas and fundraisers she was volunteering for when I was very young," said Oh. "I saw the teenagers who volunteered at the Boys and Girls Club when I was in the afterschool program. When I was in high school, I went back to help the art director and tutor kids in English or math, anything they needed help with."
White Space
This desire to give back to the community is one of the traits that earned Oh her current internship at White Space. It is the design and advertising agency that worked as a liaison between the Academy and Five Keys. White Space is headed by design and ad veteran Sheila Von Driska. It has serviced a wide variety of clients from Fortune 500 to nonprofit, including IBM, Northwest Airlines, Bonnie J. Addario Lung Cancer Foundation, and even California Senator Kamala Harris.
"The connection was immediate with Celina. The first thing I noticed when I met her was how funny she is, which I think is important in the ad world," Von Driska said. "She's able to take a project and run with it and has so much talent already that she's going to bring to every project. During the first feedback round for the Five Keys Class, I had to pick three designs. One of those was Celina's. It mirrored her personality. It was like happy rays of sunshine. There are certain types of people who walk into a room and it lights up. Celina is one of those people."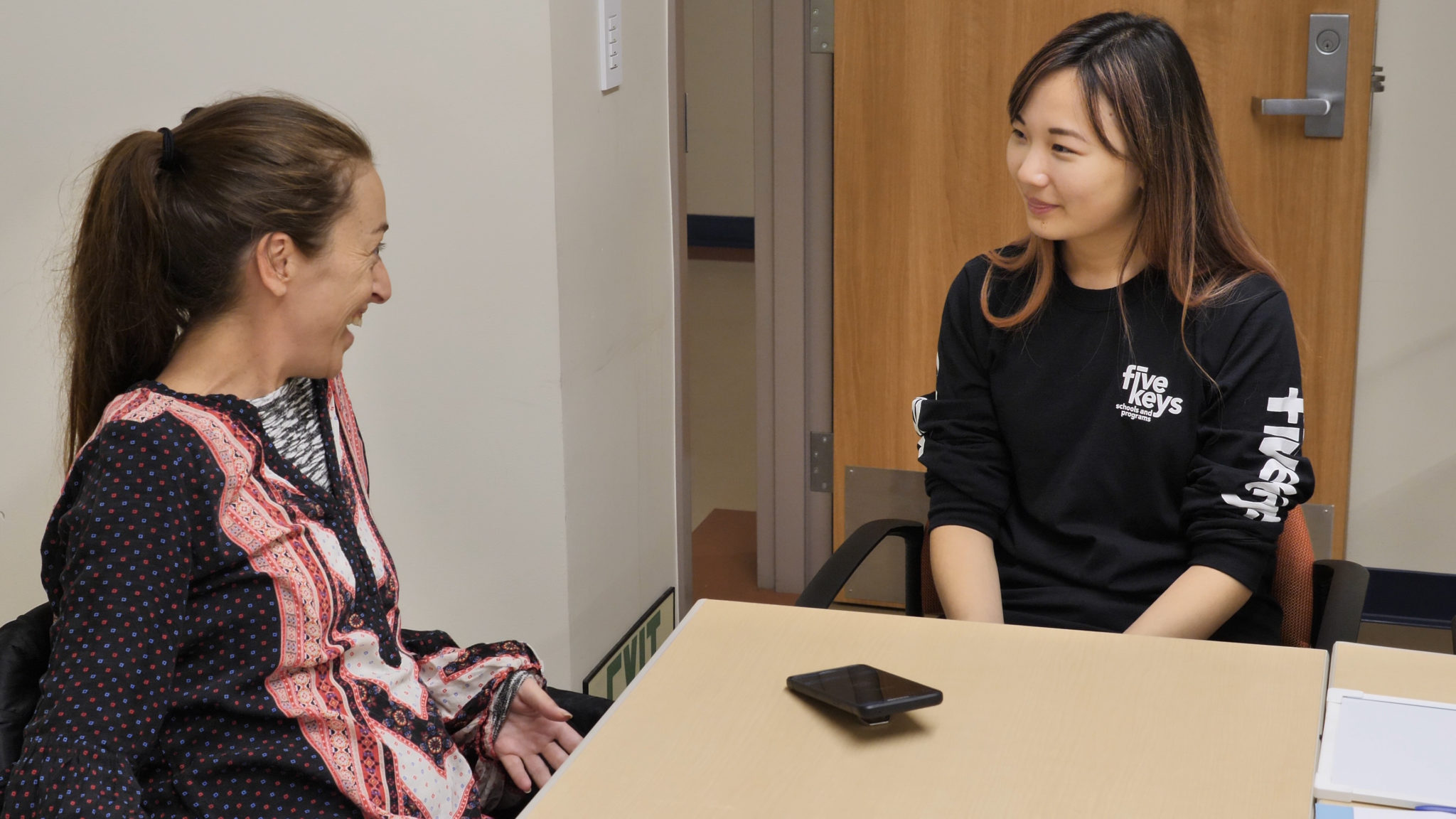 Rebranding and Rebuilding
When the Five Keys class presented their rebrand proposals in the spring of 2017, the organization was so impressed by the class' collective body of work that it decided to incorporate assets from both of the teams. In her internship, Oh has been responsible for taking feedback from Five Keys organizers and condensing the previously separate proposals under one cohesive brand identity.
"I want to emphasize that I really am just a small part of this effort. During a photoshoot we talked to Five Keys students about their feelings regarding the rebrand," Oh said. "They said they felt that they could be proud of it. Just the logo alone has attracted people to [the Five Keys] home base in Oakland. Just the logo. That's what all good marketing is about. This rebrand is to get the word out about the good work."
Powerful Post-Academy Plans
Currently, Celina Oh is in her fourth year of her B.F.A. program and is about to begin her second semester interning under Von Driska at White Space. "I am really honored that Sheila has trusted me to take on projects with her, just us two. As part of my internship this semester, she had me design the entire logo for the Wilkes Bashford Helping Hands Emergency Fund," she said. "I think Sheila brought me on since she could tell I was a leader, I could handle myself and I told her about the other things I was doing. After school, I want to work at an agency and get experience, but later my dream is to own my own design firm and help nonprofits with rebrands that need it."
With graduation around the corner, things are looking bright for Oh. "The designs Celina has done are gorgeous," said Von Driska. "I can't wait to watch Celina soar. I know she's going to have a great life in this world of design."
First published in March 2018 Vol. 2 edition of Academy Art U News. Written by Alex Bockneck.