Watch MFA Graphic Design Student Krishnapriya Dutta Gupta on Adobe Live
We have some big news to share coming out of Academy of Art's School of Graphic Design!
MFA Graphic Design student Krishnapriya Dutta Gupta (KP) is taking center stage on Adobe Live this week as she revisits and refreshes her thesis project: a fictional brand for kids toys, called "Playfully"!
In this live demo, KP will reveal how she uses elements of identity, iconography, typography, and illustration to assemble beautiful posters in Illustrator and InDesign.
The best part? You can watch the live stream of KP in action! Make sure to stick around for branding and identity pro tips from KP herself.
Here is the schedule and links for viewing:
Wed, Mar 21 3:00PM PDT: Live Graphic Design with Krishnapriya Dutta Gupta – 2 of 3
Thu, Mar 22 3:00PM PDT: Live Graphic Design with Krishnapriya Dutta Gupta – 3 of 3
Watch the recorded version of KP's live stream from March 20th (1/3) here.
A Message from the School of Graphic Design
Phil Hamlett, director of the School of Graphic Design, said he is happy to see one of the school's students providing an in-depth overview of her portfolio and creative development process. He also said the school is extremely proud of KP and her ability to articulate her design process in such an engaging fashion for Adobe's worldwide audience.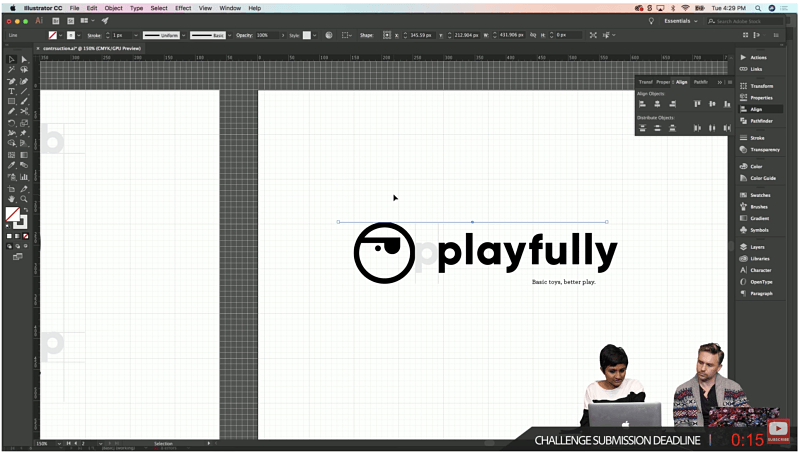 More about KP's Work
KP is a graphic designer from India, currently based in San Francisco, CA. She has eight years of advertising experience and is currently pursuing her MFA in Graphic Design.