From Studio to Showcase: Jewelry and Metal Arts Students Shine on the Big Stage
Tucked inside of a quaint jewelry gallery space at the historic Cannery building at Fisherman's Wharf, a naturally eclectic necklace rests elegantly on the black fabric chest of a perfectly-figured mannequin. Cameras flash. Crowds of people stare.
In the midst of all the attention being given to this piece of art, a young girl walks into the room. No one recognizes her. I watch her carefully walk over to the modern, colorful necklace, smile, and whisper, "I'm so honored to be here right now. This is unrealistic."
Lucy Huang is her name. Creating jewelry is her game.
"My work is a representation of who I am," she tells me.
Huang hails from a small town in Taiwan. Currently a sophomore at Academy of Art University, she wishes her family could be here to witness this honorable milestone in the making of her legacy.
Thanks to social media, she's able to send videos and pictures of her work showcased tonight in America.
"They're so impressed not only with my work, but with the resources that I have at my disposal here at the Academy," she says.
Bringing the Past, Present, and Future to Life
The exhibition, titled "Past, Present, and Future II," is the second installment of The School of Jewelry and Metal Arts' group show featuring the best of the best from its BFA and MFA programs. Director Charlene Modena calls the artists featured here the "best of the best."
Choosing just 28 students to showcase out of an entire department isn't an easy feat, but as a newly-created department, she's determined to bring the attention of jewelry artists to the Academy.
"People hear the word jewelry and they have this preconceived picture in their mind of what we do. We want to show all the things it can be, not just the cliché," Modena said.
And the title of the exhibition couldn't be more fitting. Both Huang and her jewelry represent the present and the future of not only the Academy, but of the jewelry industry.
Her piece, which features more than 100 individual neon textiles, incorporates laser-cutting technology and surprisingly only took her three weeks to complete from start to finish. Inspired by her recent travels to Mexico, she's found her calling in creating jewelry that is not only functional, but attractive to a variety of nationalities worldwide.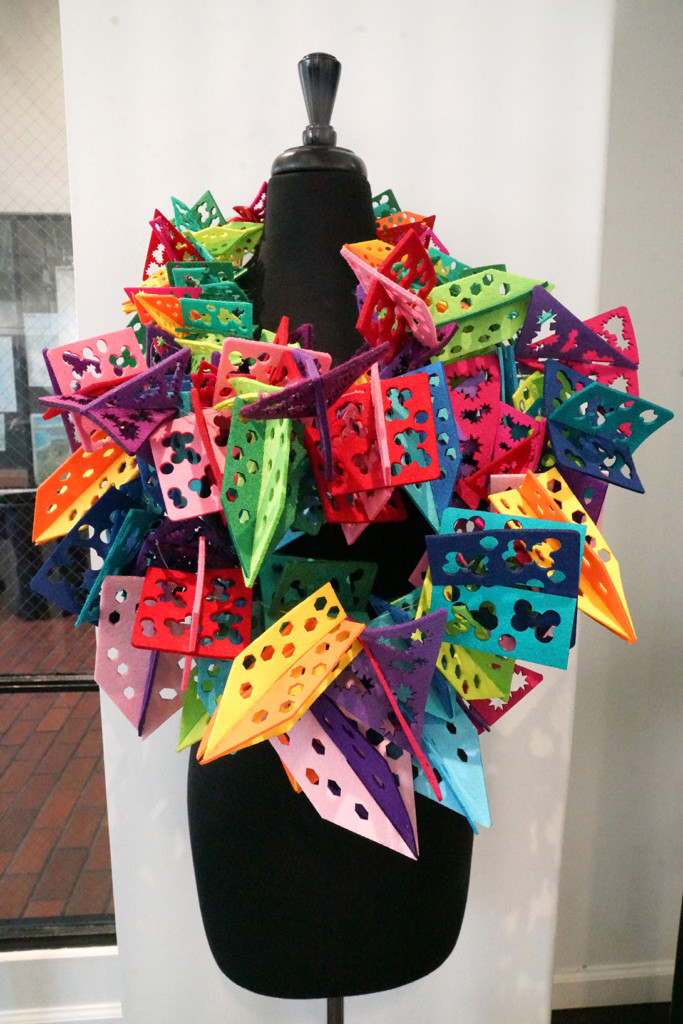 "It wasn't easy, but everyone at the Academy is so supportive. We're so good at helping each other work through the different problems we encounter along the way," Huang noted.
Tying in Technology
If you're looking for a combination of the past, present, and future, I'd like to introduce you to David Sekoll – a 2008 Academy graduate, current Academy instructor in jewelry, sculpture, and industrial design, as well as a part-time community artist.
If you're into aviation, you just might want to try on his piece for size.
Sekoll is represented in the show by his dress crafted entirely of 6061 aircraft aluminum. It's sitting on a mannequin right in front of a window looking out towards the Cannery sidewalks. If the metal doesn't catch your attention first, the 6,000 parts the dress is made of definitely will.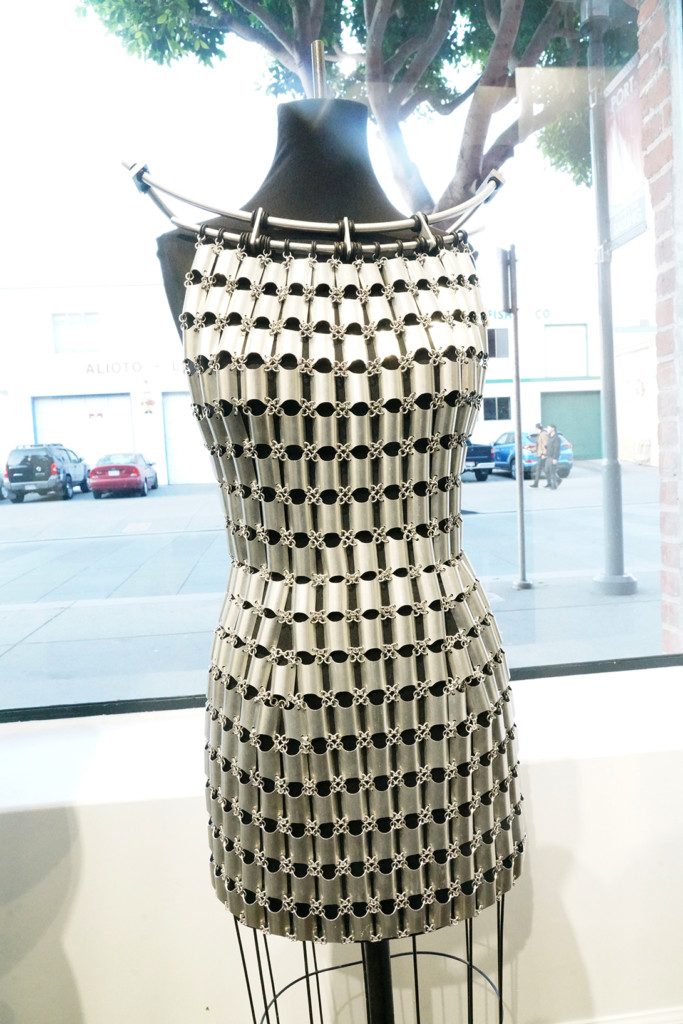 "This dress was actually first worn on the runway by a model in the Academy's fashion school," Sekoll said. "You can look at it here and it's still really cool, but putting it on a person really brings the piece to life," he added with a smile.
Humbly, he walks around the exhibition and admires the work of current students. Nearly 10 years have passed since he put his metal dress together, and he's simply amazed at how far it has come—and where it is headed.
"The technology now has changed so much. The concept of Past, Present and Future. In the past, everything was very hands-on. We have the ability to now design completely on computers and then hit a button and print it out," Sekoll said in awe.
Futuristically-Speaking….
To put it lightly, Modena is passionate about the progression of the jewelry and metal arts program at the Academy. She's looking to add more and more courses, laser classes, 3D printing sessions, and casting to the curriculum in the upcoming semesters.
"We're so proud of what we do and we wanted to show the breadth of what we do and the depth of technique and concept," Modena said when asked about the future of the program.
Past grads like Sekoll have banded together to purchase shops to sell their art in. Now that they're in their post-Academy days, he likes to use the cliché, "Birds of a feather flock together!"
Present students like Huang are now working on innovative pieces in hopes of getting them featured in the spring showcase, which is another prestigious honor at the Academy.
Then there's the future. The future students who'll see pictures of these design concepts and become inspired to attend the Academy. Future designers. Future metal artists. Most importantly, the future of anyone who believes in following their artistic passions to create his or her legacy.