Ten Questions with Icelandic Urban Knight Jón Jóhannesson
Iceland. It's becoming one of the most Instagram-worthy places to vacation for people around the world, offering picturesque views of volcanoes, geysers, hot springs, lava fields, and the Northern Lights.
Tourism may be flourishing in Iceland, but there is also a high population of Icelanders pursuing their art and design degrees at Academy of Art University.
Jón Jóhannesson (who goes by Jon) is one of them.
The Reykjavik native emigrated to America in 2014 to pursue a degree in industrial design and to play collegiate soccer at the Academy. He's one of nearly a dozen students at the Academy with Icelandic roots.
We wanted to know a little bit more about Jon, Iceland, and his decision to attend the Academy, so we asked him ten questions to learn a little bit more about our international student population.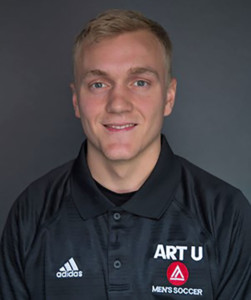 Ten Questions with Jón Jóhannesson
Q: What made you decide to come to the Academy to earn your college degree?
A: After completing high school in Iceland, I wanted to see if I could go to college in the United States on a soccer scholarship. I started talking to a few guys that I knew who were playing for universities in the states. One of them was Thorvaldur Sveinsson. He was captain of the Urban Knights soccer team at the time, as well as a web design major. He put me in touch with Coach Mike Keller and from there, I went on to commit to the Academy.
Q: Tell us a little bit about what life in Iceland is like.
A: Iceland is very cold most of the time. During the winter, there is almost no sunlight. In the summertime, it is the opposite. It is bright nearly 24/7. Because of this, winters are always very long and boring, and summers are always very short and awesome. Despite this, the quality of life is very good, equality is very high, and people are very happy.
Q: How was the transition from Iceland to San Francisco?
A: For me, it wasn't very difficult. I came straight into an apartment where there were four other Icelandic guys living already. They were very welcoming and made me feel like I was home from the beginning. Since we all came from the same background, it made it very easy to adjust. Other than that, the biggest difference is the amount of people on the street, as well as the amount of homeless people. That was definitely a shock and took some time to get used to because in Iceland, we don't really have any homeless people on the streets.
Q: Have you met any other students from Iceland at the Academy?
A: Yes, everyday. I have three roommates that are Icelandic. Two of them, David and Kris, are student athletes as well. Another guy from Iceland that I know, Runar, is an Academy graduate and former Urban Knight's soccer player who is currently working at PayPal.
Q: As a collegiate soccer player and student, how do you balance your academics with your sport?
A: Time management is very important when balancing academics with sports. I try to plan my week out as well as I can so that I can get everything done that I need to get done without being super stressed out and having to finish assignments at the last minute.
Q: What's your favorite part about playing soccer at the Academy?
A: I think it's the team spirit. Its always fun to go out there with the boys, work hard together as a team, have fun, play soccer, and win games.
Q: What's your favorite part about studying industrial design at the Academy?
A: I like how the teachers are very professional and most of them come from good backgrounds. They also have a lot of experience and are passionate about sharing their knowledge and experience through feedback and critiques.
Q: Are there any skills from soccer that help you succeed in the classroom?
A: I think what's helped me the most from soccer is the competitive spirit. Athletes don't like losing at anything, and I believe that has helped me get better as a design student. There are a lot of very talented and skilled designers at the Academy that are better than I am, but they motivate me to work hard and improve myself because I want to become as good as they are.
Q: What are your goals after graduation? Do you want to stay in the United States or return home to Iceland?
A: My goal is to find a job that I enjoy. I would like to take advantage of my OPT and work here for a year or longer, but I also wouldn't mind going back to Iceland or somewhere else in the world if I land a good job that I'm happy with.
Q: Would you encourage other students who want to pursue both art and sports to attend the Academy?
A: Yes, I believe it is the best option for people who want to study art and play sports as well. It's the only art school in the NCAA, and it's located in San Francisco, which is a great city for artists to live in.
Q: What are some things (or a fun fact) about Iceland that you'd like us to know. As you probably know, it's becoming a very popular place for U.S. residents to visit.
A: One fact that people find interesting is that the majority of the Icelandic population believes in elves, but zero percent of people under 25 years old believe that God created the world. We also have a penis museum (Iceland Phallological Museum) that I recommend people visit if they go to Iceland. It contains a collection of penises from over 200 different mammals, including one from a man.