12 Famous Women Artists and Designers Across the Bay
Women everywhere deserve to be honored every single day, no question about it. Still, it's nice to have an entire month slated as the official time to recognize the amazing accomplishments of women in every field. Today, we handpicked a few of many well-celebrated artists and designers from the Bay Area. Find out who made the list!
Women's History Month
The national celebration of Women's History Month was first established in 1981 after Congress passed legislation to celebrate Women's History week in March of 1982.
By 1987, Congress set March as Women's History Month and it has since continued as a national celebration of women and their accomplishments every year.
Ruth Asawa
If you visit the tower of de Young Museum in San Francisco, you will discover the wire sculptor, Ruth Asawa, and her beautiful works of art. During WWII, her family was sent to internment camp due to discrimination against Japanese Americans during the war.
While she was in the camp, she turned to art as a creative outlet to express her frustrations. She continued her art studies at Black Mountain College and became a world-renowned sculptor. Not only was she a great artist, she was also a strong advocate of art education.
Dorothea Lange
Best known for her portrait photos of displaced farmers during the Great Depression, Dorothea Lange is a household name in the Bay Area. Originally from New Jersey, she moved to San Francisco in 1918 due to an unexpected turn of events.
During her career, she not only photographed the Great Depression but also other historical events such as the internment of Japanese Americans. Her documentary photography showcased the reality of natural and man-made atrocities, revealing the human emotion behind major events.
Ester Hernandez
Ester Hernandez is one of the most famous Chicana artists in San Francisco's art scene. She was born in 1944 and has worked on art that showcases Hispanic farm workers and the struggles of the Hispanic community in California. Her artwork focuses on bridging cultural gaps by highlighting her cultural identity through murals and mosaics.
Margaret Keane
Like The Powerpuff Girls? Margaret Keane's portraits of women and children with big eyes is the inspiration for the iconic cartoon series. She pioneered the "big-eyed movement" during the 60's and continued to serve as an inspiration for many artists including Tim Burton. At the age of 91, she still creates art daily and maintains a gallery of her works in San Francisco.
Etta James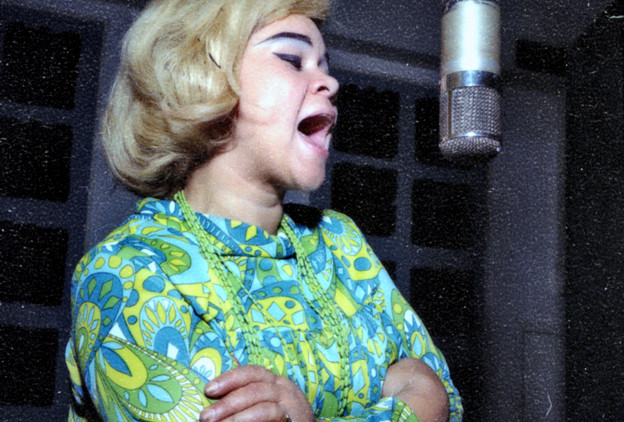 The iconic R&B and jazz singer spent her childhood and teenage years in San Francisco's Fillmore district. Etta's deep and soulful voice won her countless accolades from Grammy Awards and Blues Music Awards. Her contribution to the R&B and jazz genre has inspired multiple artists, including Amy Winehouse and Christina Aguilera.
Bernice Bing
Born in San Francisco Chinatown, Bernice grew up being inspired by the Bay Area art scene and later became involved in it after college. Her "calligraphy-inspired" abstract art draws references from Zen Buddhism and Chinese philosophy, establishing Bernice as Chinese-American lesbian artist.
Annie Leibovitz
A legendary celebrity portrait photographer, Annie originally aspired to be an art teacher for painting in San Francisco Art Institute. She later switched into photography and became one of the most decorated celebrity photographers in history. From John Lennon to Michael Jackson to Barack Obama, Annie is dedicated to creating photos that portray emotion and intimacy.
Favianna Rodriguez
Known to create art for activism, Favianna started her career as a designer in political activism in the 1990s. She has since built her reputation as a prominent interdisciplinary artist and activist for social change in the Latino community. Her inspirational work were displayed in famous museums such as de Young Museum and Yerba Buena Center for the Arts.
Melorra & Melonie Green
Both alumni of Motion Pictures/Editing at Academy of Art University, Melorra and Melonie Green have curated over 50 art exhibits and host a weekly radio show, The Ibeji Lounge. They've also produced multiple art and culture events such as the San Francisco Black Film Festival and African-American Art & Culture Complex. Serving as executive directors of African-American Art & Culture Complex, they are committed to the fight for equality and empowerment of marginalized communities.
Zendaya
Before Zendaya graced the big screens of hit Hollywood movies, she grew up dancing and playing in local theaters in East Bay. At a young age, she was exposed to different forms of art which shaped her into becoming a musician, actress and fashion designer. She is also an ambassador for Convoy of Hope and regularly contributes money for Women Empowerment.
Keyshia Cole
Best known for her contemporary R&B music, Oaklander Keyshia started her music career in the bay with MC Hammer and Tupac Shakur. Her outstanding achievements in the music industry are not only recognized by the general public but also by Grammys and Billboard Music. Since 2006, she's also starred in three reality shows including Keyshia Cole: The Way It Is.
Inspired to make a change in art? Join the movement of female artists by attending art school with the eclectic art scene in San Francisco as a backdrop. Maybe one day, we'll see you on the list.
---
Hero image: Rosie the Riveter by J. Howard Miller