Course Spotlight: Exploring Fashion in Film
With an ever-present eye on trends and the skills students will need in the future, Academy of Art's fashion school introduced the course Fashion Film Production (FSH 308) in Spring 2018.
The curriculum designers of the School of Fashion (FSH) created the class in response to the growing popularity of fashion film that creative professionals use in a wide range of industries. This is nowhere more evident than in the pop culture of today, and brands are making sure they don't miss out on this trend.
Why Fashion Film?
Nicolas Gutierrez, M.F.A. graduate and instructor for the School of Photography (PH), is the first faculty member to teach FSH 308. Gutierrez, as well as the entire Academy staff, recognizes that fashion brands can no longer expect to thrive by only creating unique, high quality pieces.
As he explains, brands are turning to video because it allows them to display the proper dimensions of their products. "While a static picture presents only two dimensions, fashion film highlights everything from the colors of a fabric to how it responds to different types of light."
Today's fashion consumer, especially those in younger generations, expect and demand digital engagement. Fashion film handily fills that gap.

Nicolas Gutierrez
Fashion Film from Its Beginning to the Present
The first recognized fashion film production was British fashion photographer Nick Knight's award-winning website launched in 2000, SHOWstudio. In the nearly two decades since its launch in 2000, brands have increasingly relied on fashion film to introduce product rollouts.
Fashion film not only allows for the evolution of partnerships between fashion designers and creators of visual media, and the introduction of new product lines. Nowadays, it has flourished further into becoming a platform shining the spotlight on larger societal issues such as body acceptance.
What to Expect in FSH 308
Prior to his graduation in 2012, Gutierrez shot editorials for 180 Magazine after FSH Executive Director Simon Ungless recruited him. From there, he worked with local retailers to shoot media packages. The requests for mini-films from his clients only grew over time.
In 2014, Gutierrez came back to the Academy as an instructor. He started in PH teaching concept and editorial classes along with editing.
Eventually, in collaboration with another FSH faculty, Stephen Rabimov, Fashion Film Productions launched, providinng students an opportunity to gain direct experience in planning, producing, and editing a fashion film. Students also learn how to locate cinematographers, models, and fashion stylists as part of their course requirements.
Gutierrez explains that his students watch many films to inspire them to create their own fashion concepts. Then, he works closely with each student to find the appropriate concept, message, and tone for their fashion film. While the effort belongs to the students, he assists them in coordinating it.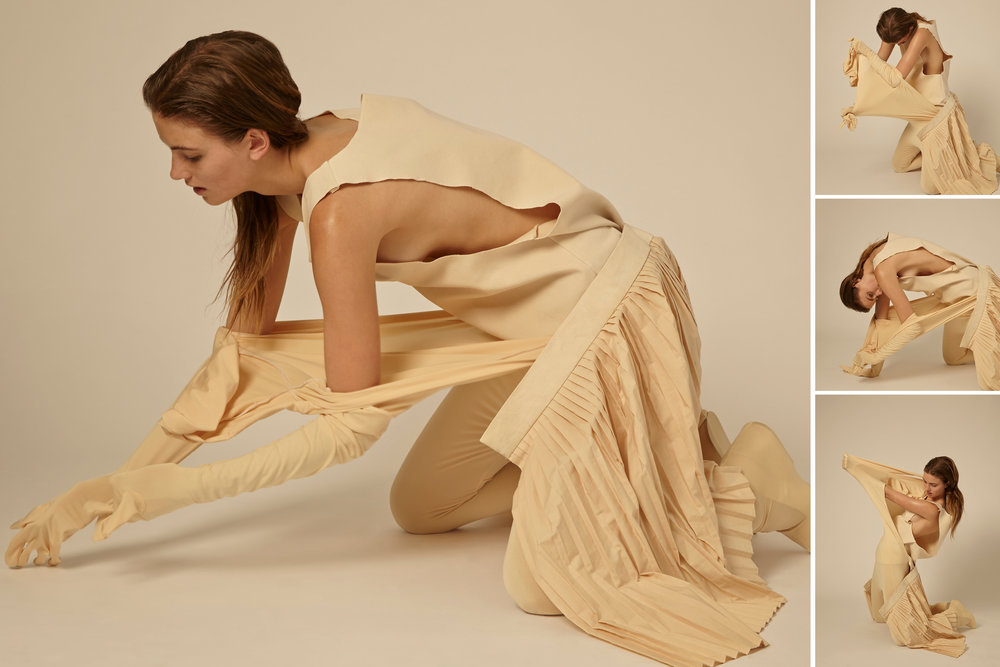 First Semester Projects
Students who completed FSH 308 during the Academy's first semester have produced commercials, documentaries, music videos, and narrative shorts related to fashion. Gutierrez did not place limits on student work as long as it is somehow related to fashion. The result was a visual impact that forced viewers to consider fashion in a whole new light.
The FSH 308 class has brought together a wide range of student experiences and voices. With the proper tools and insight from an industry leader like Gutierrez, students can and did create some exceptional pieces of fashion film.
---
Slots are still available for FSH 308 in the Spring 2019 semester. Students who wish to enroll or have additional questions about the course should schedule an appointment with their advisor.