San Diego Comic-Con has officially kicked off for 2017, signaling the beginning of a few days packed with superheroes, zombies, aliens, blade runners, time travelers, and more! The annual event attracts fans from all over the world who appreciate the art of pop culture and imagination. For one Academy of Art University student, Comic-Con gave her the opportunity to be among some of Marvel's greatest heroes, including Black Widow, Iron Man, Captain America, and Thor.
Summer 2015 will go down as one for the books for School of Illustration student Alexandria Huntington. Huntington was chosen as one of four student-artists in an international contest sponsored by a partnership between Adobe and Marvel to create two pages for a limited-edition comic book centering on the popular team of superheroes, The Avengers.
"Creating this comic opened my eyes to the creative process, and how Marvel artists approach their comics," Huntington said. "They're very specific about what they want, and that pushes you to work really hard to achieve the quality they're known for."
Marvel editors mentored and guided the four winning students chosen from a pool of about 50 hopefuls to create an instantly vintage "origins" comic book that debuted to great fanfare at San Diego Comic-Con 2015.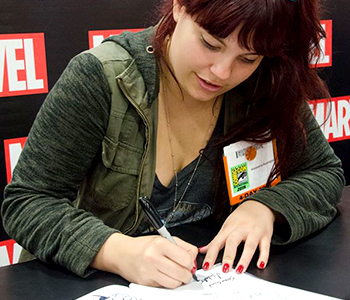 "It was a thrill to be at Comic-Con as the only woman on that particular Marvel panel, signing autographs and giving out the comic," she said.
Huntington arrived at the School of Illustration armed with an associate of arts degree in Fine Art from Mission Viejo's Saddleback College. She credits much of her success to the Academy's Figure Drawing, Perspective, and Color & Design courses.
"The faculty at the Academy provides diverse inspirations and good guidance to students," Huntington said. "I've been able to draw live models wearing simple getups and fantastical costumes, which is very helpful when you're developing your skills."
Read more about Alexandria's story and find out how you can begin your artistic journey at the Academy's School of Illustration by visiting here.