Know Your Field: Music Production vs Music Scoring and Composition
The music industry has various opportunities open for you to pursue the career path of your choice. Among these are music production, and music composing or scoring. So what sets them apart?
Music production provides a different career path from music composition and scoring. Being a music producer involves handling technical aspects of creating sounds or a soundtrack for different visual media, such as movies or video games.
Being a music composer involves creating songs, themes, or scores used in media, such as the background music in mobile apps, animation, films, and TV shows.
Comparing what it's like to be a music composer vs producer can help you decide which better fits you.
What Music Producers Do
Music production ensures that compositions or scores offer high-quality, complementary music to visual media. Being a music producer means learning about and building skills in different aspects of sound and audio production.
Among the skill sets required in this career include having knowledge of the basic principles of music production using production tools to add compositions to visual media. If you're leaning towards this specialization, you'll benefit from studying technical aspects of audio production, visual media editing, and recording sounds for films, games, and other social media.
For example, music producers learn how to use digital audio workstations for synchronizing and editing music to images. In a music production course, you can expect to study the basics of audio production, starting with recording sounds and mixing soundtrack elements.
What Music Scoring and Composition Professionals Do
What can you expect from a career in music scoring and composition? This involves more than writing music for films and other visual media. You'll also be engaged in other aspects of scoring and composition, such as orchestration techniques, score analysis, music notation, and score preparation. These are important parts of building the skills you'll need for composer jobs, whether you end up scoring music for film or mobile apps.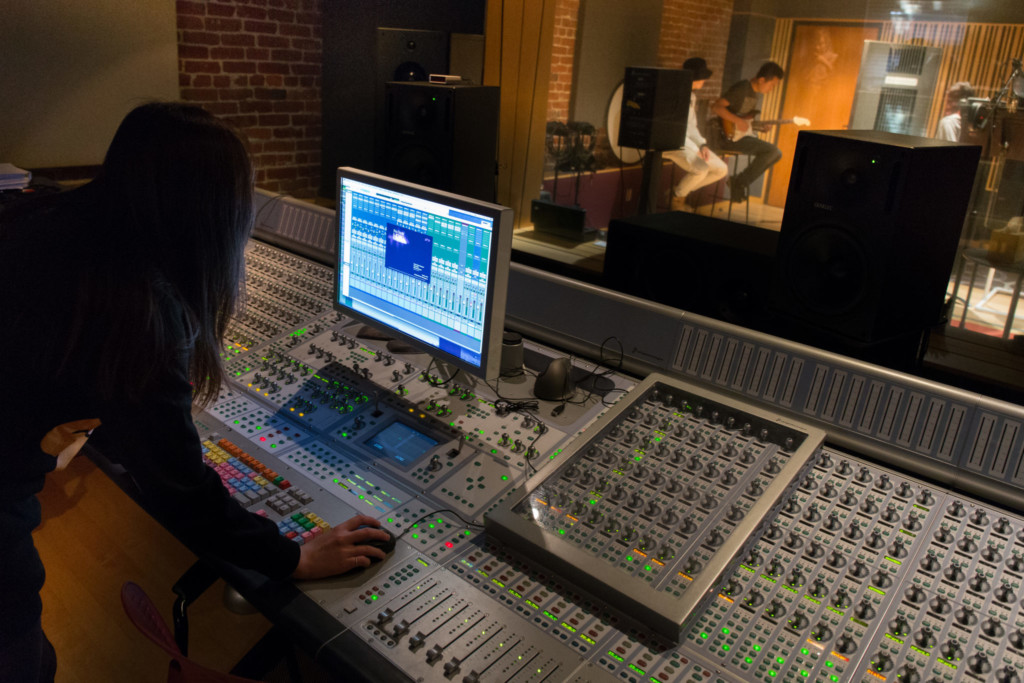 A core element of music scoring and composition is having sharp listening skills. That's why it's crucial that you undergo ear training to improve your listening skills. This will help you learn the basics of identifying different musical components, which you can then use when you create your own compositions or scores.
Key Differences Between Music Producers and Music Composers
One of the main differences between music producers and music composers is that composers are responsible for creating music. Producers are responsible for taking that music and incorporating it into visual media while also making sure it sounds as good as possible. One might say that composers cover the more creative side of music for visual media, whilemusicp producers cover the more technical side of it.
Composers write music that can fit a wide range, such as orchestral arrangements for a film or background themes or music for a video game. Producers also have several possible career paths within this field, such as producing music for a blockbuster film, a Broadway musical, or even the latest mobile apps.
In terms of job growth, music production is expected to have a 9 percent job growth overall from 2014 to 2024. Music composition is expected to have a job growth of 3 percent overall during the same time period.
---
Whether you're interested in pursuing film scoring jobs or music producer jobs, Academy of Art University offers the education you need through the School of Music Production & Sound Design for Visual Media. Apply now or request information from our admissions representatives.