Making the Podcast: A Checklist of Important Things You'll Need
Good content line-up, consistent release schedule, fun and engaging hosts and guests—you already know these are essential elements to a good podcast. But what do you really need to set up one.
It's time to move on from the planning stage and get to the actual work! Because truth be told, your intention to make a cool podcast will only be as good as your action. Apart from finding inspiration among established podcasts, and conceptualizing great content topics, a good podcast also relies heavily on effective transmission.
The platform you choose and the equipment you use are going to be crucial to your operation. So with that, we're throwing you a lifeline by providing this checklist of things that you should have for your podcast set-up.
You don't have to go all out on the expensive so-called investment pieces right from the start, but we would encourage you to be smart about your purchases. Most certainly, you would want to be economical about your choice, but without ever sacrificing the quality of the item. Otherwise, it's going to severely affect the quality of your podcast as well.
Without further ado, here are the most basic items you'll need in your podcast studio.
Microphone
If you can only buy one piece at a time for your podcast studio, let this be the first. For obvious reasons, you will need a microphone to record your voice loud and clear. Sure, your gadgets may have built-in microphones, but trust us, you're going to want to make the professional choice with a microphone. There are plenty of beginner microphone kits available out there, covering a wide price range, so you'll definitely find something well within your budget.
Pop Filter
Consonants can sound like hard pops (think Bs and Ps), especially on poor audio recording equipment, and this can slowly but surely diminisher the listener experience. Sure, this is something fixable with an editing software, but is that how you would really want to operate your podcast? With the "I'll fix that in post-production" mindset? Of course not.
Headphones
Your audience needs hear to you, but you also need to hear yourself as well. A good headphone will let you have a better understanding as to how your audio delivery is coming across to your audience. Think of it as, you are your own listener too. Now, we know that a headphone that comes with a microphone is standard fare. And since these are the two most basic things you need for your podcast, you might think it's the most cost-efficient thing to buy.
Wrong. Combi devices like these tend to sacrifice one of the elements. Sound quality may suffer, and so will defeat your purpose of having good equipment to help you along with your show. You might think it's a great idea to buy two items for the price of one, but if you want to retain the quality of your podcast, it's best to get them separate.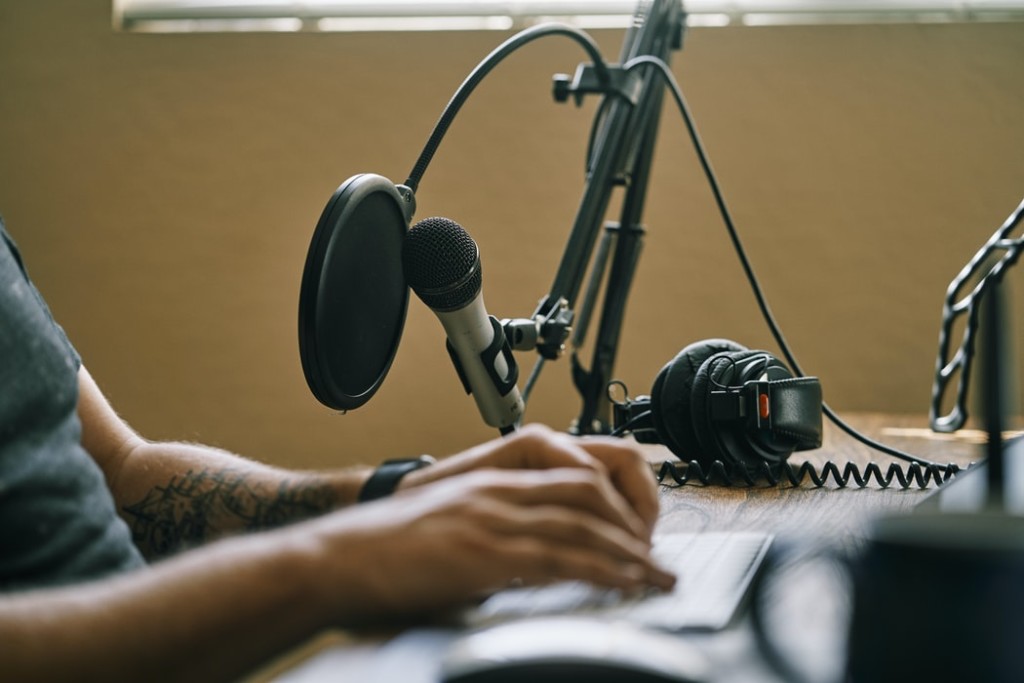 Recording and Audio Editing Software
Your podcast recording can definitely benefit from some refinements in post-production. H ere is where a good recording and audio editing software comes in. The good news is that there are plenty of free programs that you can use in the meantime as you're just starting to familiarize yourself with the steps of making a podcast.
Apple products actually have Garage Band already installed, so Mac users already have a leg up in this department. If you're ready for heavier stuff, though, you can go for the more sophisticated, paid subscriptions, should you prefer.
As an additional note, keep in mind that editing your final output is just as important as recording it raw. In order to effectively edit it, you need to have a clear idea of where you want the conversation to go, or how you want it to evolve. Even the best podcasts that sound like they're all flowing and spontaneous do get edits, especially for the sake of brevity. Remember, you do have a schedule to keep, after all.
Podcast Account
Well, of course you need a podcast account! You need someplace to put all those awesome recordings in, otherwise how can your listeners hear you? If you're the one directly managing this podcast account, then we highly recommend creating and managing a production calendar for it too. That way, you can organize your plans, such as the topics you've lined up for the next episodes, as well as guests if you intend on having any.
It would also be ideal for you to have a logo or graphic design that people can easily identify and associate with your podcast. And then for each episode, prepare a show note. Basically, show note is a summary of what the episode is about. Think of it as a very brief overview—make it catchy and snappy to really get people curious enough to click on your link.
Vanity URL
A vanity URL isn't just for vanity for, well, vanity. Having one for your podcast makes it easier for your audience to find you, as well as leave reviews or comments. It therefore simplifies the process for them, which gives them another incentive to keep coming back. And that becomes just one more way you can broaden your audience base.
We hope these basic tips help push you to finally get started on your dream podcast project! Remember, be creative with your ideas, smart about your equipment investment, and proactive in following your podcast dreams.
In the meantime, keep listening to Academy of Art University's official podcast channel, Creative Mind, to meet and learn from inspiring artists and designers from all over the Bay Area.
The Creative Mind podcast is available on major podcast platforms including Apple Podcasts, Google Podcasts, Spotify as well as the Academy of Art University's YouTube channel.
---
Apply now to get started on your journey becoming a professional in your chose art or design field. Request information from Academy of Art's admissions representatives for more details on our art and design programs.