Real Talk: Exploring Virtual Reality
It is time to get real about virtual reality. From film to game development, VR has tiptoed its way across industries, introducing a new wave of creativity nurtured by the growth of advanced technology. Created by the Schools of Motion Pictures & Television and Communications & Media Technologies, Academy of Art University's VR program provides students the guidance and tools to unlock a storytelling experience that's making its rounds across the entertainment industry.
"360 video production is the new frontier, representing a dramatic evolution of cinematic language," Jack Perez, VR instructor and film director, said in an interview with Academy Art U News. "Both filmmakers and audiences are suddenly ravenous for this heightened level of immersion. We want our students to ride the crest of this new wave."
In addition to offering VR classes, the Academy brings students closer to the VR world by engaging them with professionals in the field. In December 2016, Academy of Art University hosted its second VR Summit to demonstrate the latest technologies and practices emerging in the industry. The summit featured a panel of guest speakers from leading companies such as Jaunt, Oculus VR, and Zeality, and premiered projects created by advanced VR students.
"There is nothing to stop students from making the next VR masterpiece in a better way of doing something that no one else has figured out yet," Andy Wood, production manager at Oculus Story Studio, said at the VR Summit. "Academy of Art University has a lot of VR equipment that students have access to, and it's exciting to see what students can do with that."
As the Academy continues to bring students closer to more immersive media, graduates university have already earned recognition for their work in the tech space. In September 2016, Oculus Story Studio announced its short VR film Henry had won an Emmy award for "Outstanding Original Interactive Program." Directed by Pixar veteran Ramirio Lopez Dau, Henry tells the story of a lonely hedgehog who throws himself a birthday party. The film proves there is emotional connection fostered in VR that is different from what users experience when they watch movies or TV. Among the Academy alumni who worked on Henry are Alyce Tzue ('14, MFA), Bruna Berford ('14, BFA), Kyle Remus ('15, BFA), Moe Myint Htet ('13, BFA), Beibei Gu ('14, BFA), and Sophie Evans ('15, BFA).
We spoke with Berford and Gu about their work on Henry and how their time learning at the Academy shaped them for the professional world!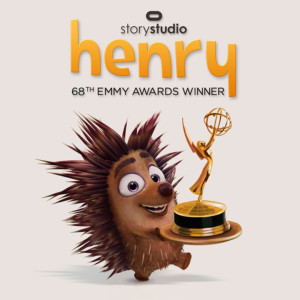 ArtU: What were your role and responsibilities in supporting the production of Henry?
Bruna Berford ('14, BFA): I joined Oculus Story Studio back on January 2015, to work as an Animator on Henry. As part of the role, I tested the rigs, explored character personality doing quick animation tests, helped translate the 2D animatic into a VR layout and animated long sequences of the main character Henry.
Beibei Gu ('14, BFA): I worked as a Surfacing Artist on Henry. I was introduced to the team by the lovely director of Soar Alyce Tzue, who's also a good friend of mine. I worked on the project for roughly three months. My main responsibility was UV mapping and painting texture maps, then apply them to the character and environment in Unreal Engine.
ArtU: How did your experience at the Academy of Art University prepare you for the work demands of Henry?
BB: Taking the Pixar classes at the Academy for two straight years was fundamental to me, as they prepared me to face a real top quality animation environment—[giving me the chance to] receive critiques and to take my work to a higher level, focusing on my ideas and performance and not only the physicality part of animation. The transition from being a student to being a professional animator was smoother.
Also, being part of collaborative projects at the Academy helped me improve what I consider to be the basic foundation of professionalism: to be part of a team, to communicate well with my co-workers, to follow deadlines, to be responsible for what I do and organized on a working environment.
BG: I have to say Academy of Art University was the start of it all. StudioX was the reason why I got to where I am today, and Derek Flood was the person who recognized my talent and shaped it into the skill set that got me all these amazing opportunities.
I want to let anyone who's considering joining StudioX at the Academy right now know how lucky you guys are, and don't ever let that chance go. The projects you'll be working on right now might seem so insignificant, the experience could get frustrating and make you doubt if it's worth your time, but stick it out, you won't regret it. Without the two years I spent in StudioX, I'd never got the chance to work with Oculus Story Studio.
ArtU: How does this Emmy win impact the conversation surrounding the VR experience?
BB: Storytelling in VR is in its infancy and having this recognition, that we can indeed create an emotional connection with a virtual character and transport the viewer to another world, is groundbreaking. This Emmy puts VR storytelling on the map and shows the world that this is just the beginning. It encourages other VR storytellers to explore and push the boundaries of entertainment, and that is huge.
BG: VR has been a major topic throughout the last couple years. With the Emmy win, I definitely got asked a lot of questions about what exactly is Henry. So even though VR was already a popular uprising topic before, it has certainly raised more curiosity among people who usually don't play much attention to CG or technology.
Learn about how you can get involved with the Academy's Schools of Motion Pictures & Television and Communications & Media Technologies!