The Many Magnificent Lives of Eden Slezin
If you try to do the math on Eden Slezin, you might find yourself scratching your head. The smiling, strapping lad looks no older than 26, tops. But then you start to look at all that he's accomplished, and the math doesn't seem to add up.
Here are some of Eden Slezin's career highlights:
He earned a BS in botany from UC Davis
Worked as a professional scientist
Spent six years in the Marine Corps as an Aviation Intelligence Officer and Captain
Established two successful companies; one as Head Designer that he ran for 6 years, the other as CEO of an outdoors adventure company
Finished two fashion internships; one at Amour Vert and the other at DNA Group
Managed a large cycling/outdoor adventure company for nearly 10 years
Earned an MFA in Fashion Design from Academy of Art University, where he was Graduate Fashion Design Student Representative
And now, as a fashion designer, his most recent collection will be featured at New York Fashion Week next month.
When asked if he is a vampire, Eden exclaimed, "I wish!" (For the record, he is not a vampire, and he's 41 years old.)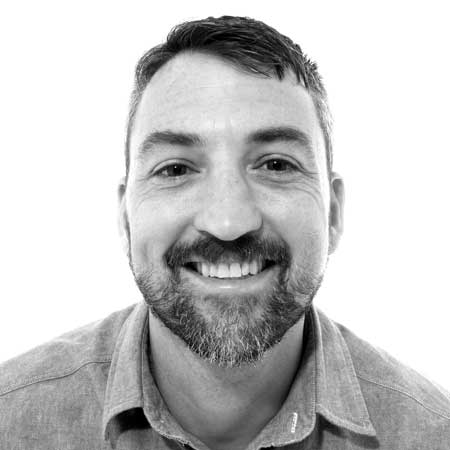 With that background, it's no surprise that Slezin's collection for New York Fashion Week is called "When I grow up…" Described as a celebration of "reinvention and eternal youth," the line features garments that are beautifully constructed and remarkably elegant.
"Remarkably elegant" considering they're made from all sustainable materials, including old rubber bicycle tire tubes, pieces of his old military uniforms, and the denim inspirations from his youth.
"I like the idea of creating a one-of-a-kind piece out of items that literally have been thrown in the trash," says Eden. "It's very satisfying to take everyday objects that are overlooked, and transform them into something elevated, something special."
This elevated collection will be featured next month in New York City. "Growing up working class, I never felt a career in the arts would be possible," says Slezin. "Showing at New York Fashion Week is so humbling and so overwhelming; it's hard to believe that it's actually happening."
You can see Eden Slezin's full collection at New York Fashion Week live and in person on September 9th at 9pm.
If you are unable to attend in person, be sure to tune in to our live webcast!