Art Sculpture Hearts in San Francisco
Hearts go all a-flutter a bit faster on Valentine's Day. In San Francisco, they sometimes even grow up to 6-feet tall.
There are plenty of different ways to celebrate Valentine's Day in San Francisco. From romantic dinner dates overlooking the city skyline or the famous Golden Gate Bridge, to spending a day out in one of the beautiful art museums and exquisite parks and gardens. There are even city-wide art projects depicting the locals' love for the city.
One such project is Hearts in San Francisco. A fundraiser benefiting San Francisco General Hospital, "Hearts" involves a variety of artists tasked to design heart sculptures, which are then scattered throughout the city.
For this year's iteration, 20 artists were commissioned to make four 6-feet heart sculptures, six table-top pieces, and 10 mini pieces. For the first time since this project started in 2004, you can get a beat on all 20 hearts in one place: in and around San Francisco's Ferry Building through the end of February.
The Hearts in San Francisco event has been such a presence in the city that it's become a huge honor for artists to be invited to participate.
Academy Artists for the Hearts in SF Community
San Francisco is definitely brimming with plenty of opportunities to create and showcase art. In fact, several Academy of Art University alumni have contributed to Hearts in San Francisco throughout the years.
That's why being in San Francisco is an ideal set-up for anyone who would like to be immersed not only in a school that promotes creativity, but also to live in a place where arts and culture are actually at the core of its identity. Here in San Francisco, you don't just do art–you live it.
Check out some of the contributions to the Hearts in San Francisco project by members of our art school community.
Kristine Brandt, aka Addendum24, is a Filipina American Bay Area native artist who earned her degree from the School of Illustration. She's a muralist, plein air, fine artist, illustrator, and paper goods pusher. Her contribution to the 2020 Hearts in San Francisco, "Gilded Heart," intended to "captivate the viewer's perception of beauty beyond the rhythmic chaos of the composition" using a mix of mediums, including charcoal, spray paint, and oil.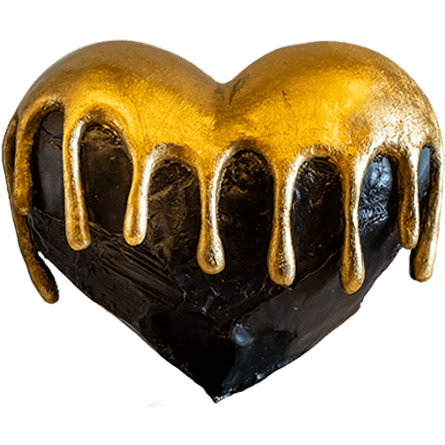 Michael Osborne earned his MFA degree at Academy of Art's School of Graphic Design. He later went on to become a Package Design Instructor. Michael has been a consistent contributor to the Hearts in San Francisco project, having submitted works for the 2004, 2006, 2007, 2014, and 2020 iterations.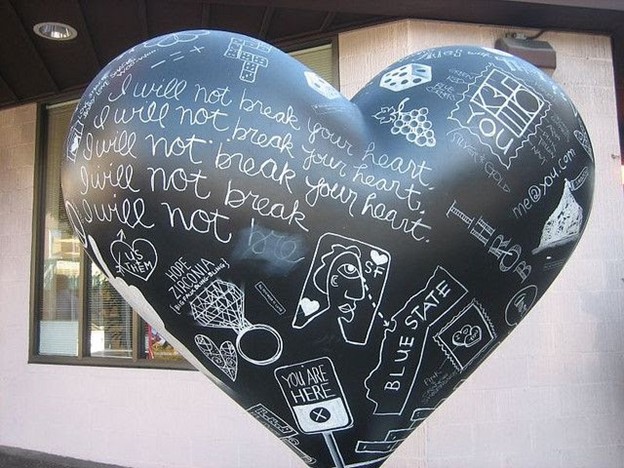 Emma Webster. During her time in the Academy under the School of Fine Art, Emma Webster was named in Best Figure Drawing (2006). Her 2013 contribution to Hearts in San Francisco "depicts a pair of sisters and their dog silhouetted in white with a black background, blue hues and red slashes across each side, representing the family bond."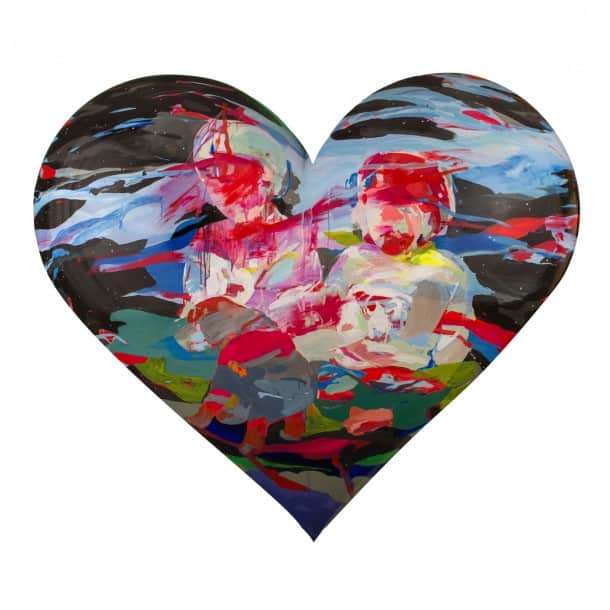 Brit Howard took up a degree in BFA Sculpture & Printmaking under the School of Fine Art. In 2012, she contributed her work "Heart of A Giant" to commemorate the historic and unforgettable World Series win of the San Francisco Giants. Her Heart was signed by members of the team, and later sold at an auction for $100,000. In 2013, she created her Heart for the San Francisco 49ers,"Red & Gold," and also featured autographs from the players.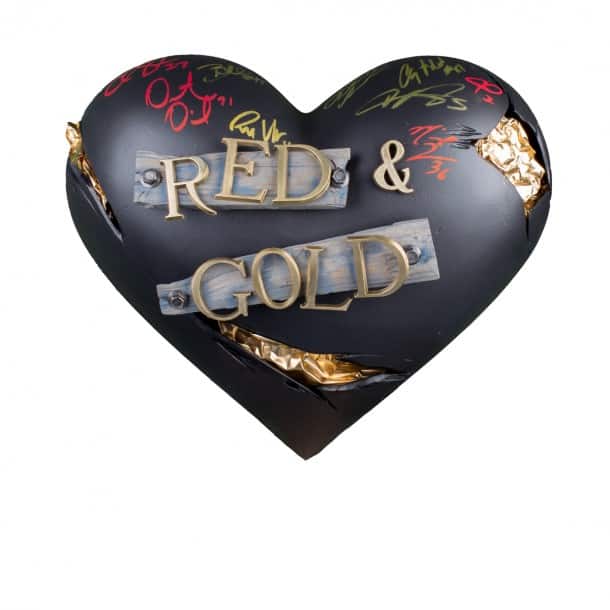 We are always proud of our alumni, students, and faculty that contribute and share their creations with San Francisco. It certainly brings a lot of pride to see Academy artists and designers leaving their hearts–and artistic marks–in this beloved city.
---
Study art and design in San Francisco. Academy of Art University has over 120+ degree options to choose from and inspiration at every turn. Request more information to connect with a member of our Admissions team. Apply today if you are ready to join our art school community.