Fundamentals of Perspective Drawing
RSVP now to join our FREE online workshop on August 4 at 7PM. Joko Budiono from Foundations gives the lowdown on everything you need to know about perspective drawing using photos. But first, here are some fundamentals you should know about it.
Are you thinking about going to art school and making art and design into a career but aren't quite sure how to go about it? Here are some basic information about perspective drawing and the terms you need to know to help you better anticipate what you'll need to be good at it.
What is Perspective Drawing?
Perspective drawing is a technique used to show spatial depth, also known as perspective. Perspective drawing is what enables you to draw any three-dimensional object onto any two-dimensional plane.
Main Elements of Perspective Drawing
There are two main elements in perspective drawing and they are linear perspective and aerial perspective.
Linear Perspective – is the organization of a shape as it is seen in a space.
Aerial Perspective – this is also called atmospheric perspective and it's how aerial perspective deals with tones and colors.
Different Types of Perspective Drawing
There are different types of perspective drawing which refers to the number of vanishing points in any given perspective art drawing.
One-Point Perspective
A one-point perspective (frontal or central perspective) refers to the vertical lines that remain parallel as they run across the field of view meaning they only have one vanishing point on the horizon line.
Two-Point Perspective
A two-point perspective (angular perspective) has two different vanishing points on the horizon line which aren't always within the picture plane. So two lines that are going in different directions converge on their respective vanishing point.
Three-Point Perspective
A three-point perspective uses three vanishing points and is used when drawing a composition whose perspective is seen from above or below. So the third vanishing point is either below the ground when looking at the object from above or high above the object when looking at it from below.
Multi-Point Perspective
The multi-point perspective is when there are more than two specific primary vanishing points on the horizon line.
Curvilinear Perspective
A curvilinear perspective is when you superimpose two perpendicular, curved sets of two-point perspective lines, which results in a four or more point curvilinear perspective.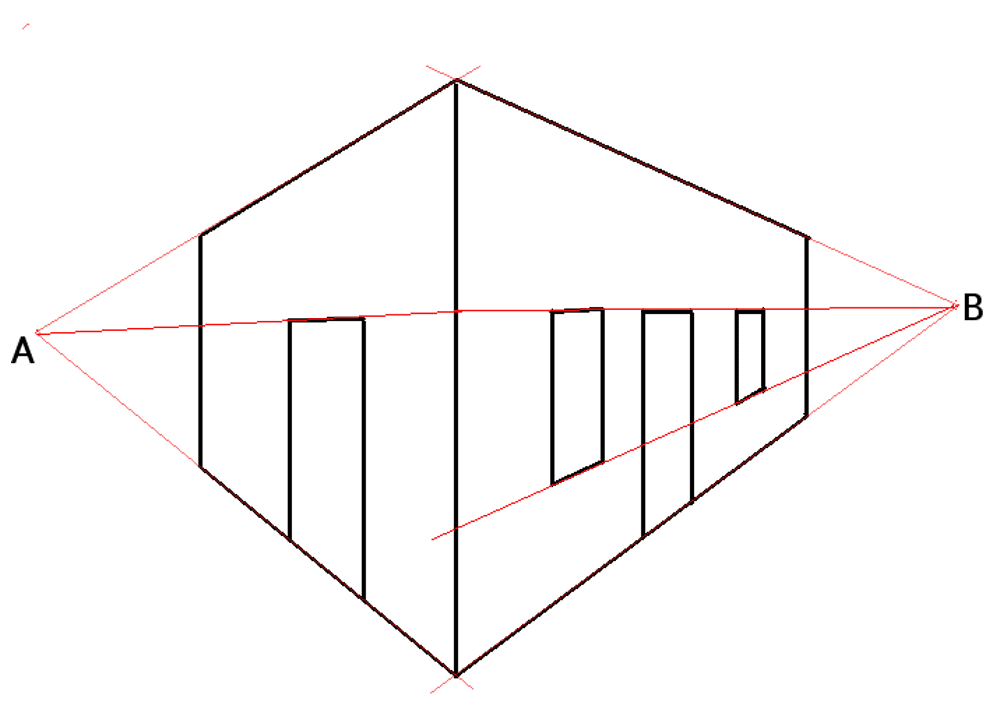 Basic Perspective Drawing Terms You Need To Know
Here are several perspective art drawing terms you will use throughout your art and design journey.
Horizon
The term horizon refers to the line where the sky meets the land or the water below it.
Vanishing Point
The vanishing point is the spot where the parallel lines appear to come together somewhere in the distance.
Ground Plane
The ground plane is the theoretical horizontal plane that recedes from the picture plane to the horizon. The ground plane begins at the level of the baseline. So it is the horizontal surface that is below the horizon.
Orthogonal Lines
The orthogonal lines are the diagonal lines that are drawn along the receding parallel lines to the vanishing point. So the orthogonal lines are those that move towards a vanishing point.
Tips for Perspective Drawing
Overlapping is one way to add perspective to your work. Simply put one object in from of the other. This will help the viewers to see the relative size of an object.
Shadow casting is drawing an object with a length of shadow cast to give the subliminal illusion of depth. This will enable the viewer to tell the distance of length in the painting by the cast shadow it creates.
When working within a frame, try drawing a framed border on the surface around your pad. This will give you a clear edge to help with composition, positioning, and scale.
The secret to good composition is to create balance. Try changing the size and space variations to give visual interest to your drawings.
Always make sure to lock your arm. This will keep your pencil at the same distance from the object.
Roll up a sheet of paper into a tube then use that tube to view your drawing. This will help you judge the size of the objects in relation to the scene.
Acquired through years of hard work and study, character designers know how to balance function with style and form. Therefore, the skills and know-how when it comes to perspective art drawing are required if you want to carve out a successful career path in the visual arts industry.
Procuring a formal education from a reputable art school that balances theory and practice is a necessary step for a career in the art and design industry.
---
Contact our admissions representatives at Academy of Art University for more information on our available degree programs. Fall enrollment is open for online and virtual on-site classes. Once you've evaluated your options and decided to join, apply to get started on the process.