ART U Varsity Sports Update: Men's Basketball Team is PacWest Champion!
Congratulations to Academy of Art University's Men's Basketball team for winning its first ever PacWest Championship!
Show your love and support for our Urban Knights making their first NCAA Tournament appearance on Mar. 11.
Meanwhile, congratulations are in order too for our student-athletes in Women's Basketball, Tennis, and Baseball for another strong showing in their respective fields this season.
Men's Basketball Nets First PacWest Championship With 73-70 Victory
In what has undoubtedly been a history-making season, #4 seed Academy of Art men's basketball punctuated the 2021-22 campaign in a big way by playing strong team basketball to defeat #2 seed Azusa Pacific for the first time since 2013 by a final of 73-70 on Mar. 5 and hoist the program's first Pacific West Conference Championship trophy.
Junior forward Mike Asante was named Tournament MVP and was joined by junior guard Klay Brown and sophomore forward Latrell Williams on the PacWest All-Tournament Team. The Urban Knights will make their first NCAA Tournament appearance on Mar. 11 against Chico State.
Women's Basketball Reach PacWest Title Game, Hang Tough Against No. 13 Azusa Pacific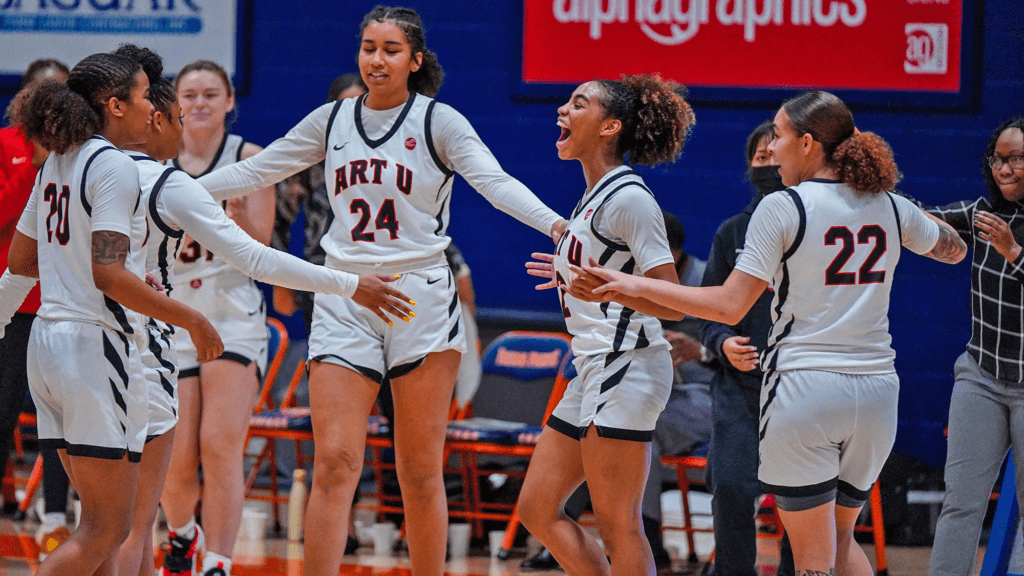 After limiting No. 13 Azusa Pacific to just eight points in the second quarter and leading 22-20 in the first half, Academy of Art women's basketball could not overcome the Cougars' third quarter run in the Pacific West Conference Championship Tournament final.
Working their way back from a double-digit deficit, the Urban Knights, who defeated UH Hilo and Point Loma on back-to-back nights to reach the title game, trailed by just four points with over three minutes left in regulation, but the end result was a 60-49 win for APU despite 30 ART U bench points and a double-double from freshman forward/center Christy Ojide. Having qualified despite the loss, the Urban Knights will face Cal State East Bay on Mar. 11 to open the NCAA Tournament.
Tennis Sweeps Dominican As Win Streak Grows To Four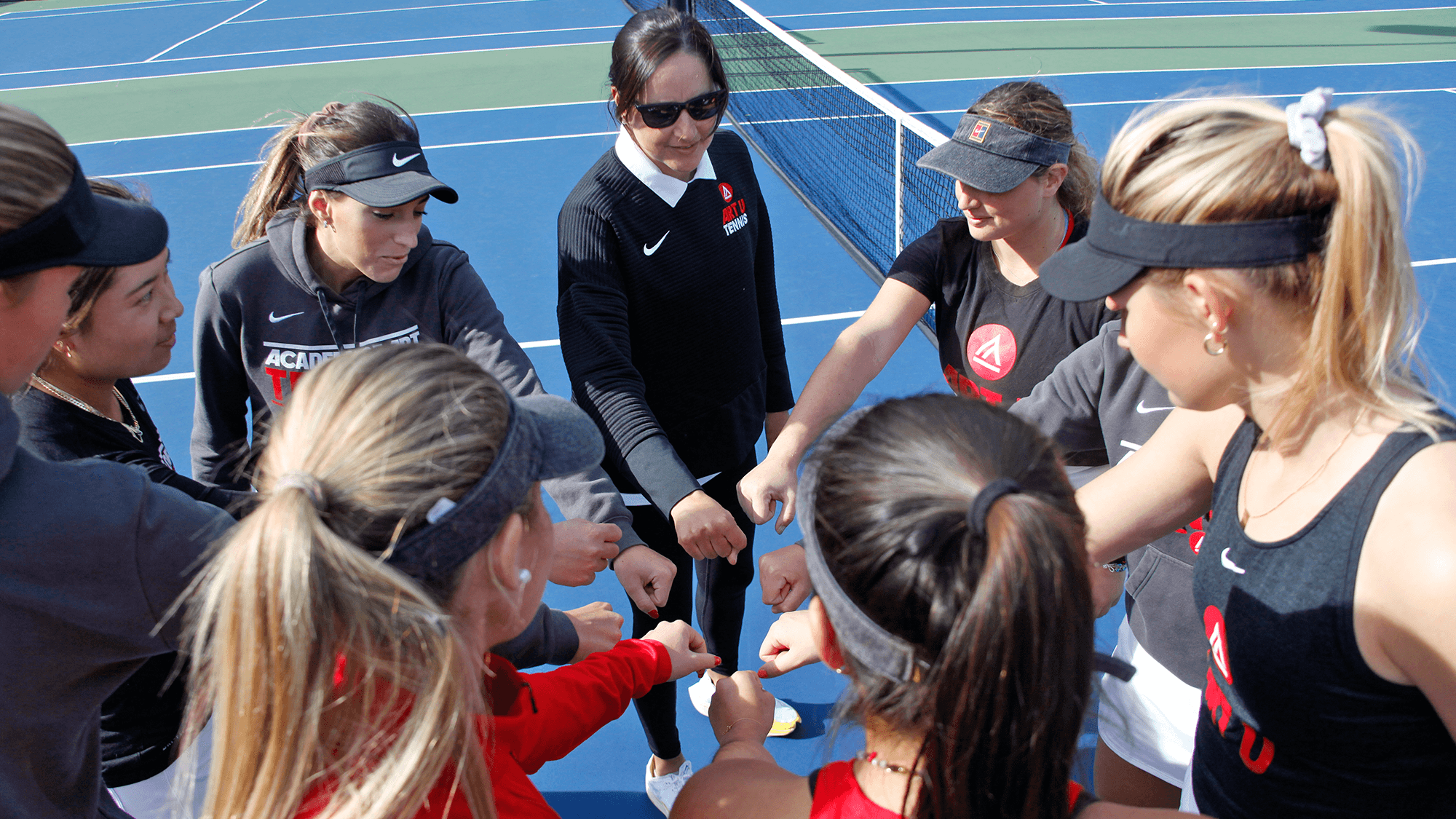 Academy of Art women's tennis continued its dominant run on Mar. 5, putting away Dominican 7-0 with straight sets victories in five of six singles matchups. After freshmen Maria Vittoria Casucci and Paulina Alvarez prevailed in a tie-breaker to help secure the doubles point, the Urban Knights completed their third sweep in their last four matches with strong singles play.
Sofia Ragona, meanwhile, was named PacWest Player of the Week.
Carriger, Rizzo Work Magic Again In Baseball's Split With Biola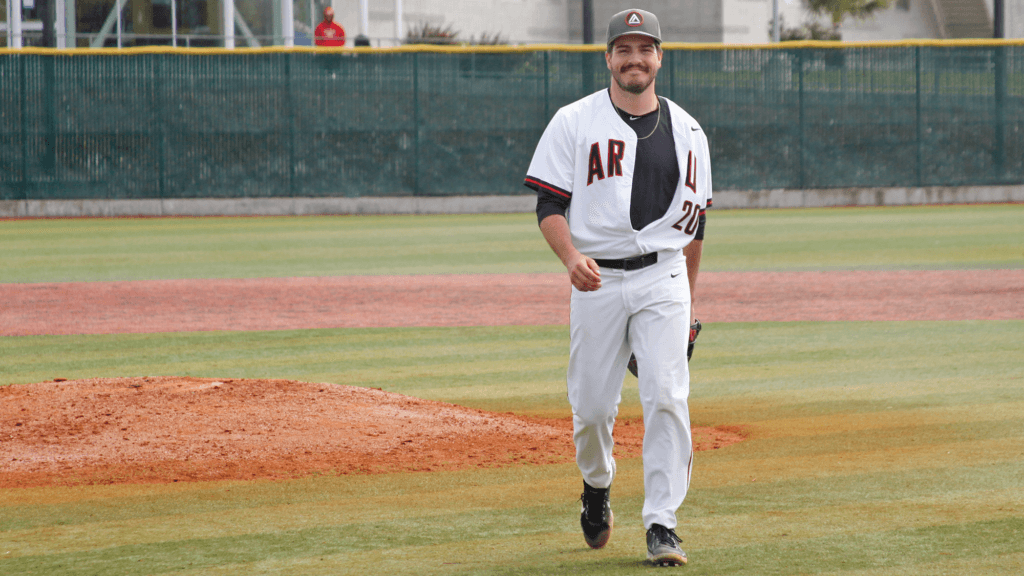 The start of Academy of Art baseball's two days hosting Biola couldn't help but gave fans a bit of déjà vu from the previous week in which senior right-hander Collin Carriger tossed a complete nine innings with double-digit strikeouts before sophomore outfielder Liam Rizzo delivered a clutch hit in the bottom of the ninth for the 3-2 walk-off win. The Eagles would come back with nine runs of offense in the first two frames of game two for a 15-4 victory and a split to begin the Pacific West Conference series on Mar. 4.
---
Academy of Art University is the only higher arts education institution in the U.S. to have an NCAA Division II athletics program—14 varsity athletics teams representing in NCAA Division II intercollegiate sports. Learn more about the Academy's robust athletics program from our admissions representatives. Apply now to get started on working towards your dream art and design career.
---
Hero image by Trenton Hernandez