RSVP Rundown: Kick Off the Spring Sem with High-Intensity Art U Knights Events
ART U Men's and Women's basketball events, Campus Safety Night, and a chance to win a whopping 50 GRAND for a half-court shot?! Now that's how you open a season!
If you've been keeping updated on our monthly ART U roundups, then you'd know that our Academy of Art University athletes don't play around when it comes to their sport. This season, they're turning up the heat with a couple of events that you wouldn't want to miss, trust us.
---
What: Men's and Women's Basketball – Campus Safety Night
When: February 6, 2020
Where: Kezar Pavillion, 755 Stanyan
The Women's Basketball team will be taking to the court at 5:00PM, while the Men's Basketball team will have their turn at 7:30PM. Now, this event has a lot going on, so you'll want to pay attention to the details.
First of all, it's also going to be Campus Safety Night. For new students, this means that there will booths throughout the venue, which will be manned by the Campus Safety team, SFPF, SFFD, and Title IX coordinator. They'll be giving away handouts on general safety and security tips so you can have a worry-free stay here in the city. It's also a great opportunity to raise your questions with them about this matter in case you have any, so do feel free to approach them.
Speaking of giveaways, there'll be so much more than mere handouts to be given out on this night. Black Rally Towels are also up for grabs so keep your eyes peeled out for those.
But the biggest giveaway that you should look out for is the grand prize for the Half-Court Shot happening at half-time of the Men's Basketball game. Sink that shot in and you'll be $50,000 richer—for real!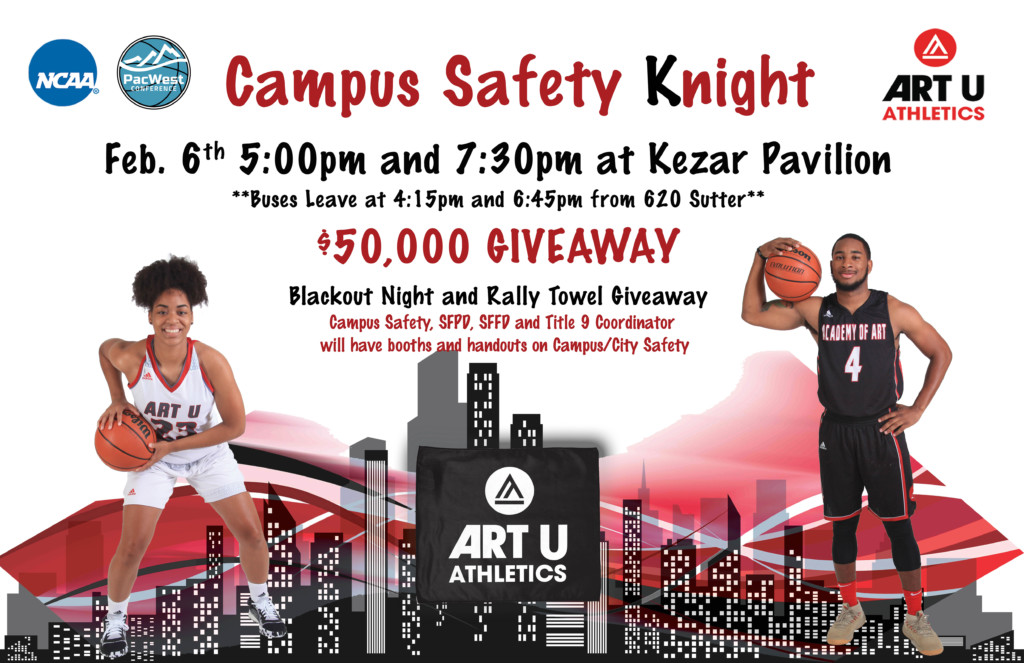 We told you, these Art U Knights ain't playin'.
You know what to do then: SHOW UP and take part in the event. And maybe think about what you're going to do with all that cash on the way to the Kezar Pavillion.
Use this ticket below to get in.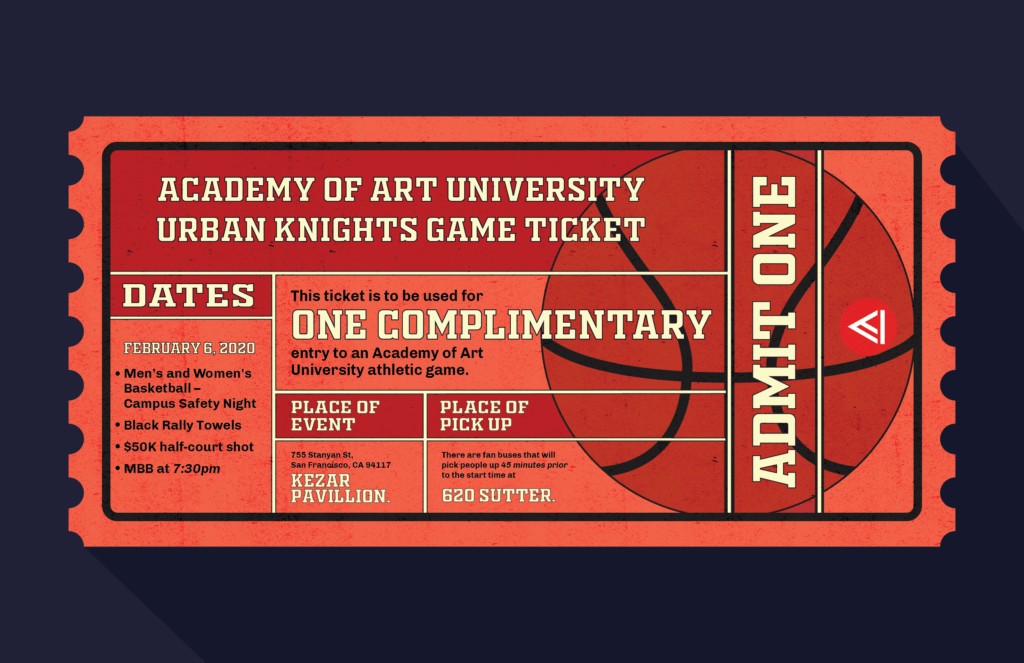 ---
What: Men's Basketball
When: February 27, 2020 | 7:30PM
Where: Kezar Pavillion, 755 Stanyan
We know, we know, that Half-Court Shot prize is going to be a tough one to top, but there will be more giveaways throughout the season courtesy of Art U Knights. Like on the February 27 game night of the Men's Basketball team.
Fans are encouraged to wear white for the White Rally, and you guessed it, White Rally Towels will also be given away.
Use this ticket below to get in.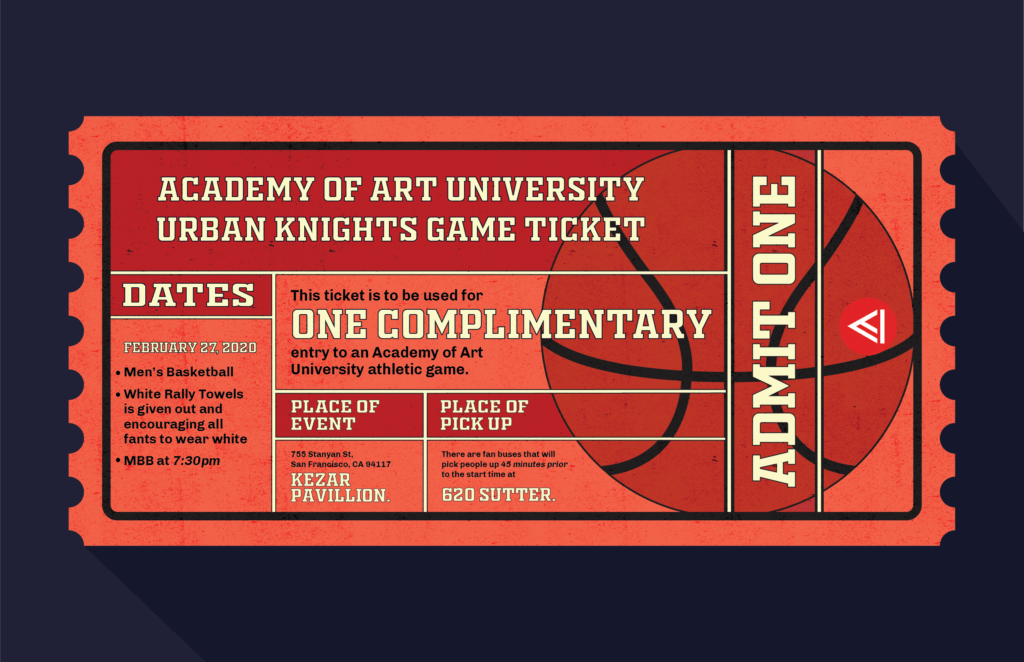 ---
So show up, support our Art U Knights, and put that school spirit out in full display! Your presence at these games will be much appreciated, and you're sure to have a great time too!
Fan buses will be picking up attendees at 620 Sutter 45 minutes before the games start for both events. Hop right on, and don't miss it!
See you there!
---
Academy of Art University is the only higher arts education institution in the country to have an NCAA athletics program. Apply now to be a part of our art school community. Get in touch with our admissions representatives to request information on our art and design programs, financial aid options, housing, and more.