Countdown to the Graduation Fashion Show: Meet the Designers Part VI
What: School of Fashion Graduation Fashion Show
When: 3 PM – 4 PM on Saturday, May 11th, 2019
Where: 625 Polk Street, San Francisco, CA 94124
RSVP
We've come to the last part of our Meet the Designers series for the upcoming Graduation Fashion Show. Last as this batch may be, though, does not mean that it's least among the rest.
Jump right in!
Xinyue Zhang
"Paper Trail"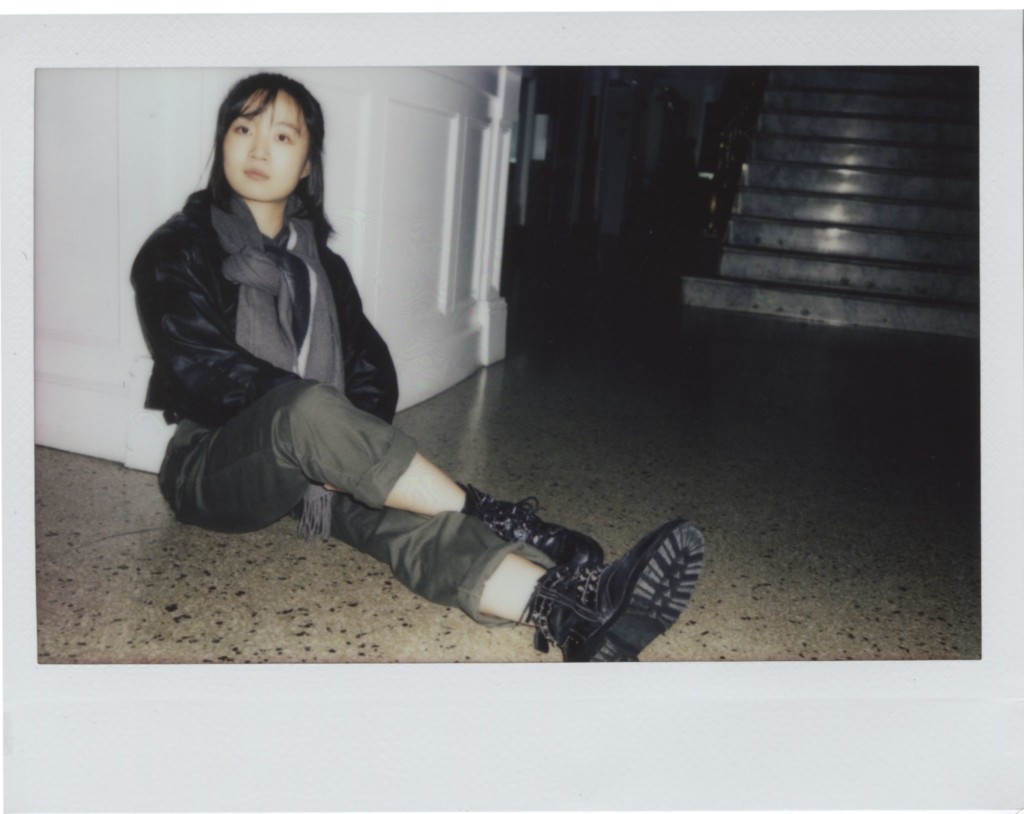 Zhang is one of the few menswear designers in her year, but she believes a designer does not need to separate themselves according to gender. "I think women can wear exactly what men wear, even though I design menswear, my clothes can also be for women if they want," she said. "I think the market is separating the genders, but that's not necessary because some women also like elements of menswear and vice versa."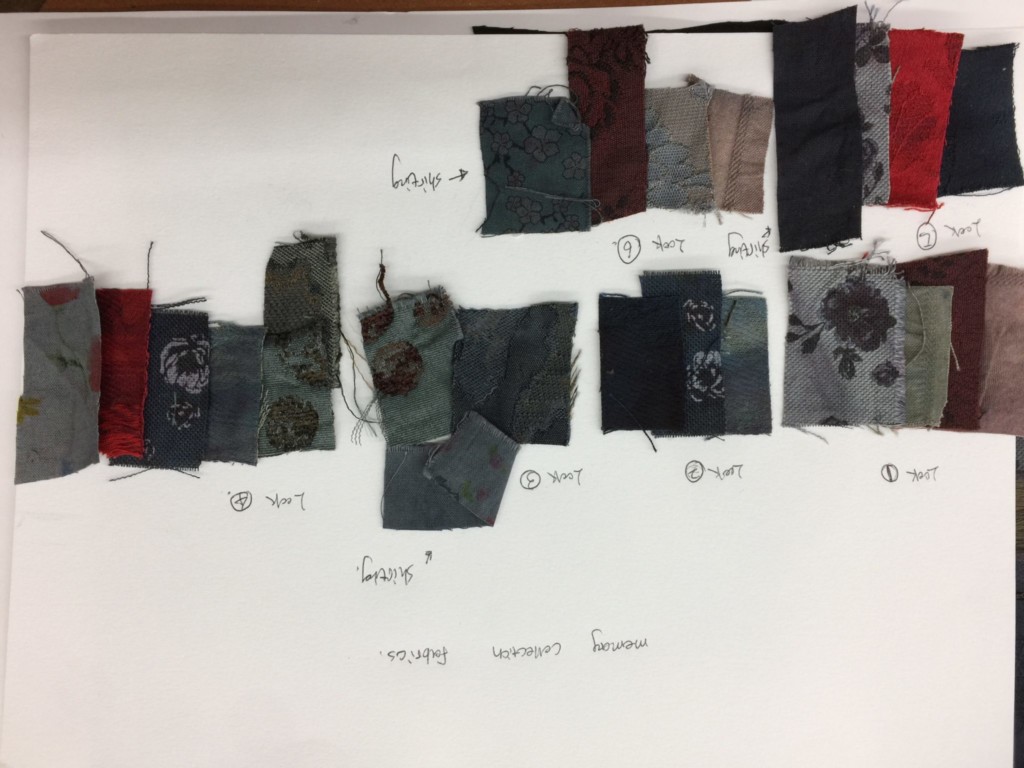 It is an outerwear-based collection, inspired by military jackets and streetwear. Garments include long, oversized poncho jackets with large hoodies and large pockets. The dyed, printed and stone-washed fabrics create a decayed texture to each look. All of the material was hand-dyed by Zhang to acquire a unique color palette. Zhang is drawn to unsaturated colors, much like the colors of her illustrations. Some of the patterns and colors of the fabrics were achieved by mistake, but Zhang believes the imperfections add interest to her collection. "You can create something from mistakes. It's part of the artistic process," she said.
Article excerpt by Adriana Georgiades, Fashion Journalism student
Xuan Wang
"Salute to Style"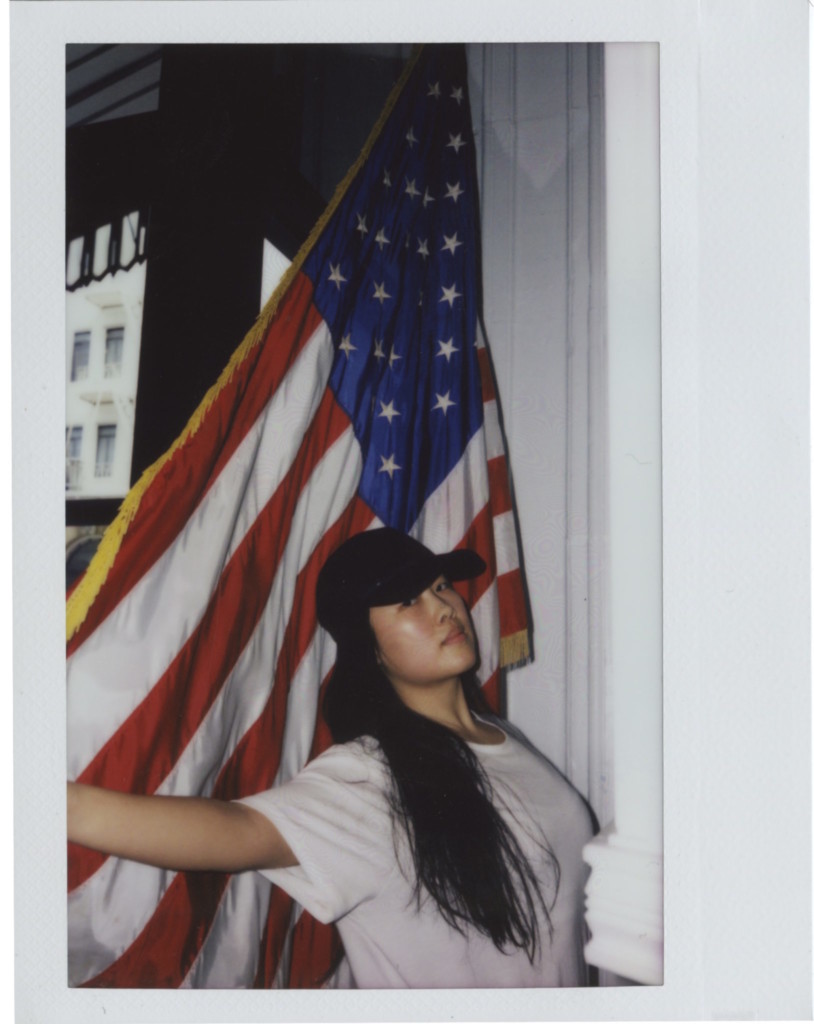 Fashion Design student Xuan Wang has a surprising past; after graduating from Berkeley High School, she served in the U.S. Navy. While the fashion industry and the military are two seemingly unrelated fields, Wang has combined the two for her senior thesis collection.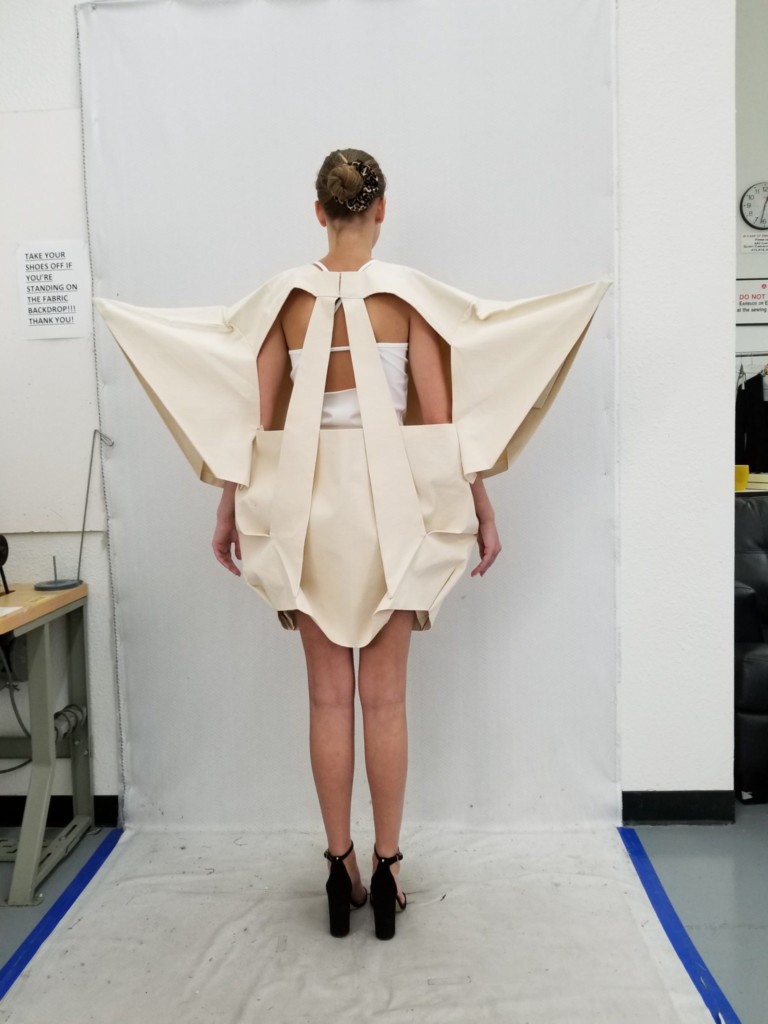 Wang's collection is a tribute to the skills and lessons she gained from her time in the Navy, and the meeting of her two worlds, fashion and military. Among her achievements is a refreshing and innovative use of the military jacket. With garments named "Fighter Jet Dress" and "Storm at Sea," Wang highlights the danger of a military position and salutes the brave men and women who risk their lives for their country. The "Fighter Jet Dress," in particular, also focuses on being a zero waste design. The entire pattern is created by only one rectangular shape. Every piece was utilized. Fighter jet engines are mimicked in the design of the final garment.
Article excerpt by Adriana Georgiades, Fashion Journalism student
Yifan Xu
"Optical Illusion"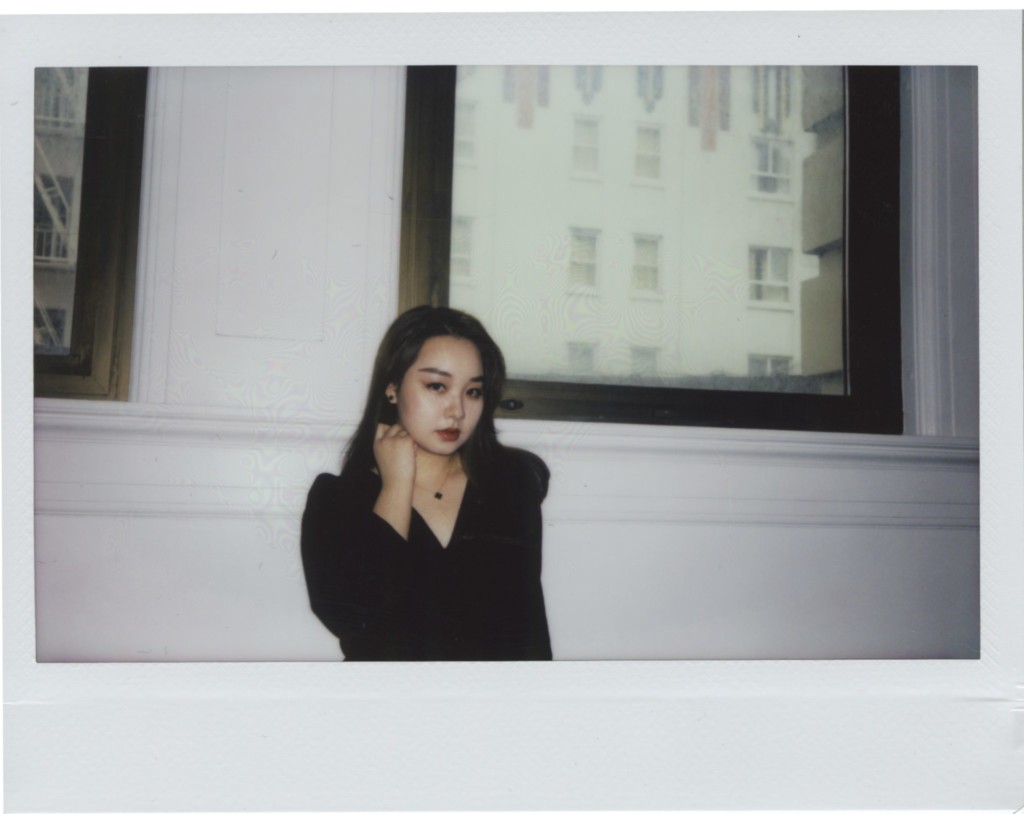 Xu's interest in fashion design was influenced by her grandmother, who she shared is an amazing seamstress. Her grandmother taught Xu as much as she could about sewing. While growing up, Xu observed her grandmother's skill and ability to direct hours of focus into her work. Similarly, Xu's collection demands hours of hand-drawn lines, accurate cutting, and calculations to create a parametric silhouette. The result is modern architecture for the body.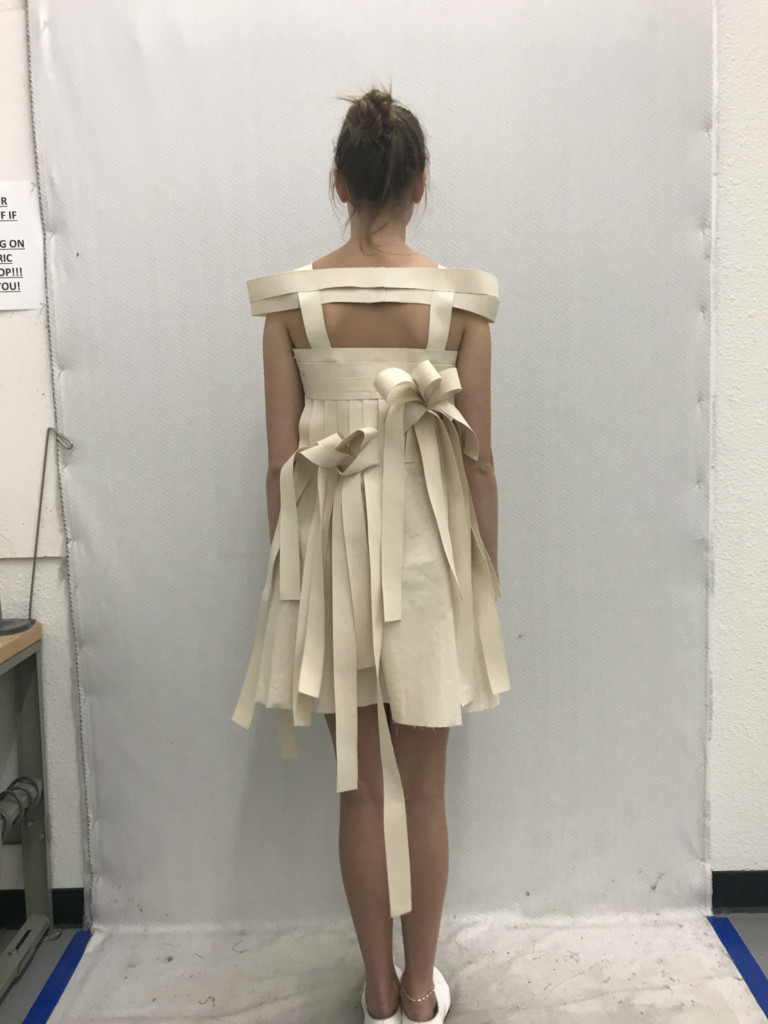 Xu's appreciation for parametric design has much to do with her interest in optical illusion; especially the way the eye begins to capture movement while staring at an optical illusion graphic or object. Xu created 'mirage sculptures' in her garments because she desires a similar optical illusion effect when people look at her designs being worn.
Article excerpt by Madison Ahmani, Fashion Journalism student
Zizi Ye
"Ancient Folktale Meets Modern Fashion"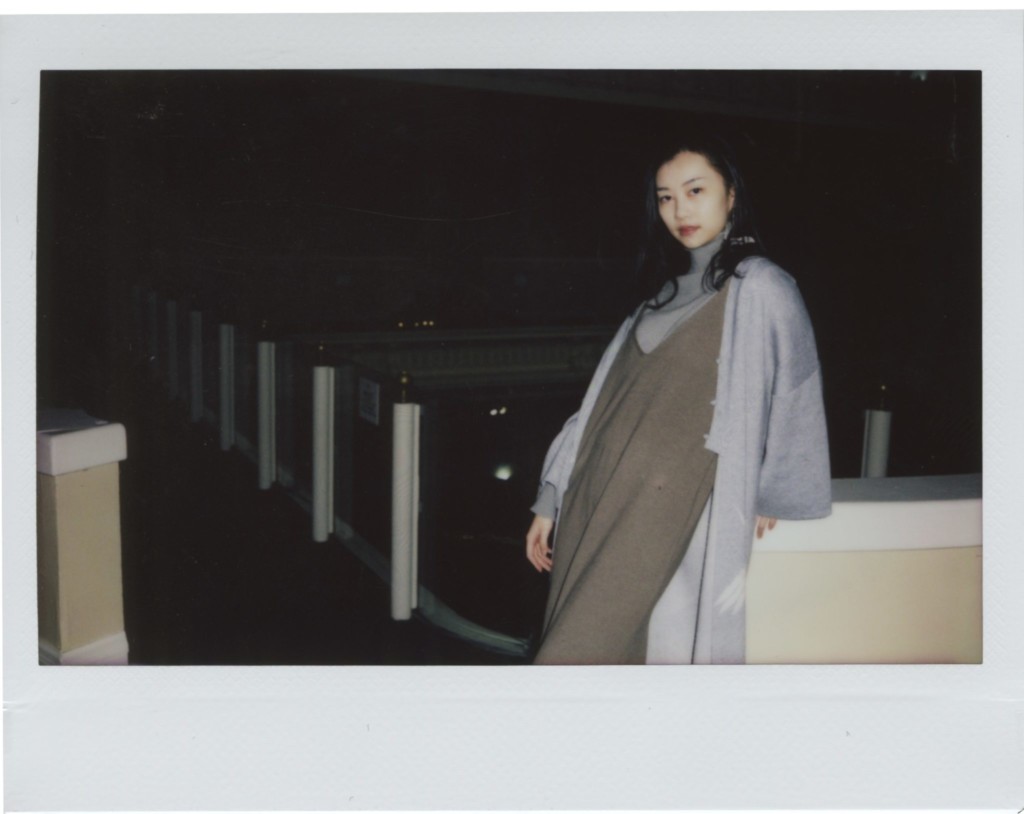 There is an ancient Chinese folktale called "The Cuckoo Crying Blood" that tells a story of the beautiful azalea flower. Legend has it that the flower was once pure white. During its blooming season, all that could be heard were the songs of the cuckoo bird – sad and full of sorrow. The cuckoo would cry so hard and for so long, that its throat would bleed and stain the petals of the azalea. B.F.A. fashion design student Ziyi Ye based her collection on the Chinese word Dujuan, a shared name for the azalea flower and the cuckoo bird.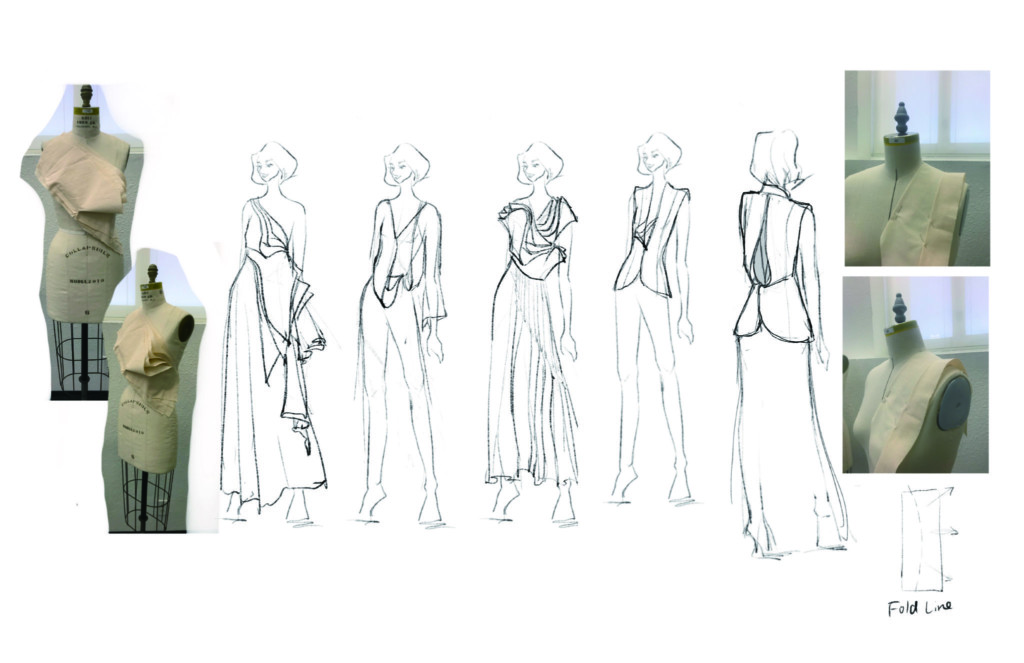 Ye's collection is a physical manifestation of the folktale. With garments that are pure white, some that are deep scarlet, and others in varying hues of pink, the collection mirrors the flower changing color over time. The silhouettes also reflect the tale, with voluminous ruffles and flowing layers resembling the petals of the flower and the wings of the bird. The word Dujuan represents elegance and magnificence, which Ye expresses by incorporating soft, luxurious organic fabrics like silk satin, silk organza, Egyptian cotton, and gazaar.
Article excerpt by Adriana Georgiades, Fashion Journalism student
Counting Down With the Academy
The Graduation Fashion Show is happening this weekend, May 11. Make sure to send in your RSVP if you haven't already! Meanwhile, you can check out the rest of the other talented student designers from the Academy's School of Fashion showing off their collection in the rest of the series: Part 1, Part 2, Part 3, Part 4, Part 5.
See you all at California Hall on Saturday!
---
Hero image from Xuan Wang's LookBook